Fiat Chrysler Earnings: Profit Jumped, But Debt Did Too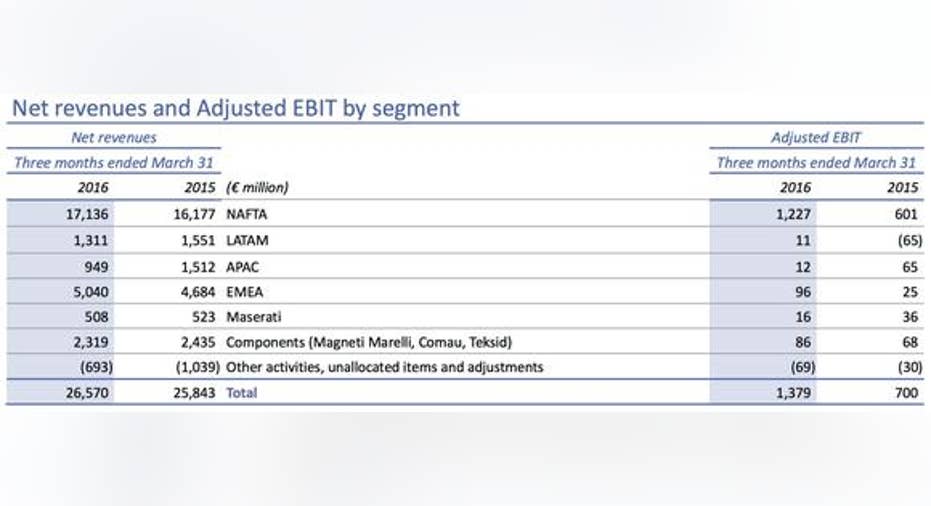 Big sales ofprofitable Jeep modelslike the Cherokee powered good profits for FCA in the first quarter. But how much longer will the SUV boom last? Image source: FiatChrysler Automobiles
Fiat Chrysler Automobiles said on April 26 that its first-quarter net earnings jumped to 478 million euros ($539 million) from just 27 million euros a year ago, on strong sales of highly profitable Jeeps and pickups in North America.
The Italian-American automaker said that its pre-tax earnings nearly doubled to 1.4 billion euros ($1.58 billion), on net revenue of 26.6 billion euros ($30.1 billion, up 3% from a year ago). Analysts polled by Thomson Reuters had expected pre-tax earnings of 1.17 billion euros, but FCA's revenue number fell short of Wall Street expectations.
FCA's debt also rose significantly from the prior quarter.
The key numbers
Source: Fiat Chrysler Automobiles. 2015 results have been restated to exclude Ferrari, which was spun off in October of last year. First-quarter adjustments of 72 million euros include charges for North America capacity realignment, Venezuela currency devaluation, and restructuring costs. 2015 debt and liquidity numbers are as of Dec. 31.
Good news and bad news in FCA's first-quarter report FCA's report was a mixed bag. There was some very good news: Margins in North America are much stronger than they have been, and FCA managed an operating profit in all of its business units, including Latin America (LATAM).
Source: Fiat Chrysler Automobiles.
FCA's operating profit margin in North America was 7.2%, up from 3.7% a year ago. That's still short of General Motors' 8.6% operating margin, but FCA came much closer to parity with its old Detroit rival than it has in the past. (Ford hasn't yet reported its first-quarter earnings, but it generally targets a profit margin in North America of between 8% and 10%.)
The explanation for that margin boost was simple: FCA is selling a lot of Jeeps and Rams, and those are profitable products.
However, that good news was tempered by a rise in FCA's "net industrial debt," the amount by which its debt exceeds its available liquidity. FCA's net industrial debt rose to 6.6 billion euros ($7.5 billion) from just over 5 billion euros at the end of 2015.
CEO Sergio Marchionne confirmed that FCA is retooling two of its U.S. factories to boost production of profitable Jeep SUVs and Ram pickup trucks, while phasing out its less profitable compact and midsize sedans (the Dodge Dart and Chrysler 200). Marchionne said that he hopes the move will help strengthen FCA's finances before the U.S. new-car market declines from its peak.
What this means for investors: FCA is making a big betDespite the big year-over-year profit jump, FCA shares dropped over 3% in early trading on April 26 after the news was released. While it's never a good idea to draw conclusions from short-term market moves, I can see two big reasons why investors might be concerned about today's numbers.
First, FCA is essentially racing against the U.S. economic cycle, hoping to complete a transition to sustainable profitability before sales start to decline in North America. Its NAFTA region accounted for 89% of FCA's adjusted EBIT. Nearly all of that came from the U.S., and nearly all of that likely came from Jeep and Ram sales.
U.S. Jeep sales were up 17% in the first quarter, while U.S. sales of Ram pickups rose 12%. Both increases were ahead of the overall market's gains, but it's likely that the U.S. new-vehicle market is at or near a plateau. That means year-over-year gains will be increasingly hard to generate -- and at some point, the pace of new-car sales will start to decline, and with it FCA's profits.
The second concern is the rise in debt. While Marchionne has promised to bring FCA's down substantially by 2018, that plan -- like his plan to boost profits from sources other than Jeep and Ram sales in North America -- depends on continued strong earnings in FCA's NAFTA region.
In other words, Marchionne is making a big bet: That he can complete the effort to reshape FCA before the U.S. market runs out of steam.
Looking ahead: FCA's full-year guidance FCA confirmed its full-year guidance. It still expects net revenue of more than 110 billion euros, adjusted EBIT of more than 5 billion euros, and adjusted net profit of 1.9 billion euros. Despite the jump in net industrial debt we saw in the first quarter, it also still expects to end the year with net industrial debt below 5 billion euros.
The article Fiat Chrysler Earnings: Profit Jumped, But Debt Did Too originally appeared on Fool.com.
John Rosevear owns shares of Ford and General Motors. The Motley Fool owns shares of and recommends Ford. The Motley Fool recommends General Motors. Try any of our Foolish newsletter services free for 30 days. We Fools may not all hold the same opinions, but we all believe that considering a diverse range of insights makes us better investors. The Motley Fool has a disclosure policy.
Copyright 1995 - 2016 The Motley Fool, LLC. All rights reserved. The Motley Fool has a disclosure policy.