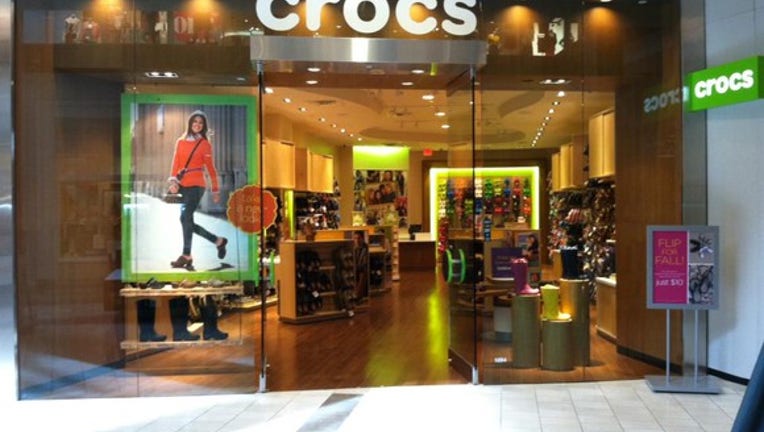 Footwear company Crocs (NASDAQ: CROX) reported its fourth-quarter results before the market opened on March 1. Revenue slumped across the company's entire range of geographic areas and segments, with retail, wholesale, and e-commerce sales all coming in weak. Plans for an executive shake-up and major store closings were announced, both positive steps for the struggling company. Here's what investors need to know about Crocs' fourth-quarter results.
Crocs results: The raw numbers
Data source: Crocs.
What happened with Crocs this quarter?
Revenue tumbled across all geographic regions and segments, but improved inventory management drove a gross margin improvement.
On a constant currency basis, revenue declined by 10.5% year over year.
Wholesale revenue dropped 10.7% year over year, with a 9.9% decline in the Americas, a 5.3% decline in the Asia-Pacific region, and a 23.3% decline in Europe.
Retail revenue slumped 9.9%, with a 7.1% decline in the Americas, a 16.6% decline in the Asia-Pacific region, and a 1.4% decline in Europe.
E-commerce sales tumbled 9.7%, with a 12.6% decline in the Americas, a 7% decline in the Asia-Pacific region, and a 0.8% decline in Europe.
Inventory declined by 13% year over year, which contributed to a 550-basis-point improvement in non-GAAP gross margin.
Crocs has identified $75 million to $85 million of cost savings, and it plans to close around 160 retail stores by the end of 2018. There were 558 retail stores at the end of 2016.
Current President Andrew Rees will be promoted to President and CEO effective June 1.
Crocs provided guidance for the first quarter and for 2017:
For the first quarter: Revenue is expected between $255 million and $265 million, non-GAAP SG&A expense is expected to be moderately higher compared to the prior-year period, and gross margin is expected to increase by 200 basis points. Revenue was $279 million during the first quarter of 2016.
For the full year: Revenue is expected to be flat, with a gross margin of 50% and non-GAAP SG&A expense of $495 million.
Image source: Crocs.
What management had to say
Current CEO Greg Ribatt, who will remain on the board after stepping down later this year, said the company was still on track to hit its medium-term gross margin target:
Ribatt also discussed the leadership changes occurring at the company:
Looking forward
Deep sales declines across every facet of Crocs' business during the fourth quarter worsens a trend that has plagued the company in recent quarters. The plan to close more than one-quarter of its retail stores should help boost retail profitability and slash costs, and a shake-up of the executive leadership team is likely necessary given the company's problems. But Crocs is facing weak sales across its entire business, and a fix won't come easy.
The company's progress boosting its gross margin and keeping inventory levels in check provided some good news, and its guidance for flat sales this year suggests that the company's results may soon bottom out. But Crocs has a lot of work to do, and a difficult sales environment isn't helping.
10 stocks we like better than CrocsWhen investing geniuses David and Tom Gardner have a stock tip, it can pay to listen. After all, the newsletter they have run for over a decade, Motley Fool Stock Advisor, has tripled the market.*
David and Tom just revealed what they believe are the 10 best stocks for investors to buy right now... and Crocs wasn't one of them! That's right -- they think these 10 stocks are even better buys.
Click here to learn about these picks!
*Stock Advisor returns as of February 6, 2017
Timothy Green has no position in any stocks mentioned. The Motley Fool recommends Crocs. The Motley Fool has a disclosure policy.