FedEx Spends Big To Meet Walmart, Amazon Demand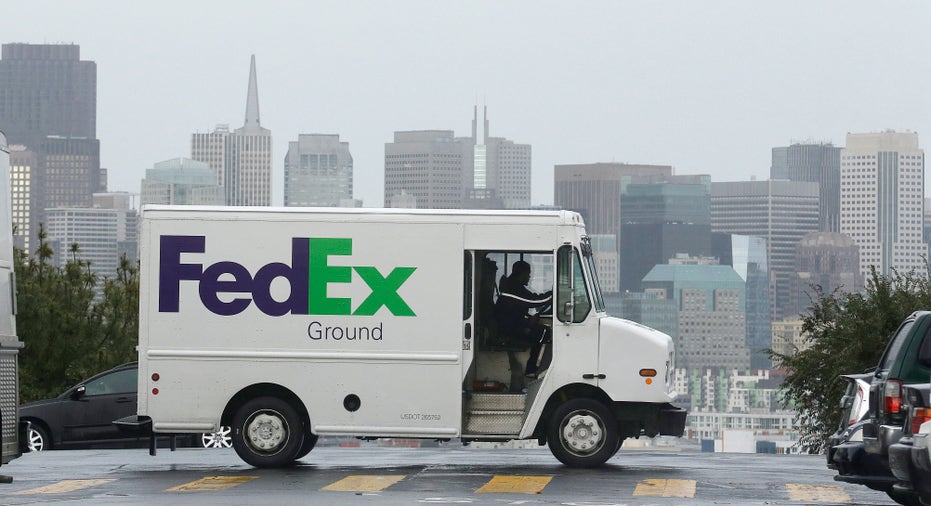 Package delivery service FedEx (NYSE:FDX) is spending big on improvements to its ground delivery segment to keep pace with increased demand from leading retailers, including Amazon Inc. (NASDAQ:AMZN) and Walmart (NYSE:WMT).
The Tennessee-based company posted adjusted earnings per share of $3.30 on $13 billion in revenue for its fourth fiscal quarter of 2016, beating analyst expectations of $3.28 EPS and $12.8 billion in revenue. With one-time charges included, FedEx reported a loss of $0.26 per share, thanks in large part to its acquisition of Dutch delivery service TNT.
But FedEx's continued emphasis on ground expansion has begun to pay off. FedEx Ground revenue grew 20% to $4.29 billion in the 2016 fiscal year. Alan Graf, FedEx's executive vice president and CFO, said the company is "expanding Ground as rapidly as we can" to meet increased shipping demand.
The company's capital spending amounted to $4.8 billion in its 2016 fiscal year, as "network expansion and self-insurance expenses" dragged on overall results that otherwise benefitted from cheaper fuel costs and e-commerce growth. FedEx forecasts capital spending of $5.1 billion in 2017, with $2 billion dedicated to further expansion of ground shipment facilities.
BT&T Capital Markets reiterated its "hold" rating for FedEx due to a currently shaky global economic outlook, but raised its EPS estimate for fiscal year 2017 to $11.85 from $11.80.
"Management expects positive momentum to continue in fiscal 2017, driven by improved operating performance through pricing, volume and the Express profit improvement," BT&T analyst Kevin Sterling wrote in a note. "In addition, the company continues to modernize its fleet (particularly by adding 767s) and invest in Ground facilities to support the rapid growth of e-commerce."
FedEx officials directly addressed the company's relationship with Amazon and Walmart, the world's largest retailers, who are currently jockeying for position in the e-commerce sector.
Mike Glenn, the president and CEO of FedEx Services, downplayed the effect that any one company would have on FedEx's business, even as he touted FedEx's efforts to address Amazon's needs.
"Because of our close relationship with Amazon and close collaboration, we have a very clear and specific understanding of their needs across the FedEx portfolio during FY17, and further we expect them to be a significant customer for many years to come," Glenn said during a post-earnings conference call. "Having said that, it is important to remember that no single FedEx customer represents more than approximately 3% of total revenue."
Glenn fielded a question about Walmart's new two-day subscription shipping service, seen as the company's bid to challenge the ever-popular Amazon Prime. Walmart plans to use regional carriers to deliver packages, potentially to the detriment of FedEx, which currently handles most of its e-commerce shipments, the Wall Street Journal reported.
Glenn said Walmart remains a "long time and growing customer" for Fedex, adding that regional carriers aren't a significant threat to its business.
"The fact of the matter is regional carriers simply don't have the scope and the scale to be able to compete with the networks that make up 95% of the e-commerce shipments in the U.S, and as said before that would be FedEx, UPS, United States Postal Service," Glenn said. "There's a role for regional carriers and -- but they cannot compete in our opinion with FedEx over the long haul."
Buckingham Research Group reiterated its "Neutral" rating for FedEx's stock and maintained a below-consensus EPS estimate of $11.50 for 2017, citing questions about FedEx's bid to integrate the newly-acquired TNT. FedEx officials declined to include TNT in the 2017 forecast, noting that integration efforts had just begun.
"What was clear to us, is that the integration will take longer, and the EPS ramp, slower, at both the Ground and TNT Express divisions," Buckingham analysts said in a note. "FedEx will be spending heavily in 2017/2018 to bring its Express fleet up to date, expand its Ground operations and integrate TNT Express. All will add to EPS growth in future years, but currently, we are concerned that consensus expectations for EPS accretion in 2017/2018 are too high."