FedEx Earnings: Another Successful Year in the Books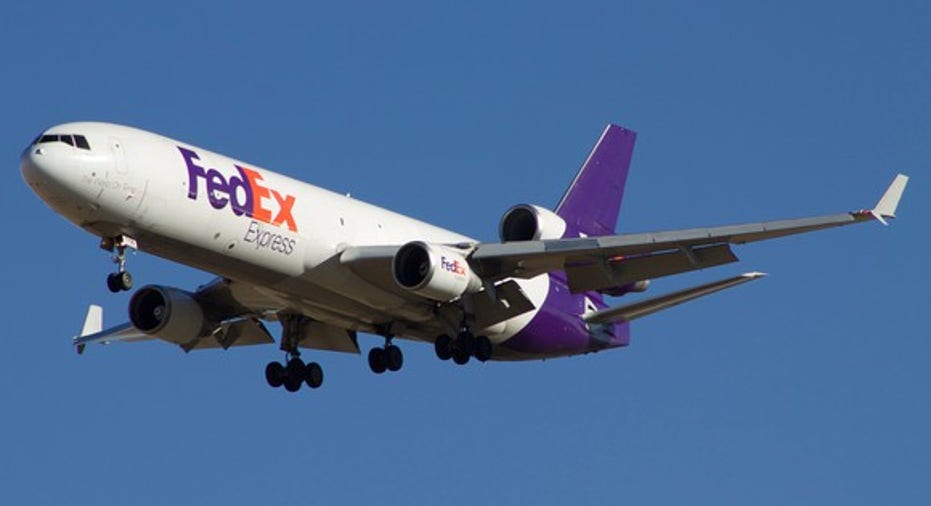 On Tuesday afternoon, FedEx reported a modest net loss of $0.26 per share for the fourth quarter of its 2016 fiscal year. The loss was driven by a $1.5 billion pre-tax charge related to changes in the company's pension liability.
However, on an adjusted basis, FedEx's earnings per share soared to $3.30 for Q4, up 24% year over year and slightly ahead of the average Wall Street analyst estimate of $3.28. In short, it's the end of another successful year for FedEx.
FedEx's fourth quarter and year in brief
In Q4, FedEx's revenue reached $13.0 billion, up from $12.1 billion a year earlier and beating of the average analyst estimate of roughly $12.8 billion. Nearly all of the year-over-year increase came from the ground segment, which is FedEx's biggest long-term growth driver.
For the full year, revenue rose from $47.5 billion to $50.4 billion and FedEx's adjusted operating margin improved by a full percentage point. This performance drove a 21% increase in adjusted EPS, to $10.80.
FedEx grew its adjusted earnings per share by 21% in fiscal 2016. Image source: The Motley Fool.
FedEx's biggest accomplishment of the quarter (and year) came less than a month ago, when it closed on its acquisition of TNT Express. This merger will significantly improve FedEx's positioning in several key markets around the globe, especially in Europe.
Solid results across all divisions
All three of FedEx's main operating segments performed well last quarter. That's a change from earlier this year, when the ground and freight segments were both experiencing considerable margin pressure.
FedEx Express continued to lead the way in terms of profit growth. While revenue was roughly flat, the segment's adjusted operating margin improved to 11.3% from 8.9% a year earlier. (Still, it didn't quite reach FedEx CEO Fred Smith's goal of earning a 12% Q4 segment margin.) Adjusted segment operating income jumped from $598 million to $757 million.
The FedEx Ground segment posted a 20% year-over-year jump in revenue, partially driven by an accounting change and offset by a 1.6-percentage-point decline in operating margin. The net result was a 9% year-over-year increase in its operating income, from $603 million to $656 million.
Finally, FedEx Freight continued to recover from its underperformance in the first half of the year. Operating income was flat on a year-over-year basis at $137 million, driven by a slight revenue increase offset by a 0.2-percentage-point margin decline.
Looking ahead
During fiscal 2017, FedEx expects adjusted EPS to reach a range of $11.75-$12.25, up 9%-13% year over year. However, in addition to excluding pension adjustments as usual, this adjusted EPS guidance also excludes the results of the recently acquired TNT Express business.
The TNT acquisition occurred so late in the year that FedEx's management probably hasn't had enough time to develop detailed projections for the upcoming year. Still, it's important for investors to recognize that FedEx's actual results, including TNT, could differ significantly from the guidance range.
FedEx's main task in fiscal 2017 will be to get the TNT Express integration process on a firm footing, so 2017 promises to be a year of heavy investment. Even excluding TNT, FedEx plans to increase capex to $5.1 billion in the coming year, up from $4.8 billion in fiscal 2016 and $3.5 billion just two years before that. One-time integration costs and TNT-related capital spending will add to that total.
As a result, it's quite possible that FedEx's free cash flow will turn negative in fiscal 2017. Despite strong operating cash flow growth, FedEx generated less than $1 billion of free cash flow last year because of its high capex -- and the TNT integration will put pressure on both sides of the cash flow statement this year.
Still, FedEx should be able to reap significant revenue and cost synergies during the next several years if it can integrate TNT smoothly. Doing so would drive strong free cash flow growth beyond fiscal 2017.
The article FedEx Earnings: Another Successful Year in the Books originally appeared on Fool.com.
Adam Levine-Weinberg has no position in any stocks mentioned. The Motley Fool owns shares of and recommends FedEx. Try any of our Foolish newsletter services free for 30 days. We Fools may not all hold the same opinions, but we all believe that considering a diverse range of insights makes us better investors. The Motley Fool has a disclosure policy.
Copyright 1995 - 2016 The Motley Fool, LLC. All rights reserved. The Motley Fool has a disclosure policy.