Federated Investors Inc Earnings Up 25% on Asset Growth, Higher Interest Rates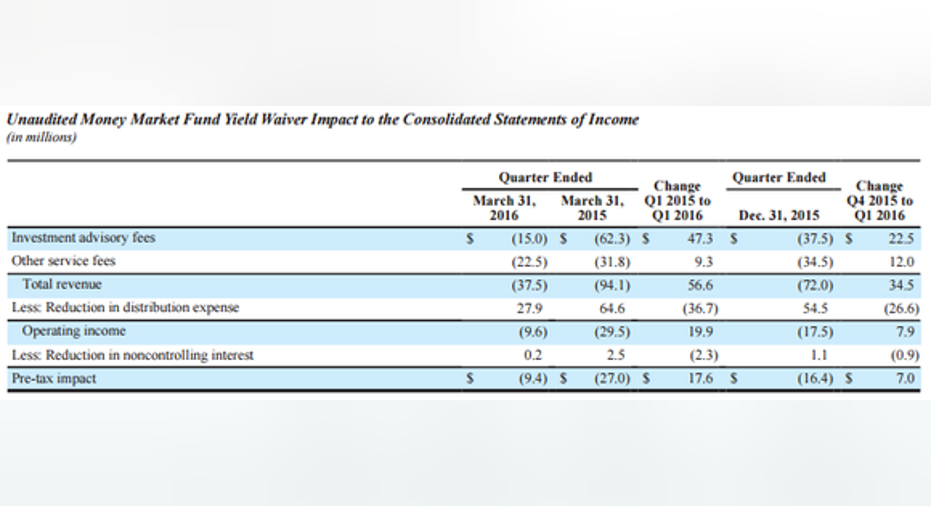 Federated didn't see much equity and fixed-income growth, but higher interest rates boosted its money markets revenue.
Federated Investors Inc reported first-quarter results on April 28, and the investment management services company continued to steadily grow assets and profits. And while the recent Fed rate hike is helping on the bottom line, the company has a few headwinds that it must continue to deal with, including new money market rules that kick in later this year, that could have a negative impact on profits.
Here's a closer look at the company's results from last quarter, and key takeaways to consider.
The numbers
| Metric | Q1 2016 | Q1 2015 | Change |
| --- | --- | --- | --- |
| Revenue | $181.8 | $146.6 | 24% |
| EPS | $0.44 | $0.35 | 25.7% |
| Operating Expense | $197.6 | $161.5 | 22.4% |
| Total managed assets | $369.7 | $355.8 | 3.9% |
Revenue and operating expense in millions. Total managed assets in billions. Source: Federated Investors.
Keys to the quarterFederated Investors benefited from the small Fed interest rate increase issued in late December, and is seeing its revenue mix shift back toward money markets as a result. After years of steadily growing revenues from equity and fixed-income assets, last quarter indicated that trend could begin shifting back the other way. Last quarter, Money market asset revenue was 47% of total revenue, up from 38% in the previous quarter, and from closer to 30% in the year-ago quarter.
The key way this is increasing revenue is because it is significantly cutting so-called "fee-waivers" Federated has had to issue for much of the past several years' near-zero interest rate environment. In short, the company typically cannot charge fees that cause a money market investment to produce negative interest yields, and this has significantly cut the company's money market revenues and profit in recent years.
Here's a table that shows the impact of fee waivers last quarter, compared to the previous quarter and compared to the year-ago period:
Image source: Federated Investors.
As you can see, the small rate increase helped Federated Investors see a $17.6 million benefit versus last year, and a $7 million benefit versus the previous quarter, almost all because of higher interest rates.
Things to watchTo the downside, CFO Tom Donahue said that -- as the company has previously disclosed -- a change in one of the company's customer relationships may reduce pre-tax income by $6 million per quarter later this year. For context, that's about 8% of the company's pre-tax quarterly income in the first quarter.
He also said that it would take about 50 basis points of further Fed rate increases to completely eliminate fee waivers. For context, that would be roughly equal to two more increases at the same rate issued in late December, and there's some concern that the Fed won't raise rates again before this fall at the soonest. In other words, there's some risk that the positive benefit of the recent rate increase could be partly canceled out by an impending change with a major customer, and the benefit of further interest rate increases could be a while yet in the making.
There's also some concern with incoming new rules around money market accounts, and it seems that many of the investors who could be affected by it have been slow to make any changes, so it's a little unclear exactly how this will impact the company. Stay tuned over the next few quarters to get better clarity on how this is playing out.
There's also the impact of the recent Department of Labor rules around retirement accounts and fiduciary standards. Donahue said that one of the leading fiduciary experts has worked at Federated "for forever," and that management wasn't overly concerned about its fee structure causing it any issues, though there would surely be some changes necessary.
Looking aheadWhile there's a little uncertainty in the short term for Federated as the interest rate and new rules environment both play out, the company's financial performance has remained steady in recent quarters.
The board also announced a $0.25-per-share quarterly dividend, the same thing the company has paid for the past several years. And until interest rates climb a bit higher and the company moves into the new regulatory environment for money markets, the regular dividend probably won't see any significant increase. But with a strong balance sheet and more-than-adequate cash flows and earnings, it's certainly not at any high level of risk of cuts.
Looking at the long term, Federated seems to be in pretty good shape. It looks more likely than not that interest rates won't get bumped up in the near term, but the Fed seems more likely than not to keep pushing them up when economic growth shows it can support it. And while that's going to help the company's bottom line, it's just not clear how long it'll take before rates do get pushed higher.
The article Federated Investors Inc Earnings Up 25% on Asset Growth, Higher Interest Rates originally appeared on Fool.com.
Jason Hall owns shares of Federated Investors. The Motley Fool recommends Federated Investors. Try any of our Foolish newsletter services free for 30 days. We Fools may not all hold the same opinions, but we all believe that considering a diverse range of insights makes us better investors. The Motley Fool has a disclosure policy.
Copyright 1995 - 2016 The Motley Fool, LLC. All rights reserved. The Motley Fool has a disclosure policy.