FBN Exclusive: Lawsuits Filed Over Puerto Rican Debt
Lawsuits on behalf of those owning Puerto Rican debt, and those who own money that support the debt, have been filed according to a document obtained by the FOX Business Network from Davis Polk & Wardwell LLP.
"Substantial holders of outstanding bonds of the Government Development Bank for Puerto Rico (GDB) announced today that they have filed a complaint in the United States District Court for the District of Puerto Rico seeking to enjoin certain transfers of assets by GDB that are prohibited under Puerto Rico Law," the document stated.
Sources tell FOX Business anchor Liz Claman that the suit will prevent any bondholder of Puerto Rican debt from withdrawing their money.
"It is imperative that GDB's [government bondholders] assets be preserved and that the preferential payments in violation of Puerto Rico law cease in order to permit restructuring discussions to unfold," it said.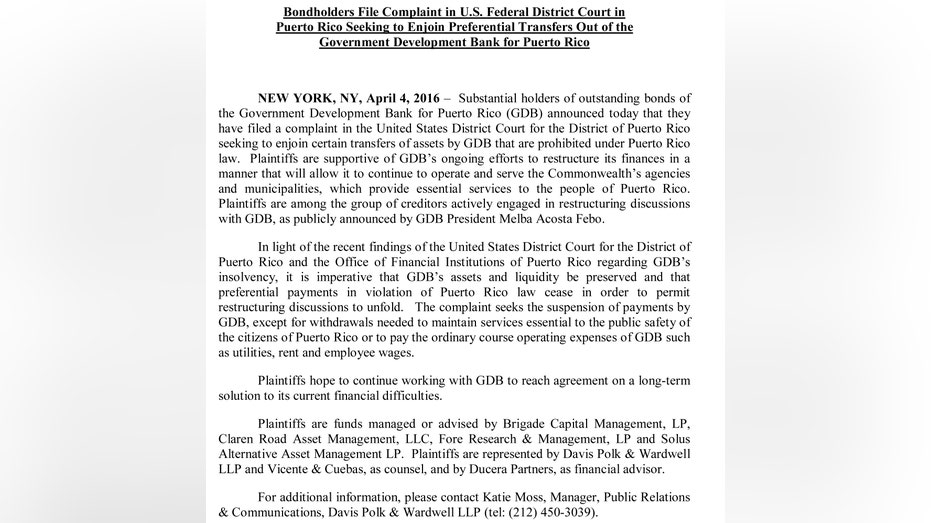 As previously reported by the FOX Business Network's Charlie Gasparino and Adam Shapiro, nearly 70 percent of U.S.-based municipal bond funds own Puerto Rican bonds or have some type of exposure.