Fast Casual Stocks: What to Watch in 2017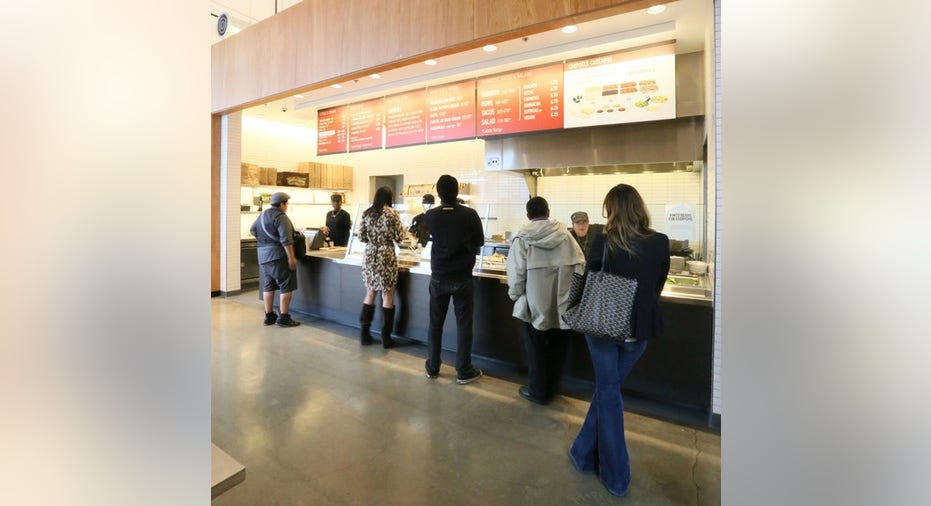 People are eating out less and that has begun to impact fast casual restaurants that had previously bucked the trend.
That's bad news for fast-casual leaders includingPanera Bread(NASDAQ: PNRA), Shake Shack (NYSE: SHAK), and the still-struggling with E. coli-fallout Chipotle (NYSE: CMG). That's bad news for a market segment which has also become crowded due to venture capitalists seeking the next big trend. Those chains, many of which have or will fail, take business that might otherwise go to an already established player.
That, along with a shrinking amount of people eating out will continue in 2017, which creates a challenging market for all three of these players. Despite that, as has generally been the case, the best-run companies will find a way to overcome these trends.
Chipotle has struggled to win back customers. Image source: Chipotle.
What is happening in the fast-casual industry?
In the first half of 2016 business slowed down for fast casual chains overall with growth slowing to zero in Q2 and dropping by 1% in Q3, according NPD. That's troubling for a market segment that had been steadily attracting more customers.
"The term growing your business in a 'one percent world' has become a popular mantra for the restaurant industry after six consecutive years of annual traffic gains of just one percent," said NPD Restaurant Industry Analyst Bonnie Riggs. "However, over the past six months restaurant industry traffic growth has come to a standstill."
What's perhaps most disturbing for chains like Panera, Shake Shack, and Chiptole, 75% of those surveyed by NPD who have decreased their visits to restaurants said they watch how they spend their money in all cases. A large part of that group called restaurant prices too high, which is a problem for fast casual chains operating on a model of charging more than quick serve/fast food eateries in exchange for offering a higher-end product.
"The marketplace is changingand despite improving economic indicators, the consumer landscape is fundamentally reshaped," Riggs said in comments printed by FastCasual.com.
The cream will rise to the top
The past year has been a mixed one for the three fast casual companies covered above. Chipotle has been very slow to recover from its food-safety scandal. The chain saw same-store sales drop 21.9%, in Q3. Panera was able to outperform the rest of the industry in Q3, showing 3.4% same-store sales growth while Shake Shack also did better than the small loss of business the overall fast casual saw posting a 2.9% same-store sales gain for the period.
At some point you have to assume that customers will forgive Chipotle (and in 2016 its year-over-year comps will be much easier). Panera and Shake Shack's results in Q3 illustrate a point according to Riggs. She explained that even in a tough climate, there remains demand for food service, simply because it's faster and easier than eating at home while also providing diners with an experience.
"Restaurantoperators will need to look for ways to differentiate themselves from the competition," she said. "They will need to find the means to stay relevant in consumers' minds innovative products, unique promotions, competitive pricing, stating the benefits of eating at restaurants compared to home while delivering an enjoyable experience."
That's what the best operators -- Panera and Shake Shack who are in that group now and Chipotle was for years -- do. They find ways to get customers in the door.
What does that mean for 2017?
In the coming year getting consumers to make repeat visits may mean offering more actual value (versus the perceived value of being better that most fast casual chains pushed in the past). That probably does not mean dropping prices like fast food chains have done, clever programs which reward repeat customers may become more prevalent.
Chipotle had some success doing that with its limited-time Chiptopia rewards program. Panera has also offered some loyalty incentive via its app and it's very likely that fast casual will have to work to show consumers they can offer a fair price without gutting margins. That likely means following the model pioneered by Starbucks (NASDAQ: SBUX).
The coffee chain uses its app to not only drive repeat business, but also to control consumer behavior. It incentivizes people coming back with its free drink rewards, but the chain can also push people to visit during a slower day part or get them to order an extra item by pushing discounts at the right time.
Under these scenarios -- which are likely the future of most fast casual operators -- consumers feel like they got more (even something for free) when they actually made extra visits and/or had higher check totals. Fast casual is no longer novel and the market segment won't draw just because it has the perception (and often the reality) of offering better food than its quick-serve rivals.
The past year was a sobering one for fast casual where some of the bloom came off the rose. Going forward the segment can mature to one that better serves the current needs of the market rather than simply assuming that the idea of higher quality will be enough to keep customers coming back.
10 stocks we like better thanWal-MartWhen investing geniuses David and TomGardner have a stock tip, it can pay to listen. After all, the newsletter theyhave run for over a decade, the Motley Fool Stock Advisor, has tripled the market.*
David and Tomjust revealed what they believe are theten best stocksfor investors to buy right now and Wal-Mart wasn't one of them! That's right -- theythink these 10 stocks are even better buys.
Click hereto learn about these picks!
*StockAdvisor returns as of December 12, 2016The author(s) may have a position in any stocks mentioned.
Daniel Kline has no position in any stocks mentioned. He eats at Chipotle way more than any other fast casual chain. The Motley Fool owns shares of and recommends Chipotle Mexican Grill, Panera Bread, and Starbucks. The Motley Fool is short Shake Shack. Try any of our Foolish newsletter services free for 30 days. We Fools may not all hold the same opinions, but we all believe that considering a diverse range of insights makes us better investors. The Motley Fool has a disclosure policy.