Fast-Casual Isn't the Only Thing Killing Fast Food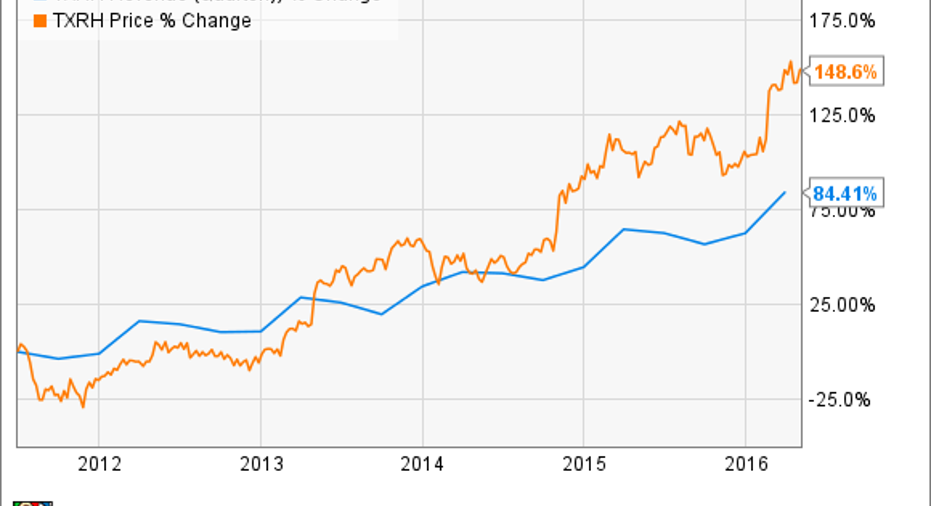 Image soure: McDonald's.
Americans have an affinity for fast food. From frozen TV dinners to the drive-through, hamburgers and hot dogs to pizza, the history of American cuisine often highlights convenience and quickness above all else. The newest trend in American cuisine, fast-casual dining, seeks to offer the same speed of delivery and convenience as fast food, but without sacrificing on overall quality. An initial assumption might be that fast-casual is supplanting full-service and fast food restaurants in popularity. Do the numbers back this thinking up?
Changes in eating-out habitsSomething surprising shows up in the numbers. While a rising tide may lift all boats, some boats prove to be a little more buoyant than others. Quick-service food, a combination of fast-food and fast-casual, is growing at a slower pace than the overall restaurant industry, while growth in full-service establishments is slightly exceeding the overall industry. Since 2010, America's collective eating-out budget has swelled from $467 billion a year to $622 billion in 2015, a 33% increase. Over that same period of time, full-service restaurant spending increased 38% and displaced almost 5% of spending at quick-service restaurants as an overall percentage of the eating-out budget.
Chart data source: U.S. Census Bureau. Chart created by Nicholas Rossolillo.
What is causing the change in trend? The answer lies in generational differences. A snapshot survey taken in 2014 showed that the U.S. population overall was replacing stop-offs for fast food with visits to fast-casual diners and full-service restaurants. People under age 30, over a third of the entire U.S. population, were not only replacing fast food for fast-casual options but also eating out in general much more often. Those meals away from home were being spent at places that touted higher-quality or fresher ingredients, with a more formal or themed dining atmosphere and more customer servicethan what the typical fast-food option can offer.
What can we take away from this data? As younger generations grow up and assert more command in the economy,America's dependence on quick food is changing. While fast-casual diners have been all the buzz as of late, many investors havebeen ignoring the resurgence of full-service restaurants.An increasing number of consumers are willing to pay up or even wait a little bit longer for a higher-quality meal and better service. Traditional fast foodnow has a two-front war on its handsand is under attacknot only by newer and fresher fast-casual brands, but also by full-service options.
Cases in pointTo illustrate these changes on a more tangible level, let's look at one restaurant chain from each of the fast-food, fast-casual, and full-service sectors.
While it continues expansion and growth overseas,McDonald's (NYSE: MCD)has not been able to offset declines in U.S. business. Beset by growing awareness of health and fitness, fierce competition within the fast-food industry over the shrinking number of overall sales, and a general stigma among younger consumers that has been difficult to shake, McDonald's has struggled to lure in hungry constituents.
McDonald's five-year share price and quarterly revenue. MCD Revenue (Quarterly) data by YCharts
In recent years the company has fought back against the trend by introducing new menu items such as fruit and salads, "premium" burgers, store remodels, and the recent launch of all-day breakfast. To date, none of these initiatives has gotten the company back to peak revenue levels, although cost-cutting and profit-margin increasing initiatives have driven stock prices higher in the past year. Longer-term, though, management will ultimately need to find ways to reconnect with changes in dining trends to increase sales.
In the fast-casual segment, Panera Bread has seen great success growing its business. Offering baked goods, coffee, and other cafe-style items. Panera Bread has gained appeal among those looking for a quick on-the-go meal as well as a dine-in option for those looking for free Wi-Fi and a place to meet.
Panera Bread five-year share price and quarterly revenue. PNRA Revenue (Quarterly) data by YCharts
The company had just over 1,450 locations back in 2010 and has grown over 30%, with nearly 2,000 locations in the United States. Revenue and share prices have followed on the same trajectory as the new location growth. The large bakery/cafe is testament to the fact that consumers aren't eliminating their fast-food budgets, but replacing them with an alternative.
Following a similar trajectory to Panera Bread is full-service restaurant chain Texas Roadhouse . The company has been on a growth tear in the past five years, growing locations, revenue, and share prices with seeming ease.
Texas Roadhouse five-year share price and quarterly revenue. TXRH Revenue (Quarterly) data by YCharts
What has been the secret to success? The company likes to tote its large portions for a good value, and its lively, loud, "themed" Texas atmosphere. Whatever it is exactly, it has been working.
Action steps for investorsThough "fast-casual" has become a buzzword, investors should consider that the restaurant industry in general is changing. Though fast food may be under siege, strong trends have started to develop that support fast-casual and full-service chains with a strong "themed" menu and atmosphere. The consumer taste shift may be wreaking havoc on McDonald's and other similar businesses, but it presents exciting new opportunities for investors.
The article Fast-Casual Isn't the Only Thing Killing Fast Food originally appeared on Fool.com.
Nicholas Rossolillo has no position in any stocks mentioned. The Motley Fool owns shares of and recommends Panera Bread. The Motley Fool recommends Texas Roadhouse. Try any of our Foolish newsletter services free for 30 days. We Fools may not all hold the same opinions, but we all believe that considering a diverse range of insights makes us better investors. The Motley Fool has a disclosure policy.
Copyright 1995 - 2016 The Motley Fool, LLC. All rights reserved. The Motley Fool has a disclosure policy.