FANG Stocks Are Absolutely Crushing It in 2017 -- Time to Buy, Sell, or Hold?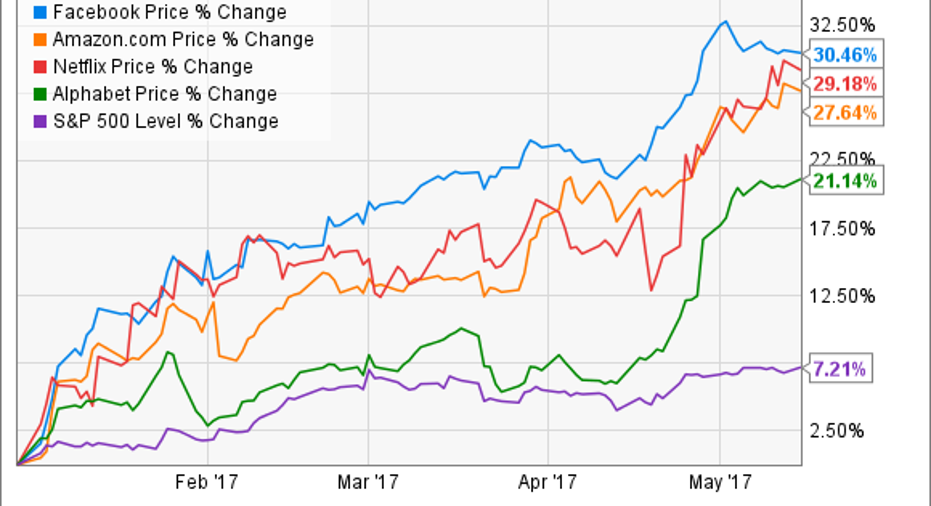 Sometimes, winners just keep on winning. This has been the underlying theme for Facebook (NASDAQ: FB), Amazon (NASDAQ: AMZN), Netflix (NASDAQ: NFLX), and Alphabet (NASDAQ: GOOGL) (NASDAQ: GOOG)so far in 2017. Often collectivelyreferred to as FANG stocks, these four stocks have absolutely trounced the market this year, adding to their huge outperformance in recent years.
Here's a close look at these stocks' recent performance, as well as a glimpse at what has been driving their stocks higher, some reasons to be cautious, and what investors should make of these surging stock prices.
Image source: Getty Images.
FANG stocks' mind-boggling performance
Facebook, Amazon, Netflix, and Alphabet stocks are up about 30%, 29%, 28%, and 21%, respectively, year to date. These returns leave the S&P 500's 7% rise during this period in the dust.
Furthermore, these stocks' big gains in 2017 extend an extraordinary track record for each in recent years. Facebook's, Amazon's, Netflix's, and Alphabet's stock prices are up about 150%, 220%, 220%, and 80%, respectively, compared to three years ago. During this same period, the S&P 500 increased just 27%.
Here's a quick look at each stock.
Facebook
Catalysts: Facebook's surging stock price comes as the company's revenue and earnings per share are soaring, driven by strong advertiser demand and continued growth in users. In Facebook's most recent quarter, revenue soared 49% year over year, and earnings per share jumped 73%. The social network's monthly active users were up 17% year over year.
Risks: Management has been warning investors that Facebook's revenue growth rates are about to come down meaningfully as the social network laps strong comparisons. Itexpects increasing ad loads to no longer serve as a key catalyst for revenue growth. If growth rates come down faster than investors are expecting, the stock's premium valuation could get a haircut.
Amazon
Catalysts: Amazon continued to impress investors in 2017, as the company's earnings per share came in significantly above analyst estimates for both quarterly earnings reports published during the year. Higher-than-expected profitability has primarily been driven by Amazon's fast-growing cloud services business, which accounts for the bulk of Amazon's operating profits.
Risks: Amazon continues to display an appetite for aggressive investments, even if this means margins take a hit in the near term. While this is the very strategy that has helped fortify the company's market share gains and competitive advantages today, it's always possible that today's investments won't pay off as handsomely in the future as past investments have.
Netflix
Catalysts: Netflix has been proving to investors it can not only continue growing its subscriber base rapidly, but also achieve meaningful profitability while it's at it. For instance, the streaming-TV leader reported its first-ever consolidated profit in its international segment in the first quarter, as mature markets in the segment offset investments in newer international markets. In addition, Netflix's earnings per share for the quarter was $0.40, up significantly from $0.06 in the year-ago quarter.
Risks:Investors shouldn't expect Netflix's sudden profitability overseas to stick around. The company is already projecting a small loss in Q2 for its international segment as it invests aggressively in newer markets.
Alphabet
Catalysts: Alphabet's revenue and earnings have recently increased nicely, with both coming in ahead of analyst expectations in the first quarter of 2017. The company's strong business growth has been driven primarily by mobile search and YouTube. Furthermore, Alphabet's other revenues segment is also benefiting, thanks to growing revenue from the Android app store, Google-branded hardware, and cloud services.
Risks: Alphabet's "other bets" segment, which includes some of the company's "moonshot" side businesses like Nest, Verily, and Fiber, may account for a small portion of Alphabet's revenue, but it's weighing pretty heavily on overall operating income. The segment lost $855 million in the first quarter of 2017, worse than a $774 million loss in the year-ago quarter. If Alphabet can't turn some of these other bets into winners, the segment could drag on results.
Image source: Getty Images.
What should investors do?
Beyond these fundamental risks for each stock, all four of these companies are up against a common and unforgiving foe: high expectations. Investors have priced sustained, high levels of growth into all four of these stocks' valuations. So investors would be wise to take the time to fully understand what these companies will need to do to live up to their valuations.
Investors shouldn't automatically conclude it's time to selljust because of these stocks' recent sharp increases and their pricey valuations. I don't believe investors interested in these stocks are too late to the game. Facebook, Amazon, Netflix, and Alphabet continue to benefit from their strong competitive positions in their respective markets, and their underlying businesses look stronger than ever.
Of course, investors should expect volatility. Given the significant growth expectations baked into these companies' valuations, a slight shift in sentiment about their long-term prospects could spark large swings in their stock prices. On the other hand, if investors continue to wait for these market leaders' stocks to fall to bargain territory, they might miss out entirely.
Ultimately, even after an impressive start to 2017, FANG stocks continue to look like the sort of companies investors should want in their portfolios over the next 10 years.
10 stocks we like better than Alphabet (A shares)When investing geniuses David and Tom Gardner have a stock tip, it can pay to listen. After all, the newsletter they have run for over a decade, Motley Fool Stock Advisor, has tripled the market.*
David and Tom just revealed what they believe are the 10 best stocks for investors to buy right now... and Alphabet (A shares) wasn't one of them! That's right -- they think these 10 stocks are even better buys.
Click here to learn about these picks!
*Stock Advisor returns as of May 1, 2017
Suzanne Frey, an executive at Alphabet, is a member of The Motley Fool's board of directors. Daniel Sparks owns shares of Facebook. The Motley Fool owns shares of and recommends Alphabet (A shares), Alphabet (C shares), Amazon, Facebook, and Netflix. The Motley Fool has a disclosure policy.