Family Incomes Rise After Lull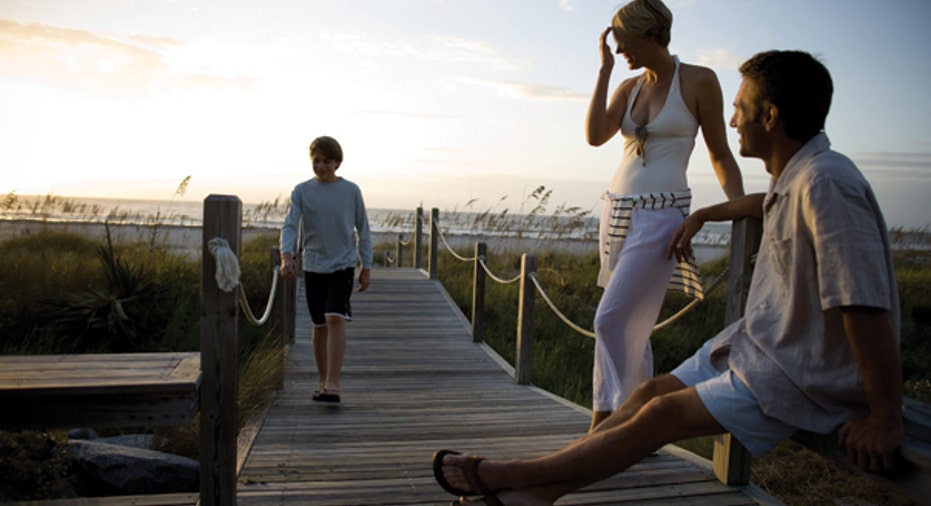 A surge in U.S. incomes last year delivered the first significant raise for the typical family after seven years of stagnant and declining earnings, the result of sustained job growth finally lifting a broad swath of American households.
The median household income -- the level at which half are above and half are below -- rose 5.2%, or $2,798, to $56,516, from a year earlier, after adjusting for inflation, the Census Bureau said Tuesday.
The increase was the largest annual gain recorded since the yearly survey of incomes began in 1967, though it didn't fully close the gap left by last decade's recessions. Median household incomes stood 1.6% shy of the 2007 level, before the last recession took its toll, and 2.4% below the all-time high reached in 1999.
The figures show how several years of robust employment growth, including 2.4 million people who gained full-time work last year, helped regain ground lost after an especially wrenching downturn, particularly for lower-income households. Longer hours, higher wages and lower inflation also have contributed to the improvement.
One question now is whether a sustained upturn is under way, or whether these gains are likely to peter out as the economy nears full employment, especially given a continuing slide in measured worker productivity.
"It has been a long slog from the depths of the Great Recession, but things are finally starting to improve for many American households," said Chris Christopher Jr., an economist at IHS Global Insight, a research firm.
At the current pace, median household incomes could surpass their 2007 level next year, according to forecasts by IHS, concluding a lost decade for workers.
The official poverty rate in 2015 was 13.5%, down from 14.8% in 2014, the Census report said. That was still slightly higher than in 2008 and up from 11.3% in 2000. More than 43.1 million Americans were living in poverty last year. The poverty level was $24,257 for a family of four.
Meanwhile, the report showed fewer people lacked health insurance in 2015 than the previous year, largely because of expanded access through the Obama administration's Affordable Care Act. The Census Bureau found 29 million people, or 9.1% of Americans, lacked health insurance in 2015. That is down from 33 million people, or 10.4% of the population, in 2014. The uninsured rate has dropped significantly since 2008, when millions more Americans lacked coverage.
Democrats celebrated the report during a campaign season that has been marked by deep economic unease among voters in both parties.
"This is a big deal," President Barack Obama said at a campaign stop for Democratic presidential nominee Hillary Clinton in Philadelphia. "More Americans are working, more have health insurance. Incomes are rising. Poverty is falling."
The Clinton campaign has pursued a delicate balancing act by talking up gains made since the depths of the 2008 financial crisis without appearing to dismiss lingering anxieties. For example, even with the gains reported Tuesday, the typical male full-time worker earned around $150 less last year than in 1998, after adjusting for inflation.
Still, Democrats said the report would rob Republican nominee Donald Trump of some of the figures he has used to press his case of a nation in historic decline. "This data does run counter to the apocalyptic vision that Donald Trump is describing about where the economy is," said Jacob Leibenluft, a senior policy adviser to Mrs. Clinton.
The Trump campaign didn't directly respond to the Census report on Tuesday, but at a campaign rally in Clive, Iowa, Mr. Trump said his plans for the economy would do more than Democrats had done to reduce poverty.
"The poverty is beyond belief," he said. "It's time to break up the failed Democratic control over our inner cities and provide real hope and opportunity to every single community in this nation."
Incomes have been much slower to recover during the recession than stocks, home values and other stores of wealth, which reached a new record during the second quarter, according to the Federal Reserve.
Tuesday's income and poverty report is drawn from an annual survey asking detailed questions about annual incomes -- including wages, dividends, child support and government benefits. The survey, collected in March with results released in September, is sent to around 95,000 households that are representative of the U.S. population.
Income gains were spread across nearly all age groups, household types, regions and racial or ethnic groups. One exception: Incomes didn't rise for households living outside metropolitan areas.
The largest increases in incomes last year were for the bottom fifth of all earners, which could reflect rising state and local minimum wages. As a result, the ratio between incomes at the 90th and the 10th percentiles narrowed.
Meanwhile, the figures showed incomes at the 60th, 80th, 90th and 95th percentiles reached new records after adjusting for inflation. Incomes for households at the 10th and 20th percentiles still stood 9.9% and 7.6% below their peaks set at the end of the 1990s, respectively.
Among all full-time, year-round workers, women saw substantially larger earnings gains than men, posting an annual increase of 2.7%, compared with 1.5% for men. The increases narrowed the pay gap between women and men to the lowest level on record.
Noncitizens, who tend to earn less and have higher workforce participation rates than native-born workers, saw some of the largest increases in incomes last year. Median incomes of noncitizen households rose 10.5% to $45,100, while incomes of native-born households rose 4.4% to $57,200.
Melody DeMarco of Peninsula, Ohio, is among those feeling better about her job prospects. She worked for the same employer for 29 years as a dental lab technician and had seen her hours cut to part-time work after the recession. She was laid off in February 2015.
After a 16-month job hunt, she found a better-paying, full-time job in June at a local hospital. "I'm in a wonderful position. It's a great company. The benefits are fantastic," said Ms. DeMarco, 58 years old.
The recovery hasn't yet caught up with Rebecca Wagner, 33, of St. George, Utah. She lost her sales job at a radio station last year and found work that pays less as an office assistant at a law firm. It doesn't have health insurance, and Ms. Wagner said she is better off paying tax penalties for being uninsured than to purchase a health plan.
Her former husband lost his job in the oil fields in February and was offered less predictable work in North Dakota last month.
"With rent climbing, the cost of living going up, you literally have to have two incomes to survive," said Ms. Wagner. She said she doesn't plan to vote this fall. "They have made this whole campaign a joke. It is something you would see on MTV."
Write to Nick Timiraos at nick.timiraos@wsj.com and Janet Adamy at janet.adamy@wsj.com