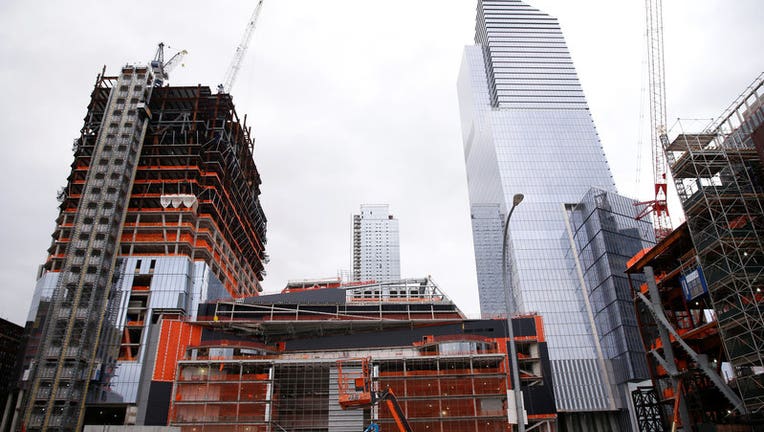 Lower leasing costs, more efficient office space and the hope of projecting an image more appealing to millennials are leading hedge funds and large corporations to leave Manhattan's most-coveted business district for a rejuvenated Downtown and the trendy far West Side.
The construction of gigantic new office buildings that allow tenants to use 20 percent less space is pressuring prices and driving firms like consultants BCG and law firm WilmerHale out of the tony Plaza District in Midtown Manhattan.
In the latest potential blow to the area surrounding the elegant Plaza Hotel - the city's most coveted business address for decades - asset manager BlackRock Inc is poised to lease 850,000 square feet at a planned 58-story tower at the new Hudson Yards development on the far West Side.
Also spurring the slow exodus is the notion that the area just southeast of Central Park, which includes the Trump Tower on Fifth Avenue, is showing its age and fails to satisfy the city's burgeoning millennial workforce.
Buildings along Park Avenue in the half-square-mile Plaza section of Midtown on average were built in 1960. The area roughly runs from 50th to 59th streets and is bounded by Lexington and Sixth Avenues.
"For large, dynamic companies, these older buildings don't work as well, they just don't," said Bill Montana, senior managing director at New York-based Savills Studley, a unit of global real estate firm Savills Plc .
The new buildings are significantly more efficient and large companies use the space to compete for top talent, Montana said.
Four towers with an average height of 69 stories that are under construction by Related Cos, Brookfield Properties and the Moinian Group at Hudson Yards already are pressuring prices. Five other behemoths have been proposed for the far West Side.
Average leasing rates for 62 "trophy" buildings in Midtown have slid a touch more than 1 percent in October from a post-recession peak last year of $99.43 a square foot, which capped a 33 percent increase since 2009, real estate specialist Jones Lang LaSalle said.
Asking rents for the Plaza District averaged $95.47 a square foot for Class A buildings in the third quarter, compared to $66.05 a square foot for space in the World Trade Center in Lower Manhattan, real estate firm Colliers International said.
BlackRock would like to add a cafeteria and auditorium, amenities that are missing at its two offices across the street from each other on 52nd Street, said a source with knowledge of the real estate search.
The move, which would involve about 2,800 staff, but has not been finalized, is as good or better financially than to stay, the source said. Projected rents for anchor tenants in the Plaza District when BlackRock's leases are up in 2023 are much higher.
A BlackRock spokesman declined to comment.
There is no new, large-scale construction underway in the Plaza District, though landlords have ordered major renovations such as a $325 million makeover at the old Time-Life Building on Sixth Avenue that has been rebranded 1271 Avenue of the Americas.
LEASING RATES FOR 'TROPHY' BUILDINGS SLIP
To be sure, no one is writing the area off. The Plaza still has cachet for many.
"Midtown will always prosper," said Cynthia Wasserberger, a managing director at JLL in New York. "Those landlords have to react a little differently to how they're going to fill the hole left behind."
Earlier this year JLL said almost half the world's 428 hedge funds with at least $1 billion in assets had New York offices.
Of those 208 sites, 94 percent were in Midtown Manhattan, with almost two-thirds located in the Plaza District, JLL said. One marquee hedge fund, Citadel LLC, in February agreed to pay a record $300 a square foot for part of the penthouse at 425 Park Avenue, according to media reports.
Citadel's average rent will be $175 a square foot on average after its other floors are included. Citadel declined to comment.
Still, high-profile names have left or will soon, such as private equity firm KKR's planned move from the Solow Building on West 57th Street, often called the city's most prestigious building, to Hudson Yards. The move is seen as highly symbolic.
The Plaza District has been losing ground for a while. It has been the third-lowest recipient of corporate cross-market relocations in Manhattan since 2011, when leases of more than 50,000 square feet are examined, according to Colliers.
But the Plaza, the city's biggest sub-market, has seen the largest departure of companies that have moved from Midtown, Midtown South or the downtown business centers in the almost six-year period up to mid-September, a Colliers report said.
During that time Midtown lost 30 tenants, a dozen of those from the Plaza, including five that moved to new construction, Colliers said in its "Manhattan Without Borders" report.
A drop-off in leasing demand is particularly apparent in the Plaza District, where the increase in available space surged by almost 4 percentage points in the third quarter to 12.9 percent from a year-ago, according to a recent Savills Studley report.
"There is a very strong base of people who still want to be in the Plaza District, myself included," Montana said. "For a lot of younger people, that's not what they aspire to. So the demand is less for the Plaza District because of building stock and because of change in taste."
(Reporting by Herbert Lash; Additional reporting by Lawrence Delevingne; Editing by Bill Rigby)