Facebook's Growth Potential May Be Bigger Than We Thought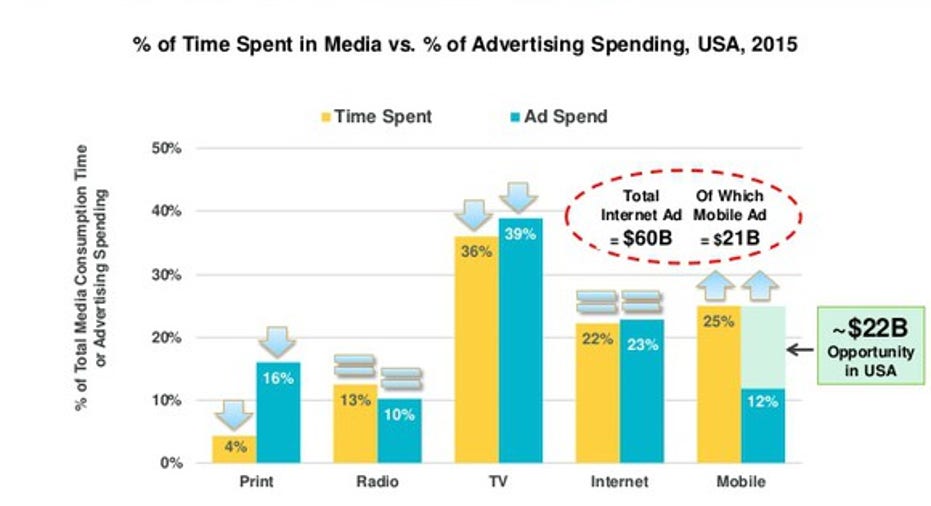 Image source: www.facebookbrand.com.
Facebook's transition to mobile advertising is fueling the company's explosive top-line growth.Quarterly ad revenue was most recently up 57% over last year, and mobile ads now generate 82% of the total haul.
But if recent statistics from renowned venture capital analyst MaryMeeker are an indication, the bigger growth in mobile advertising may still be yet to come.
Meeker delivered her comprehensive annual Internet Trends report June 1. With more than 200 slides to peruse, there's plenty of interesting fodder.
But one chart jumped out this year, especially when it comes to what drives strategy -- and eventually revenue for digital players large and small.
Two important numbers don't match
When it comes to those companies that make their money through ads, Meeker's numbers pointed to a continuing gap between the growth of mobile computing and the spending on mobile advertising.
How large a gap exists? Mobile computing now accounts for 25% of our time spent with all types of media from television to print magazines and newspapers to desktop browsing. Yet mobile accounted for just about 12% of all ad spending.
That means, according to Meeker, that companies remain underindexed to mobile, something she expects to eventually correct.
Just to account for the lag, the mobile ad market will need to double.
Image source: KPCB Internet Trends Report.
That gap has been closing, slowly
This is not the first time Meeker has pointed out this discrepancy. She first called attention to the gap between mobile use market share and mobile advertising market share in 2011, when it was even more out of whack than today. Back then, mobile made up just 1% of ad spending, even though it was already claiming 10% of our media time.
At that time, however, mobile advertising still looked like a dead-end market. Desktop ads were generating a bigger return on investment for advertisers, and that meant they were also generating higher prices for Facebook, Google, and all the other players operating in online advertising.
But advancing technology has changed that game. Facebook now says that mobile ads are fetching higher prices than those for desktop. And industry research groups such as eMarketer forecast more vigorous growth on the mobile end moving forward than they see in desktop or any other format.
Facebook's long-term strategy is winning
Give credit to Facebook for making a bet on mobile years ago. Facebook is now reaping the rewards in terms of increased use and revenue. The company is "consistently" seeing more than 1 billion people using its mobile apps every day, CEO Mark Zuckerberg said in April. And Facebook's mobile users spend an average of more than 50 minutes every day within Facebook's three primary apps: Facebook, Instagram, and Messenger.
At the same time, mobile ad revenue growth is outpacing overall ad revenue for Facebook, growing 75% year-over-year in the most recent quarter and contributing $4.2 billion of its $5.3 billion in total revenue.
The gap Meeker has been pointing out is no longer lost on advertisers, according to Facebook execs. COO Sheryl Sandberg noted in the last quarter that "businesses know they need to catch up."
"We hear from marketers that figuring out mobile today is like figuring out TV in its early days. But given where consumers spend their time, the question now is not if they should market on mobile but how," said Sandberg.
Money from print and TV will flow to mobile
According to Meeker's stats, we should continue to see a shift of ad dollars away from traditional platforms and into mobile. For those on the losing end of that shift, the pain should be spread out, but the two biggest areas where ad spending is overindexed are TV and print.
Print makes up just 4% of our time spent in media nowadays. Yet, print publications still rake in some 16% of ad spending.
Some of that difference can be chalked up to familiarity -- in print, advertisers know what they are getting. There's a track record of return on investment, and although readership may be dropping, they can still be pretty sure of what kind of bang they'll get for their buck. Same goes for TV.
Make no mistake, Facebook is the big winner here
As Facebook and Alphabet continue to develop better systems of measurement, that should help to even the playing field on that front, allowing ad dollars to flow more freely to the digital operators.
With its current position as the leader in mobile, Facebook is positioned to be the single biggest beneficiary of that correction, which should continue to drive significant revenue growth for the social network in the coming years and win it an even bigger share of the mobile ad market.
The article Facebook's Growth Potential May Be Bigger Than We Thought originally appeared on Fool.com.
Suzanne Frey, an executive at Alphabet, is a member of The Motley Fool's board of directors. John-Erik Koslosky owns shares of Alphabet (A shares) and Facebook. The Motley Fool owns shares of and recommends Alphabet (A shares), Alphabet (C shares), and Facebook. Try any of our Foolish newsletter services free for 30 days. We Fools may not all hold the same opinions, but we all believe that considering a diverse range of insights makes us better investors. The Motley Fool has a disclosure policy.
Copyright 1995 - 2016 The Motley Fool, LLC. All rights reserved. The Motley Fool has a disclosure policy.