Facebook Just Took Another Step Toward Beating YouTube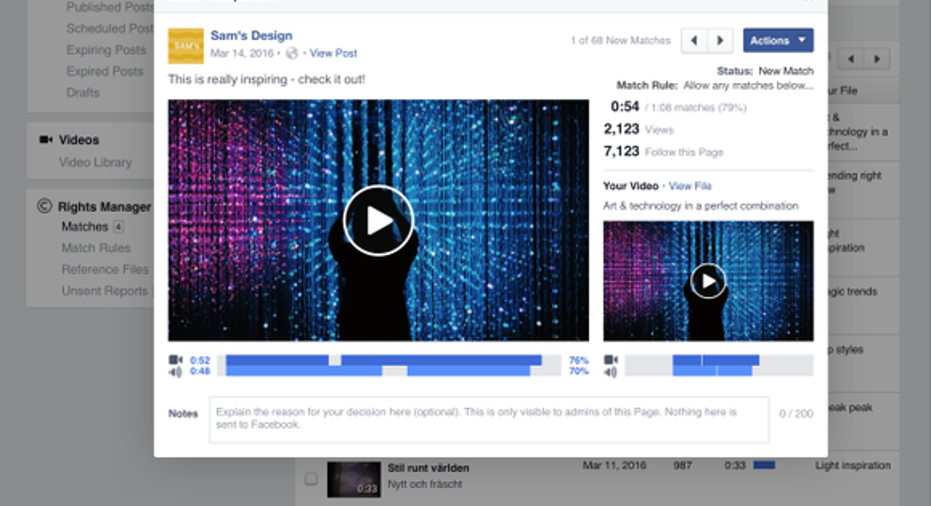 Facebook Rights Manager. Image source: Facebook.
About a year and a half ago, I wrote an article outliningthree key features Facebook needed to implement in order to take on YouTube: better search, anti-piracy software, and revenue sharing. Facebook has already made great strides improving its video discovery capabilities, including a dedicated section for videos that's rolling out presently. It also has the early beginnings of a revenue sharing model. And now, it has a system for identifying pirated videos.
Facebook introduced Rights Manager at its F8 developers conference, and it could change how the social network is seen among professional content creators. The feature allows creators to upload copies of their videos, and Facebook scans uploads on its network for matches. Creators can choose whether they want to delete the videos or keep them up for additional exposure. It's very similar to Content ID from YouTube, the subsidiary of Google, an Alphabetcompany.
Bye bye freebootingFreebooting is a term coined last year that means taking someone else's content from one platform (YouTube, television, etc.) and uploading it to another without permission for one's own benefit. It's piracy, and it's run rampant on Facebook for the last couple years as video views grew on the platform.
Last August, Facebook finally admitted it was a problem on the platform, and started taking steps to prevent it. It partnered with Audible Magic to help check for copyright infringements as users uploaded videos. It's unclear how well those increased measures performed in removing and preventing freebooting, but the system still wasn't as effective or valuable as Content ID on YouTube.
The key with Content ID is that creators have complete control over how their copyrighted material is distributed on the platform. Creators can choose whether the content is removed, monetized, or left alone. Rights Manager gives creators two of those options, but it doesn't yet allow them to monetize impressions from other uploaders.
Facebook's revenue sharing process is still in its infancy, so the option to monetize videos may come down the road. Publishers currently report that revenue from videos on Facebook is minimal.
Growing the video businessFacebook has surely benefited from the rise of freebooting on its platform, which may be one reason it took so long to combat it. But if the company is serious about monetizing video and turning it into a real business -- which seems to be the case -- it needs to legitimize its content and provide creators with incentive to publish original content on its platform.
Rights Manager goes a long way toward those ends by extending an olive branch to creators. But Facebook still has one last problem to solve before it can attract real talent to its platform. It needs to figure out how to link its revenue to video views and share that revenue with creators accordingly.
Facebook understands that money is the driving force behind getting talented people to share their videos. It's even paying cash upfront to some celebrities in order to get them to broadcast themselves live on Facebook a certain number of times each month. Ultimately, however, it needs to provide a more robust revenue sharing model to grow Facebook video.
The opportunity for video is huge. YouTube generated an estimated $9 billion in gross revenue last year, according to Evercore analyst Ken Sena. For reference, Facebook brought in just under $18 billion last year. And while it didn't have to share very much of that revenue with publishers, several billion dollars in split revenue is still a very meaningful growth avenue for Facebook.
With a dedicated place to discover and search for videos and a system to identify pirated materials, Facebook is well on its way to overcoming the hurdles preventing it from really taking on YouTube.
The article Facebook Just Took Another Step Toward Beating YouTube originally appeared on Fool.com.
Suzanne Frey, an executive at Alphabet, is a member of The Motley Fool's board of directors. Adam Levy has no position in any stocks mentioned. The Motley Fool owns shares of and recommends Alphabet (A shares), Alphabet (C shares), and Facebook. Try any of our Foolish newsletter services free for 30 days. We Fools may not all hold the same opinions, but we all believe that considering a diverse range of insights makes us better investors. The Motley Fool has a disclosure policy.
Copyright 1995 - 2016 The Motley Fool, LLC. All rights reserved. The Motley Fool has a disclosure policy.