Facebook Investors Should Ignore Oculus Rift -- for Now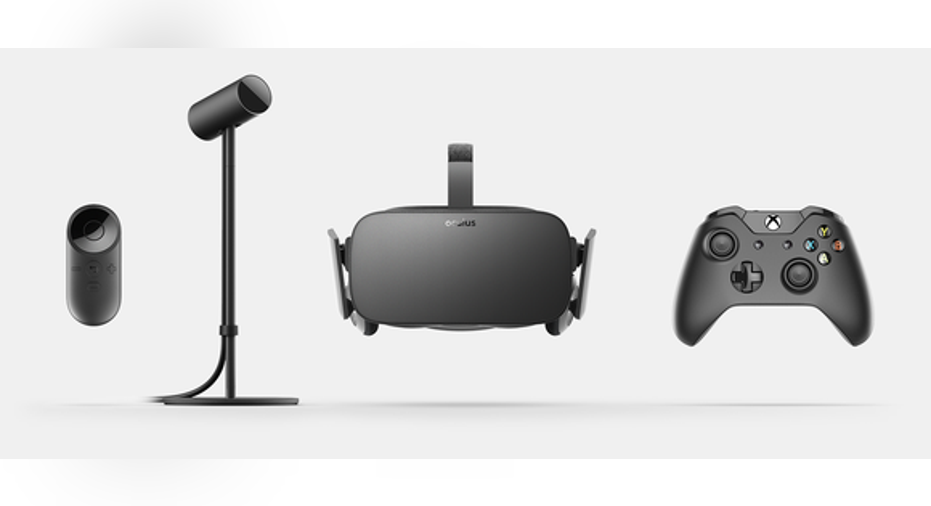 For $600, consumers get the Oculus Rift headset, a game controller, remote, and sensor. Image source: Facebook.
2016 is shaping up to be the year of virtual reality.
It's a market and a technology that remains in its infancy, but several companies seemed poised to dominate, most notably Facebook . The social network will launch its first piece of consumer hardware, the virtual reality headset Oculus Rift, on March 28. Initial impressions of both the Oculus Rift and the technology in general have been positive, and excitement is starting to build. Research firm Tractica projects that sales of virtual reality headsets will top 200 million within the next four years.
That may sound exciting for potential Facebook investors, but Oculus isn't likely to affect Facebook's business anytime soon.
Not material in 2016Facebook CFO Dave Wehner addressed the Oculus Rift on the company's earnings call back in January. In short, it won't matter -- at least not this year.
Facebook's revenue grew 52% last year on an annual basis, and management expects similarly strong growth in 2016. But that growth will be generated by Facebook's advertising business -- not its hardware. "We expect the factors that drove the strong growth of our advertising business in 2015 will continue in 2016," Wehner said.
Priced at $600, the Oculus Rift is expensive, and given that it requires an expensive PC to function, its total cost of ownership exceeds $1,000. In time, the technology will become more affordable, but not for several years. The market for the Oculus Rift in 2016 will number -- at most -- just a few million headsets. In a recent interview with Die Welt (via Business Insider), Facebook CEO Mark Zuckerberg acknowledged that it could take at least 10 years to build a vibrant virtual reality ecosystem.
2 other stocks that could benefitOther companies should see more dramatic effects on their top and bottom lines in the near term as the demand for virtual reality accelerates. NVIDIA and Samsung could both reward shareholders.
NVIDIA provides the powerful graphical processors needed to make PC-based headsets like the Oculus Rift function. Last year, there were only 5.9 million discrete graphics cards shipped worldwide, according to Jon Peddie Research. That amounts to a mere fraction of the larger PC market, which totaled more than 276 million shipments, according to IDC. If the Oculus Rift is going to take off, then there's going to be a lot more demand for discrete graphics cards going forward.
NVIDIA derives the bulk of its revenue from its GPUs, and, more specifically, GPUs aimed at PC gamers -- the sort of consumers most likely to purchase the Rift. Last quarter, gaming-related revenue accounted for more than 84% of NVIDIA's total revenue. NVIDIA CEO Jen-Hsun Huang discussed the potential for virtual reality at length during the company's most recent earnings call. Given the still high barriers to entry, he offered no hard figures, but said it could provide "a really nice bonus" going forward.
Samsung has partnered with Facebook for its own virtual reality headset, the Gear VR. To be clear, the Gear VR can't provide experiences on par with the Oculus Rift (or its other high-end competitors), but it is far more affordable. If you own one of Samsung's flagship smartphones, it will cost you just $100. Other smartphone-makers have unveiled competing headsets in recent weeks, but Samsung has steadily built up an ecosystem around the Gear VR, with dozens of exclusive games and apps. So long as the cost of high-end, stand-alone headsets like the Rift remains high, Samsung can offer consumers something unique. And given that the Gear VR relies on Samsung's smartphones to function, demand for the headset could provide a modest boost to Samsung's smartphone sales.
Of course, investors with longer time horizons may prefer Facebook. Oculus Rift is just one device in a sea of competing products, and it's hard to know how the market will ultimately shake out and who will wind up on top. But if you already like Facebook for its growing advertising business, its virtual reality aspirations provide interesting upside.
The article Facebook Investors Should Ignore Oculus Rift -- for Now originally appeared on Fool.com.
Sam Mattera has no position in any stocks mentioned. The Motley Fool owns shares of and recommends Facebook. The Motley Fool recommends Nvidia. Try any of our Foolish newsletter services free for 30 days. We Fools may not all hold the same opinions, but we all believe that considering a diverse range of insights makes us better investors. The Motley Fool has a disclosure policy.
Copyright 1995 - 2016 The Motley Fool, LLC. All rights reserved. The Motley Fool has a disclosure policy.