Facebook, Inc. Steps Up Its Live Video Tech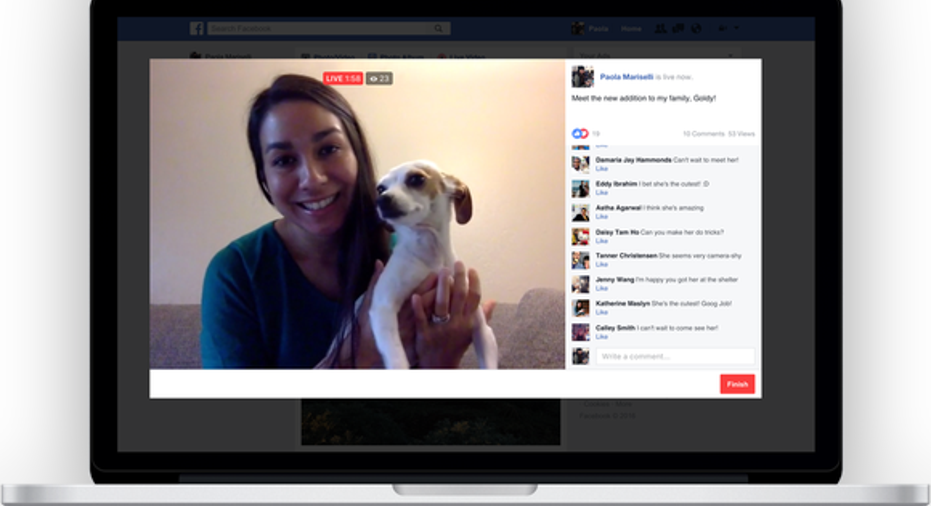 In recent quarterly earnings calls, Facebook (NASDAQ: FB) CEO Mark Zuckerberg has been saying that the social network is currently "putting video first." And one way the company has been doing this is through its live video. Since first launching live video for select influencers in the summer of 2015, Facebook has since expanded the ability for users to go live on Facebook to all seven continents.
But Facebook emphasized in its fourth-quarter earnings call that it is still improving live video as more people use it. Management said the company would have "more updates soon." Well, one of those updates is here. On Tuesday, Facebook announced the ability to stream live video on Facebook from desktop or laptop computers.
Live video on Facebook: Image source: Facebook.
A key update
While the update might seem minor, it opens up live-streaming on Facebook to a new world of possibilities.
"While it's been possible for people to go live to Facebook from mobile devices since last year," Facebook said, "desktop or laptop computers provide a stable camera setup that can be beneficial to many types of Facebook Live broadcasts -- from Q&As to vlogs to tutorials to any broadcast from someone who isn't on the move."
Furthermore, the update also includes the ability for users to use streaming software or external hardware when streaming live video on Facebook. This means it will be easier for users to share their screens, insert graphics, switch cameras, and achieve professional-quality streaming with professional equipment.
Live gameplay on Facebook. Image source: Facebook.
As one prominent example of a new way video can be streamed on Facebook with this update, this means the fast-growing genre of live gaming can now come to the Facebook community.
Why it matters for Facebook's business
Facebook management's rapid rollout of live-streaming capabilities is a testament to how the technology is resonating with its users and its potential to attract marketers budgets. With management recently saying users are watching and sharing more video on Facebook than ever before, management wants to capitalize on the opportunity to build a platform of immersive content substantial enough to attract marketers' TV budgets, and live video is a key aspect of this video-first emphasis.
"I've said before that I see video as a mega trend on the same order as mobile," Zuckerberg explained in Facebook's fourth-quarter earnings call. In the same call, Zuckerberg also said the company wants people to increasingly think of Facebook as a place for "interesting and relevant video content from professional creators as well as their friends." In other words, Zuckerberg wants Facebook to be a place where users can find quality original content -- and Facebook's latest update should help move the company in this direction.
This week's update to enable live video streaming on desktop and through streaming software and external hardware joins other recent aggressive updates for the live video experience on Facebook. In February, Facebook announced a video app for Apple's set-top box and the ability for users to minimize and continue watching video while scrolling through their News Feeds.
In Facebook's next quarterly update, it will be interesting to get an update on how the company's ongoing aggressive investments in new video features are paying off. Are users continuing to dive headfirst into this more immersive form of content? And does Facebook see this as the foundation for content marketers will be willing to pay higher premiums for?
10 stocks we like better than FacebookWhen investing geniuses David and Tom Gardner have a stock tip, it can pay to listen. After all, the newsletter they have run for over a decade, Motley Fool Stock Advisor, has tripled the market.*
David and Tom just revealed what they believe are the 10 best stocks for investors to buy right now... and Facebook wasn't one of them! That's right -- they think these 10 stocks are even better buys.
Click here to learn about these picks!
*Stock Advisor returns as of February 6, 2017
Daniel Sparks owns shares of Facebook. The Motley Fool owns shares of and recommends Facebook. The Motley Fool has a disclosure policy.