Facebook Has Doubled Its Workforce in 2 Years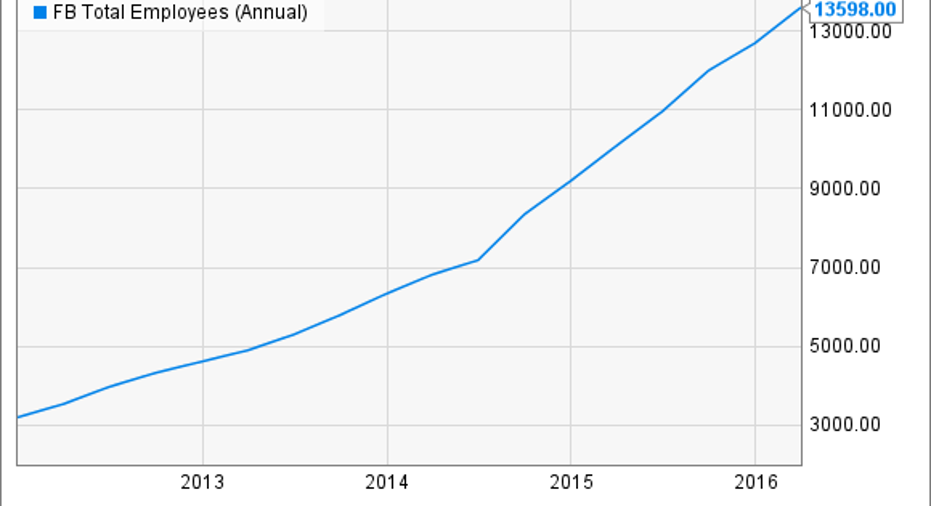 Source: newsroom.fb.com
Facebook's employee count stood at 13,600 at the end of March, up from just over 10,000 a year ago and double the number of people employed by the social network at the end of Q1 in 2014.
And with more than 1,200 job openings listed on the social network's careers page in early June, it doesn't look like that workforce growth is about to taper off anytime soon. Employee head count isn't a number likely to make headlines after quarterly earnings are released. But it is an important number for long-term investors to keep an eye on for a couple of of reasons.
First, it shows that Facebook remains a company that's in fast-growth mode, with first-quarter revenue up some 52% over the previous year. In fact, despite posting quarterly revenue of $5.3 billion in April, the company remains the fastest-growing large-cap tech company on the planet, according to a Forbes survey, and it's really not even close.
But companies don't add employees only because they are growing. They add employees in order to continue growing. And that's what Facebook is up to.
Developing new technology takes new talent
Last summer, after Facebook disclosed that it had hired nearly 900 new workers, CFO David Wehner told analysts that the majority of new hires were being put to work in research and development. It's crucial that Facebook invest on this front. The digital ad market is still relatively young, and it's forever changing. To succeed, companies need continuous innovation and to do that, they need to hire new workers with new talents and skills.
As users, we mostly see progress on Facebook's front end -- tweaks to our News Feeds and apps, more auto-play videos etc. -- but Facebook has been working on big changes across the board, and especially on the advertising front, where it makes just about all of its money.
The social network has led the charge in the transition from desktop to mobile advertising, and it's now reaping the benefits of that important transition, drawing some 82% of its ad revenue from mobile. Now the company is in the midst of another transition -- from more static display ads to video advertising and interactives.
It's also continually developing better systems of ad targeting and measurement to deliver to advertisers, building out its Instagram ad platform, and further developing and monetizing Messenger. Beyond that, it's developing and expanding its virtual reality products, which it someday expects to evolve from niche gaming applications to technology we see in everyday life.
A look at employee growth
Since the company went public in May 2012, its hiring has exploded. Its employee head count was just a hair over 3,000 employees at the time of the IPO, and today, it is closing in on 14,000 (if it hasn't already eclipsed that mark.)
FB Total Employees (Annual) data by YCharts
The big question for investors is whether all that hiring has been paying off. Let's take a look at the growth in head count in the context of revenue growth.
Here we can see that Facebook's workforce growth has pretty closely tracked its revenue growth over the years, and today, we see revenue growing even a bit faster than head count.
FB Total Employees (Annual) data by YCharts
Still lots of growth ahead
Facebook still sees itself as a young, fast-growing business. This passage from the company's sales and business development hiring page makes that clear: "Facebook is only 1% finished and we're leading the charge into the next growth phase... There's never been a more exciting time to set the future of Facebook in motion."
Unless it transforms into a much different company, Facebook won't grow to be 100 times its current size -- even swallowing the entire global advertising industry couldn't deliver that kind of growth. But it should have a long runway for growth ahead. Its robust hiring can be a healthy sign of innovation and progress necessary to stay ahead of the competition in the growing digital ad market, deliver a better experience for users, and better reach users in developing countries.
But there's another side to the coin: If growth in head count begins to run out ahead of growth in revenue, we can expect to see downward pressure on earnings. That hasn't been the case yet, but it's worth keeping our eye on moving ahead.
The article Facebook Has Doubled Its Workforce in 2 Years originally appeared on Fool.com.
John-Erik Koslosky owns shares of Facebook. The Motley Fool owns shares of and recommends Facebook. Try any of our Foolish newsletter services free for 30 days. We Fools may not all hold the same opinions, but we all believe that considering a diverse range of insights makes us better investors. The Motley Fool has a disclosure policy.
Copyright 1995 - 2016 The Motley Fool, LLC. All rights reserved. The Motley Fool has a disclosure policy.