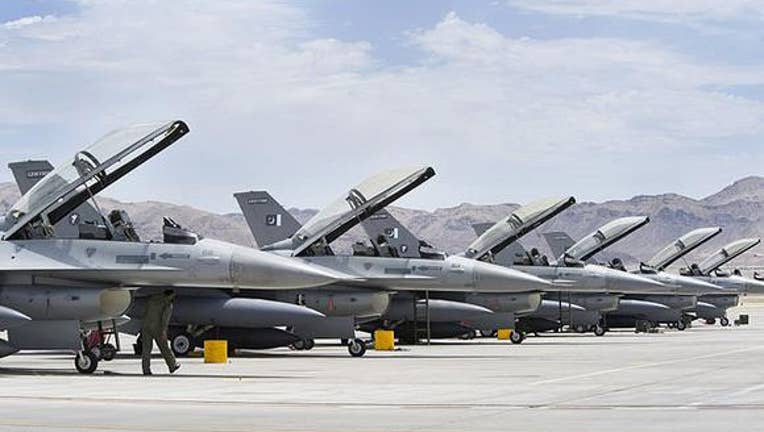 Pakistan's Air Force is getting an upgrade -- courtesy of Lockheed Martin .
Pakistani F-16s. Image source: Lawrence Crespo for U.S. Air Force.
Few people realize it, but Pakistan currently boastsone of the most powerful air forces in the Middle East, including hundreds of Chinese F-7 fighter jets and French Mirages combined -- and nearly four dozen early model Lockheed F-16s (the most popular fighter jet on the planet). But as recently revealed in a notification to Congress by the U.S. Defense Security Cooperation Agency (DSCA),the Pakistani air force is about to tip more heavily toward the F-16, thanks to an impending sale of eight new F-16 "Block 52" Falcons.
As revealed in the notification, Pakistan has asked Congress to approve the sale of two new F-16C fighters and six F-16Ds. Each aircraft will be powered by United Technologies' F100-PW-229 turbofan engine. Including the cost of a set of helmet-mounted cueing systemsfor the pilots, this portion of the sale comes to $564.7 million in value-- about $70.6 million per fighter jet.
The remaining 20% of the deal's value, according to DSCA, is made up of non-"Major Defense Equipment" not subject to the federal government's notification requirements. Comprising radar systems and defensive electronic warfare (EW) equipment for the planes, plus "spare and repair parts, support and test equipment, publications and technical documentation, personnel training and training equipment, U.S. Government and contractor engineering, technical and logistics support services," this portion of the sale comes to $134million in value.
Who gets the loot?Curiously, although Lockheed Martin is providing the planes that are both the core of this arms deal and also the most expensive equipment, Lockheed will not necessarily be named primary contractor. DSCA says, "Contractors have not been selected to support this proposed sale."
With Northrop Grumman building the radar, Harris Corporation the EW equipment, and United Technologies the engines, it seems it's at least possible the Pentagon will ultimately run the contract through one of these three -- and leave Lockheed Martin the role of subcontractor!
What it means to investorsEven if the Pentagon does choose a company other than Lockheed to handle the sale, however, this deal promises to be very good for Lockheed. The reason is contained in a single line buried within DSCA's notification, noting that "this sale will... support transition training for pilots new to the Block-52."
The implication of this statement seems to be that the sale of eight new-model F-16s to Pakistan may be only a prelude to a larger deal to upgrade Pakistan's 46 older F-16s with more advanced models. Given that such a sale could rise into the billion-dollar-plus range, we'll be watching developments here closely.
The article F-16s Dispatched to Pakistan (and $700 Million Dispatched to Lockheed Martin?) originally appeared on Fool.com.
Rich Smithdoes not own shares of any company named above. You can find him onMotley Fool CAPS, publicly pontificating under the handleTMFDitty, where he's currently ranked No. 260 out of more than 75,000 rated members.The Motley Fool has no position in any of the stocks mentioned. Try any of our Foolish newsletter services free for 30 days. We Fools may not all hold the same opinions, but we all believe that considering a diverse range of insights makes us better investors. The Motley Fool has a disclosure policy.
Copyright 1995 - 2016 The Motley Fool, LLC. All rights reserved. The Motley Fool has a disclosure policy.