ExxonMobil Warns of a Rare Upcoming Occurrence During Its Third-Quarter Earnings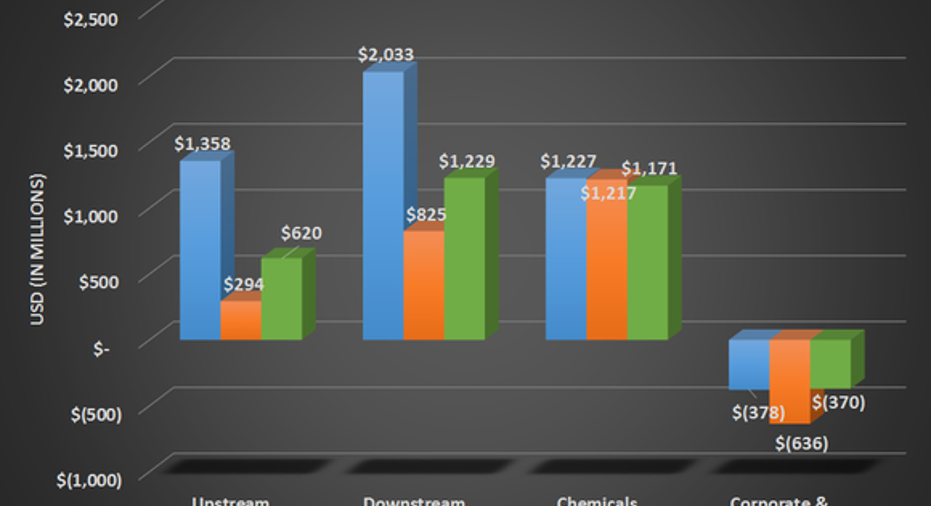 It's not that often that ExxonMobil (NYSE: XOM) has to warn its investors about something. For the most part, it hasn't had to, because it has been one of the better companies over the yearsat keeping costs down, and making very conservative projections for the future of oil and gas when building budgets.
This quarter, though, the company issued a rare statement about its accounting methods and why they could be changing in the future. Let's take a look at the company's most recent results, as well as dig into this veiled warning.
Image source: ExxonMobil.
By the numbers
| | | | |
| --- | --- | --- | --- |
| | Q3 2016 | Q2 2016 | Q3 2015 |
| Revenue | $58,677 | $57,694 | $67,344 |
| Net Income | $2,650 | $1,700 | $4,240 |
| Earnings per share | $0.63 | $0.41 | $1.01 |
| Operational cash flow | $5,300 | $4,600 | $9,200 |
All numbers in millions, except per-share data. Data source: ExxonMobil earnings release.
Two big factors impacted ExxonMobil's earnings this past quarter: international gas prices and refining margins across the board. The company has done a reasonable job of cutting costs in its upstream production. In the U.S., its upstream earnings actually improved by $37 million despite lower production and relatively no change in prices compared to the prior quarter. At the same time, though, natural-gas prices in both Asia and Europe declined about 30%. The cuts that the company made couldn't come close to matching up with those kinds of price declines.
On the downstream/refining side of the business, this was somewhat expected. Refining margins this time last year were some of the highest in years, especially in the U.S. That is basically an unrepeatable performance, and investors shouldn't look into those declines too much.
Data source: ExxonMobil earnings releases. Chart by author.
ExxonMobildid generate enough cash from operations to cover its capital expenditure budget, but not enough to also cover dividend payments, so it issued $1.7 billion in debt to bring its total debt load to $46.2 billion, for a 20.7% debt-to-capital ratio. Note that this is the highest debt-to-capitalratio the company has carried since the merger of Exxon and Mobil back in 1999.
What happened with ExxonMobil this quarter?
Oil and gas production declined about 3% year over year, to 3.81 million barrels of oil equivalent per day. Aside from the normal effects of natural decline, a big factor was the shut-in of operations from several third parties in Nigeria.
The company announced that its Liza reservoir discovery off the coast of Guyana has well in excess of 1 billion barrels of recoverable resources. It also announced that its Owowo reservoir off the coast of Nigeria has somewhere between 500 million and 1 billion barrels of recoverable resources.
In conjunction with the Saudi Basic Industries Corporation, ExxonMobil will look to build a major petrochemical plant in the U.S. Gulf Coast region that will utilize the nation's cheap natural gas as a feedstock. This is the company's second new major petrochemical facility in the U.S.over the past five years, on top of the expansion of some petrochemical manufacturing capacity at its existing sites.
Total capital spending for the quarter declined by 45% year over year to $4.2 billion. Management now estimates that 2016's capital budget will be in the range of $21 billion to $22 billion, down from the $23.2 billion that management laid out in its Analyst Day presentation in March.
The board of directors approved a 3% increase to its quarterly dividend, helping to keep the company's streak of annual dividend raises alive.
What management had to say
Typically, ExxonMobil's management is pretty mum about its plans, avoiding details in favor of boilerplate language like "we're focused on efficient operations" and "maximizing shareholder value." This quarter, though, was a little different.
Over the past several months, the media has scrutinized ExxonMobil's financial statements because it hasn't written down the amounts of its oil and gas reserves in years, while most of its peers have taken several billions of dollars' worth of impairments and writedowns. To some, this seems a little suspicious. So Jeff Woodbury, VP of investor relations, went out of his way to go into detail about how the company books its oil and gas reserves, and even let investors know that we can probably expect a revision downward in the near future:
What a Fool believes
The fact that ExxonMobil, the company that is considered the immovable rock of the industry, will likely have to write down some of its assets and take such deep cuts to its capital spending is a sign of how tough a spot the industry is in today. As Woodbury explains, though, this writedown could just be a temporary thing, as those same writedowns could be rebooked once oil prices rebound again.
While ExxonMobil may not be showing some of the cost-structure improvements that some of its peers are today, it still looks to be on the right track in that regard. As we start to see oil prices rise, so too will ExxonMobil's prospects.
A secret billion-dollar stock opportunity The world's biggest tech company forgot to show you something, but a few Wall Street analysts and the Fool didn't miss a beat: There's a small company that's powering their brand-new gadgets and the coming revolution in technology. And we think its stock price has nearly unlimited room to run for early-in-the-know investors! To be one of them, just click here.
Tyler Crowe owns shares of ExxonMobil.You can follow him at Fool.comor on Twitter@TylerCroweFool.
The Motley Fool owns shares of ExxonMobil. Try any of our Foolish newsletter services free for 30 days. We Fools may not all hold the same opinions, but we all believe that considering a diverse range of insights makes us better investors. The Motley Fool has a disclosure policy.