ExxonMobil Taps the Bond Market -- Which Companies Should It Acquire With the Cash?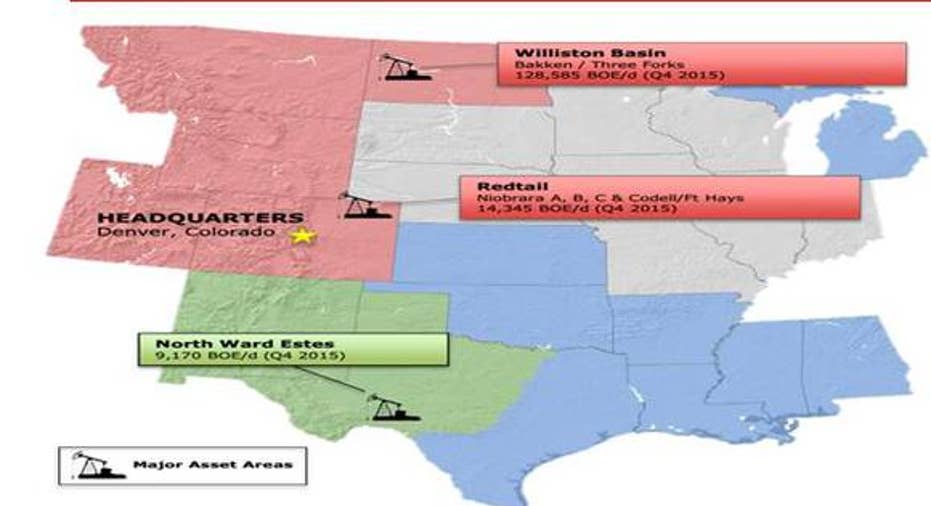 Image Source: ExxonMobil corporate website
Oil industry supermajorExxonMobil(NYSE: XOM) just went to the market and raised $12 billion of cash through the issuance of bonds. Exxon didn't really need the money, so it makes a person wonder if the acquisition prowl hasn't begun.
In a buyer's market for the ages, there has to be a very real chance that the reason behind that move is an opportunistic acquisition. If it is, I believe there are two companies that are highly likely to be on the short list of targets.
Balance sheets are strained, but Exxon's isn't...
Source: ExxonMobil analyst day presentation.
Exxon has the strongest financial position of all of the supermajors, and now would be exactly the time to use that to its advantage. Note that in Exxon's slide above the company acknowledges that the first benefit of this financial strength is being able to respond to opportunities.
Exxon also has a share price that has held up much better than the rest of the industry. That means that shares could be issued to help fund any acquisition and doing so would be accretive to Exxon shareholders (using more richly valued Exxon shares to buy less expensive competitors).
The industry is pivoting to short-cycle shaleA trend has emerged in the oil and gas industry in recent months. Companies are changing their long-term plans and moving away from long lead-time projects such as offshore deepwater and the oil sands. The idea of committing huge sums of capital over several years to build out an offshore or oil sands project is a non-starter in the this world of crimped cash flows.
Companies that had been lulled into a false sense of security by several years of steady high oil prices are now very much aware that this is a volatile industry.
In the place of long lead-time megaprojects, oil and gas producers are now turning more of their focus to developing shale assets. While an offshore deepwater project takes several years to development, a shale well can only take weeks from spud to production.
By focusing on shale, companies can quickly ramp spending and production up into higher commodity prices and down if commodity prices drop.
In recent months we have seen Marathon Oil (NYSE: MRO) announce that other than for the completion of already in progress projects all 2016 will be directed toward resource (shale) plays.
Conoco Phillips (NYSE: COP) also announced that it will be exiting the offshore exploration game entirely, and Chevron's (NYSE: CVX) CEO just said the company is going to pivot away from mega projects and toward short-cycle opportunities, particularly in the Permian Basin.
An opportunity to dominate the BakkenExxon already has a significant foothold in both the Permian and the Bakken. Between the two plays, Exxon has 2.1 million acres and 220,000 barrels per day of production. By adding significantly to the land position in the Bakken Exxon can get a bigger piece of a play that it is already a technical expert in. It takes a lot of time and money to get up to speed on how to drill and frack these resource plays most effectively. Adding to an existing play makes a lot more sense than entering a new one.
Source: ExxonMobil 2016 analyst day presentation.
I believe opportunity is knocking especially loudly for Exxon in the Bakken, where there are at least two independents of significant size ripe for the picking.
Both Continental Resources (NYSE: CLR) and Whiting Petroleum (NYSE: WLL) have established very large land positions in the heart of the Bakken. Both companies also have share prices far below their 2014 highs, which would make shareholders very interested in a takeover offer.
Continental's share price is down from $80 in 2014 to just over $25 today. The company has a huge position in the Bakken, with over a million acres of land and production of 130,000 barrels per day (total company production is 220,000 boe/d).
Source: Continental Resources corporate presentation.
Even for Exxon, adding that to the portfolio would be a big-time needle mover. As we have seen in recent months with statements made by ConocoPhillips, Marathon Oil, and Chevron;it will be shale production that these companies focus on in the years ahead. The short cycle nature of shale is much more desirable than committing billions to megaprojects in a volatile commodity price world.
The opportunity for a bigger Bakken bargain might, however, be Whiting, which had the bad luck of making a major acquisition right before the bottom fell out of the price of oil in 2014. By swallowing up Bakken producer Kodiak Oil and Gas, Whiting ended up paying a premium price at exactly the wrong time.
Now with a very stretched balance sheet post-acquisition, Whiting shares are down more than 90% to just under $8 from their 2014 high.
Whiting is even more of a pure play on the Bakken than Continental. Of Whiting's 150,000 barrels of daily production, 85% is from Bakken or Three Forks.
Source: Whiting Petroleum corporate presentation.
Both of these companies have land positions that can't be replicated today. The land grab in the major shale plays was over long ago and you have to think that getting these companies today at even a chunky premium to their current share prices could be a long-term bargain.
Adding either company's Bakken acreage would certainly put Exxon in a dominant position for years to come. The most appealing thing about these shale assets aren't the current booked reserves and production that come with them. It is the upside that is possible through technological advances in the years to come.
Current reserves are based on very pessimistic recovery factors (percentage of the oil in place that can be recovered), some as low as ten percent of the oil in place. As companies continue to drill better wells and move into secondary recovery techniques like water or natural gas flooding those recovery factors could double or triple.4
With prices of these shale assets depressed now is a great time for Exxon to makes some investments for the very long term.
The article ExxonMobil Taps the Bond Market -- Which Companies Should It Acquire With the Cash? originally appeared on Fool.com.
TMFWolfpack has no position in any stocks mentioned. The Motley Fool owns shares of ExxonMobil. The Motley Fool recommends Chevron. Try any of our Foolish newsletter services free for 30 days. We Fools may not all hold the same opinions, but we all believe that considering a diverse range of insights makes us better investors. The Motley Fool has a disclosure policy.
Copyright 1995 - 2016 The Motley Fool, LLC. All rights reserved. The Motley Fool has a disclosure policy.