ExxonMobil Hangs on to Modest Profits for the First Quarter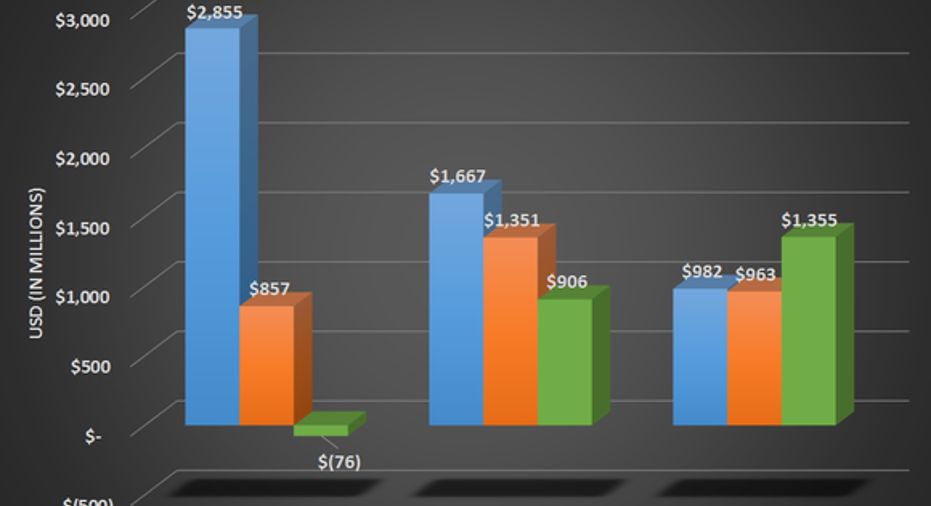 Image Source: ExxonMobil corporate website.
Slowly but steadily, ExxonMobil's earnings have been on the decline ever since oil prices started on their downward trajectory. This quarter resulted in the lowest earnings results since 1999. As bad as that sounds, there is something to keep in mind here: ExxonMobil remains profitable. That's something that not a lot of oil and gas companies can say.
Let's take a quick look at this quarter's results, and what investors can expect in the coming months as the company continues to deal with bottom-of-the-barrel oil prices.
By the numbers
| | | | |
| --- | --- | --- | --- |
| Results (in millions, except per share data) | Q1 2016 | Q4 2015 | Q1 2015 |
| Revenue | $48,707 | $59,807 | $67,618 |
| EBITDA | $6,000 | $7,443 | $11,023 |
| Net Income | $1,810 | $2,780 | $4,940 |
| Earnings per share | $0.43 | $0.67 | $1.17 |
Source: ExxonMobil earnings releases and S&P Capital IQ.
This quarter was the first quarter where ExxonMobil's upstream production unit slid into a loss, and all of that loss came from the company's U.S.-based operations. At the same time, refining margins were a bit weaker in the fist quarter, which led to a modest decline in downstream earnings. The one saving grace for ExxonMobil this quarter was its chemical division, which performed very well, and made up for weakness elsewhere. Here's a quick breakdown of those results.
Image source: ExxonMobil earnings releases, author's chart.
From a cash-generating perspective, the company didn't fare much better than some of its peers. Capital spending declined about 33% from the same time last year, but the company didn't quite generate enough in operational cash flow to cover all spending needs. This left ExxonMobil with some funding gaps that needed to be plugged with debt. To be fair, though, the company saw a $1.8 billion build in working capital this quarter, which will likely decline in the coming quarters, and make cash-flow figures look better.
The operational highlights
Four major production projects -- Heidelberg truss spar, Gorgon LNG, Julia, and Point Thomson -- all started up in 2016
ExxonMobil is working on the appraisal of its Liza discovery off the coast of Guyana, and began exploration work off the coast of Uruguay
Total production increased by 1.8%, to 4.32 million barrels per day. Total liquids production increased 261,000 barrels per day, while natural-gas production decreased 140,000 barrels of oil equivalent per day.
The company had its credit rating downgraded from AAA to AA+.
Management gave its analyst day presentation that highlighted some of the major points of investment during the next several years.
Straight from managementThe CIA would probably have a hard time getting ExxonMobil's management to say anything revealing about the business. The statement made by ExxonMobil CEO Rex Tillerson is very similar to the statement he makes every quarter:
It may be a little frustrating that the company rarely ever gives investors a deeper look into what management is thinking. Then again, this is what you should expect from a company that prides itself on being consistent throughout the ups and downs of the commodity cycle.
A look at the outlookExxonMobil plans to bring six more major projects online in 2016. One of them is the much beleaguered Kashagan facility in the Caspian Sea. This project has been the poster child for excessive spending and mega projects gone wrong for Big Oil companies, so finally turning it into a revenue generator will be a welcome change. Beyond that, the company still has a rather large suite of potential development projects it can tap, which suggests that today's declines in capital spending mean that they will get delayed rather than completely shelved.
What a Fool believesThis quarter's results weren't great by any measure, but most of the things that affected the company's profitability were out of the company's control. One thing that should give some solace to ExxonMobil's investors is that it has managed to remain profitable during even these extremely difficult times, while its peers fall deeper and deeper into the red. We may not be at the end of low oil and gas prices, but ExxonMobil is showing that it can manage the situation much better than others.
The article ExxonMobil Hangs on to Modest Profits for the First Quarter originally appeared on Fool.com.
Tyler Crowe owns shares of ExxonMobil.You can follow him at Fool.comor on Twitter@TylerCroweFool. The Motley Fool owns shares of ExxonMobil. Try any of our Foolish newsletter services free for 30 days. We Fools may not all hold the same opinions, but we all believe that considering a diverse range of insights makes us better investors. The Motley Fool has a disclosure policy.
Copyright 1995 - 2016 The Motley Fool, LLC. All rights reserved. The Motley Fool has a disclosure policy.