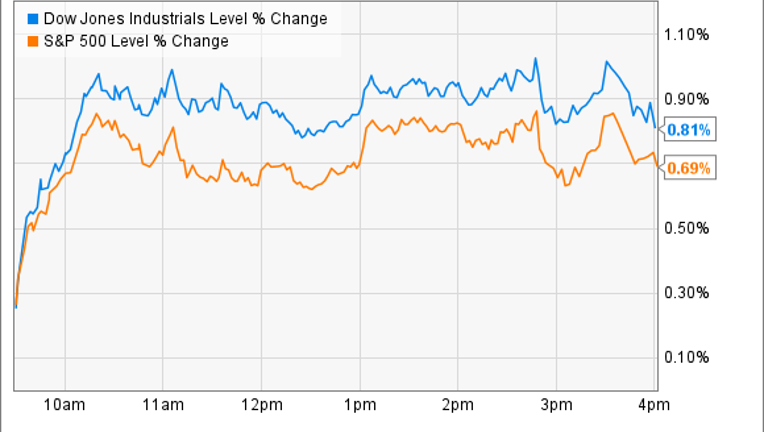 Stocks surged higher for a second straight day on Wednesday, helped along by a jump in oil prices that pushed the commodity up to a new 2016 high. The Dow Jones Industrial Average gained 145 points, or 0.8% and the S&P 500 rose 14 points, or 0.7% on the day.
Express and Dycom Industries were among the market's biggest individual movers as investors reacted to the companies' latest quarterly operating trends.
Express gets hit with weakening demand
Express was the latest clothing retailer to hit a multi-year low after warning of slowing demand in its business. The company's top and bottom lines missed expectations as a 3% dip in comparable store sales translated into flat overall revenue. Earnings rose 7% but barely reached the bottom of management's guidance range.
.
There were a few bright spots in this earnings report, including the fact that Express managed to protect profitability by limiting its markdowns. Inventory levels didn't surge either, suggesting good execution in stocking its stores. CEO David Kornberg made the case that the company's big-picture outlook remains strong, even if demand is weak right now. "We believe that our product is on trend and we are providing customers with engaging experiences across each of our channels," he said in a press release. "That being said, our second quarter and full year guidance reflect the challenges presented by the current retail environment."
Express believes slowing demand in the industry will still pinch its results for the remaining three quarters of its fiscal year. Sales are projected to decline in the low single digits in 2016, compared to a 6% increase last year. Kornberg and his team also forecast net income declining to $118 million from $123 million. Stock repurchase spending will keep EPS roughly even, though, at $1.38 per share.
Dycom sees its growth pace spike
Dycom Industries rose 13% and is close to an all-time high after announcing surprisingly strong quarterly results. The contracting services specialist, which helps clients in the telecom and utilities industries build out their networks, saw its revenue spike 35% to $664 million as organic orders rose 29%. Profits improved at a much faster pace: Net income soared 65% to $33 million. Both figures easily beat the estimates that management issued back in February.
Major telecom clients are deploying both wireline and wireless networks across broad sections of the United States, leading to a huge uptick in the industry. "We are currently in the early stages of a massive investment cycle in wireline networks," CEO Steven Nielsen told investors in a conference call, "which is already more meaningful than the one that occurred for us in the 1990s."
The best news for investors is that the demand boost has helped push Dycom's profitability up to 14% of sales over the last nine months, compared to 12% in the prior-year period.
Management sees the healthy sales and profit growth continuing. Revenue should be $765 million in its fiscal Q4 or 32% above last year's result. Given the expanding market share, profitability, and sales growth profile, it's no surprise that investors cheered these results by sending the stock higher.
The article Express Inc. Falls and Dycom Industries Inc. Soars as Stocks Rise originally appeared on Fool.com.
Demitrios Kalogeropoulos has no position in any stocks mentioned. The Motley Fool has no position in any of the stocks mentioned. Try any of our Foolish newsletter services free for 30 days. We Fools may not all hold the same opinions, but we all believe that considering a diverse range of insights makes us better investors. The Motley Fool has a disclosure policy.
Copyright 1995 - 2016 The Motley Fool, LLC. All rights reserved. The Motley Fool has a disclosure policy.