Exelixis, Inc. Setting New Standard of Care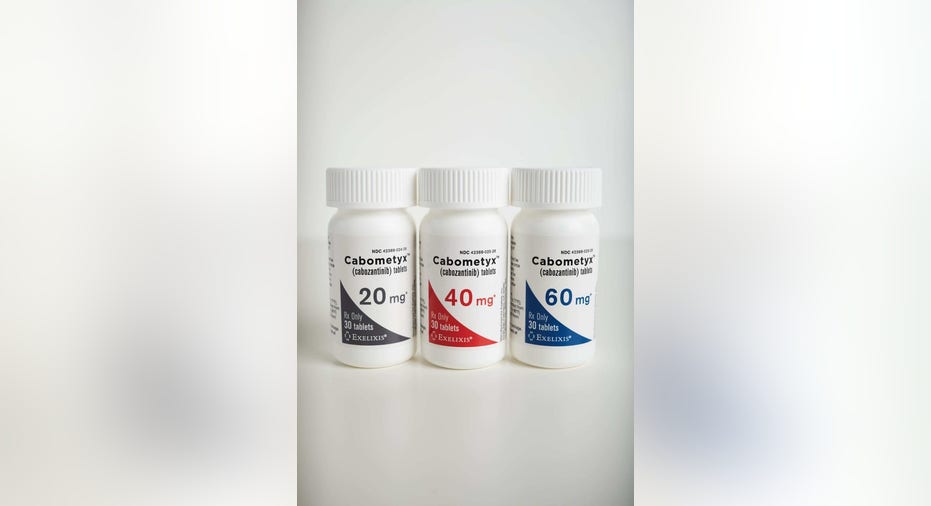 Image source: Getty Images.
It's not easy beating the standard of care in oncology. Many drugmakers go after patients that have run out of options so they can use a placebo as a control. Or they combine their drug with the current standard of care, hoping to show that the combination is better than the current treatment.
Not Exelixis . Its cancer drug Cabometyx has beaten the standard of care.
Twice.
Image source: Exelixis.
The drug successfully beat Novartis's Afinitor in a phase 3 head-to-head trial in patients with renal cell carcinoma -- the most common type of kidney cancer --that had failed a first-line treatment such as Pfizer's Sutent.
The median patient in the trial lived 4.9 months longer than the median patient receiving Novartis' Afinitor. Another way to look at the head-to-head data is over the entire time course of the trial. In that case, Cabometyx reduced the risk of death by 34% compared to Afinitor.
While Exelixis topped Novartis, it isn't clear that its drug will become the standard of care because Bristol-Myers Squibb's Opdivo also beat Novartis' Afinitor in a head-to-head trial. The two drugs are currently battling it out for second-line kidney cancer patients.
Another head-to-head win
That battle may not matter for too much longer because, last month, Exelixis announced that Cabometyx beat Pfizer's Sutent in a head-to-head phase 2 trial. The press release was light on the details because the clinical trial, dubbed CABOSUN after the generic names for Cabometyx (cabozantinib) and Sutent (sunitinib), was run by the Alliance for Clinical Trialsin Oncology, which is part of a collaboration with the National Cancer Institute. Scientists like to save their data for presentations at medical meetings and publications in clinical journals.
But it's clear from the press release that Cabometyx is better than Sutent:
PFS measures when the tumor starts to grow again or the patient dies, whichever comes first, so it isn't the gold-standard overall survival, but most cancer drugs that show an improvement in PFS also show an improvement in overall survival.
Management indicated previously that the phase 2 trial wasn't designed to get Cabometyx approved by the FDA as a first-line treatment for kidney cancer, but the company didn't completely eliminate the possibility in the press release:
Assuming Exelixis needs to run a phase 3 trial with overall survival as an endpoint to confirm the results, it would be a couple of years before Cabometyx would be approved as a first-line treatment. But the PFS phase 2 data could convince more doctors to use it now, either off-label as first-line treatment or as the preferred second-line treatment equal to, or perhaps in front of, Bristol-Myers Squibb's Opdivo.
The battle with Bristol-Myers Squibb is an interesting one, because the companies are testing the combination of Cabometyx and Opdivo in a phase 1b trial in genitourinary cancers including renal cell carcinoma. Data from that trial is expected this year, so it might make sense for Exelixis to wait for the data before starting a phase 3 trial in first-line renal cell carcinoma. If it's clear that the combination of Cabometyx and Opdivo works substantially better,there's no sense in getting the drug approved as a stand-alone first-line treatment.
The article Exelixis, Inc. Setting New Standard of Care originally appeared on Fool.com.
Brian Orelli has no position in any stocks mentioned. The Motley Fool owns shares of and recommends Exelixis. Try any of our Foolish newsletter services free for 30 days. We Fools may not all hold the same opinions, but we all believe that considering a diverse range of insights makes us better investors. The Motley Fool has a disclosure policy.
Copyright 1995 - 2016 The Motley Fool, LLC. All rights reserved. The Motley Fool has a disclosure policy.