Exelixis, Inc. Prepares for Blastoff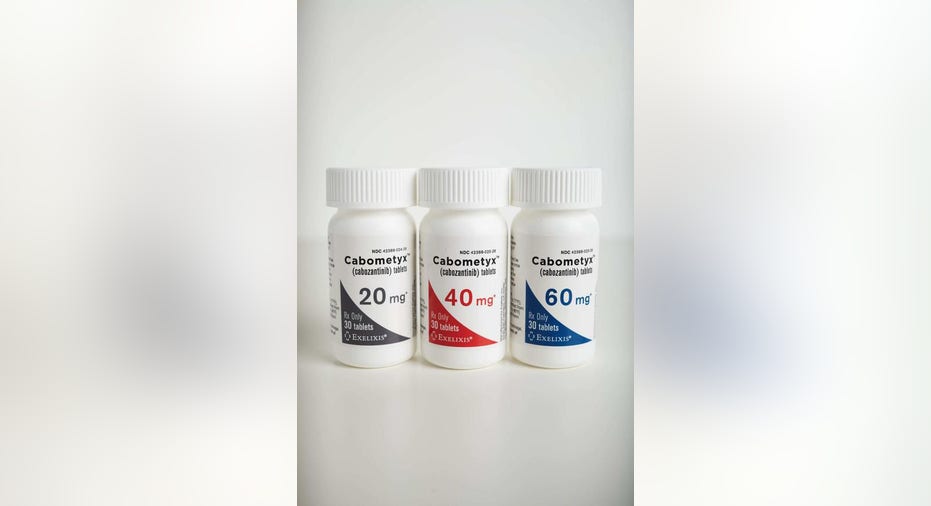 Exelixis released first-quarter earnings last week; but with the approval of Cabometyx coming April, after the quarter ended, the focus was naturally on the launch rather than on first-quarter revenue and earnings.
Exelixis results: The raw numbers
| Metric | Q1 2016 Actuals | Q1 2015 Actuals | (Decline) YOY |
| --- | --- | --- | --- |
| Net Product Revenue | $9.1 million | $9.4 million | (3.1%) |
| (Loss) from Operations | ($49.1 million) | ($22.8 million) | N/A |
| (Loss) Per Share | ($0.27) | ($0.18) | N/A |
Data source: Company press release.
What happened with Exelixis this quarter?
Image source: Exelixis. While sales of Cometriq were down slightly year over year, and down 8% quarter over quarter, the decline was due to a buildup of inventory in the fourth quarter. Demand actually increased 33% quarter over quarter as doctors prescribed Cometriq for kidney cancer. Now that Cabometyx, which is the same drug in a slightly different formulation, is approved, those doctors will likely switch to prescribing Cabometyx.
In February, Exelixis gaveIpsen Pharmaa license to Cabometyx and Cometriq outside of the U.S., Canada, and Japan. Exelixis got $200 million upfront, and has the potential for milestone payments -- including $60 million for the European approval for kidney cancer -- and will receivetiered royalties up to 26%.
The overall survival for Cabometyx was included on the label approved by the FDA, and suggests that the drug works at least as good as, if not better than,Bristol-Myers Squibb's Opdivo, which was approved for the same kidney cancer patients a few months ago.
Exelixis had Cabometyx shipped to wholesalers and pharmacies within three days of the approval, allowing the first prescription to be filled that day.
What management had to say
PJ Haley, Exelixis' VP Commercial, highlighted the experience that doctors have with off-label use of Cometriq (cabozantinib) forrenal cell carcinoma (RCC), the type of kidney cancer Cabometyx(cabozantinib) is approved for: "To date, more than 300 healthcare providers have prescribed cabozantinib for the treatment of their late-line RCC patients."
Use of the drug off-label apparently picked up after the data from the phase 3 trial was presented at the European Cancer Congress, European Society for Medical Oncology meeting (ECC ESMO). "In the roughly 30 weeks since the data were presented, we have seen more than a sixfold increase in new patient starts, and over a sixfold increase in new physician adoption relative to the same time period leading up to ECC ESMO," Haley said.
Chris Senner, Exelixis' CFO, commented on the cash-and-burn rate for the company -- always an important issue as a company launches a drug. "With the cash we had to start the year, disciplined expense management, including the costs associated with launching Cabometyx in the U.S. for advanced RCC, and the anticipated milestones from Ipsen, we are projecting that we'll be in a very healthy cash position at year end."
Looking forward
Obviously, the launch of Cabometyx -- and its competition with Bristol-Myers Squibb's Opdivo -- is the most important event for Exelixis in 2016; but there's some upcoming clinical trial data that could increase Cabometyx's peak sales that investors should be looking out for. This year, we'll get phase 2 data in first-line kidney cancer. It won't be enough to get approved for earlier-stage patients, but if the data is solid enough, it could induce off-label use for first-line treatments.
Exelixis is also expecting data from a phase 1b trial testing Cabometyx in combination with Bristol-Myers Squibb's Opdivo this year. If the combination works better than either drug alone, it should alleviate concerns about the competition dampening sales.
Finally, next year, we'll get data from the Celestial phase 3 trial testing Cabometyx in liver cancer, which would add substantially to the market potential.
The article Exelixis, Inc. Prepares for Blastoff originally appeared on Fool.com.
Brian Orelli has no position in any stocks mentioned. The Motley Fool recommends Exelixis. Try any of our Foolish newsletter services free for 30 days. We Fools may not all hold the same opinions, but we all believe that considering a diverse range of insights makes us better investors. The Motley Fool has a disclosure policy.
Copyright 1995 - 2016 The Motley Fool, LLC. All rights reserved. The Motley Fool has a disclosure policy.