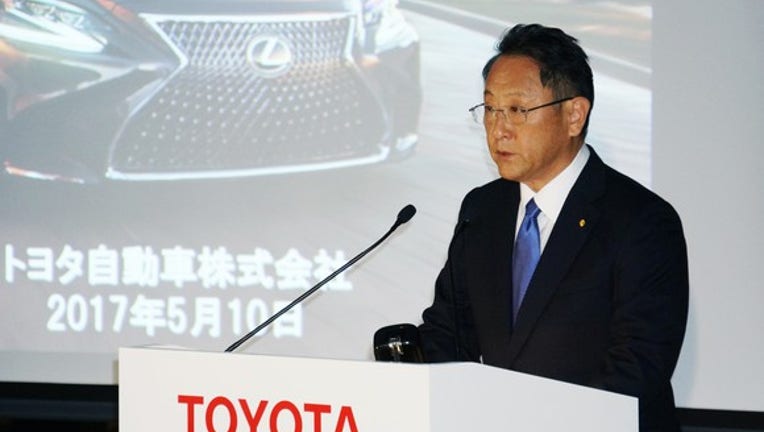 Toyota Motor Corporation (NYSE: TM) said on May 10 that its net income in the quarter that ended on March 31 fell 6.6% to 398.4 billion yen ($3.5 billion), as unfavorable exchange rate moves more than offset a 6.8% increase in revenue.
The company also said that it expects its net income in the current fiscal year to decline to 1.5 trillion yen ($13.2 billion) from the 1.83 trillion yen ($16 billion) it earned in the fiscal year that ended on March 31.
Toyota's shares opened about 2% lower in New York after the news was released.
Toyota's earnings: The raw numbers
Like many Japanese companies, Toyota's fiscal year ends on March 31. Shown below are the key numbers from Toyota's fiscal fourth-quarter and full fiscal year 2017 results. All numbers are shown in yen. As of May 10, $1 = about 114 yen.
Data source: Toyota. Vehicle sales are rounded to the nearest thousand. Ppts = percentage points.
Toyota CEO Akio Toyoda spoke at the company's earnings press conference in Tokyo on May 10. Image source: Toyota Motor Corporation.
Why Toyota's full-year profit fell from a year ago
Toyota's 21% drop in full-year net income was its first year-over-year drop in five years (though its operating profit was down year over year in 2016). But CEO Akio Toyoda said, that drop was largely a result of the strengthening of the yen against other currencies, particularly the U.S. dollar, and didn't accurately reflect the underlying state of the business.
In Toyota's fiscal 2016, a dollar earned in the U.S. was worth 120 yen, on average. In fiscal 2017, that same dollar was worth only about 108 yen, on average. That alone dented Toyota's full-year operating profit by 475 billion yen. Other unfavorable exchange rate movements cost Toyota about 305 billion yen versus its fiscal 2016 result.
Toyota's ongoing global cost-reduction effort was able to save the company about 440 billion yen versus the year prior, and improved sales and a better "mix" of models sold gave results an additional boost of about 210 billion yen.
Those gains, however, were offset by increased expenses, largely related to Toyota's introduction of a new modular vehicle architecture, called Toyota New Global Architecture, or TNGA. TNGA is expected to reduce Toyota's new-product development and manufacturing costs significantly over time, but it has required significant up-front investments. Overall expenses were up about 530 billion yen from the year prior.
What Toyota's CEO had to say
During Toyota's earnings press conference, Toyoda said that he thinks the company's latest products are on the right track -- but there's still work to be done on the manufacturing side:
Looking ahead: Toyota's guidance for fiscal 2018
As mentioned above, Toyota's guidance for the upcoming fiscal year ending March 31, 2018, is somewhat pessimistic. The company expects:
Consolidated vehicle sales of 8.9 million units (versus 8.97 million in fiscal 2017);
Net revenue of 27.5 trillion yen (versus 27.6 trillion yen in fiscal 2017);
Operating income of 1.6 trillion yen (versus 1.99 trillion yen in fiscal 2017);
Net income of 1.5 trillion yen (versus 1.83 trillion yen in fiscal 2017); and
Average exchange rates of 105 yen to the U.S. dollar and 115 yen to the euro.
10 stocks we like better than Toyota MotorWhen investing geniuses David and Tom Gardner have a stock tip, it can pay to listen. After all, the newsletter they have run for over a decade, Motley Fool Stock Advisor, has tripled the market.*
David and Tom just revealed what they believe are the 10 best stocks for investors to buy right now... and Toyota Motor wasn't one of them! That's right -- they think these 10 stocks are even better buys.
Click here to learn about these picks!
*Stock Advisor returns as of May 1, 2017
John Rosevear has no position in any stocks mentioned. The Motley Fool has no position in any of the stocks mentioned. The Motley Fool has a disclosure policy.