Everything Investors Need to Know About Pandora Premium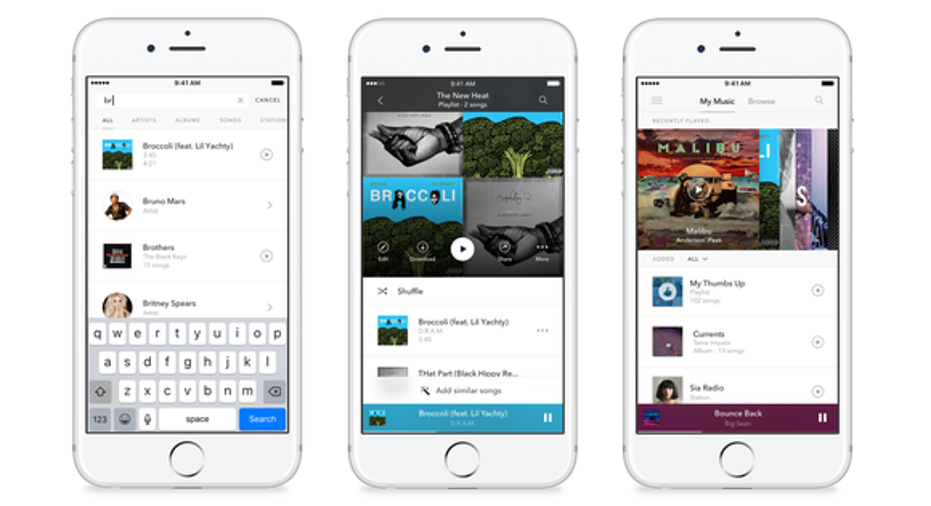 You'd better adjust your headphones, Pandora Media (NYSE: P) investors, because Pandora Premium is finally here. And it should reshape the way we think about the popular music-streaming pioneer.
Come to think of it, that may be Pandora Media's biggest challenge. Given its long history as a streaming-internet-radio platform, it needs to show both current and prospective listeners that Pandora Premium marks the company's ambitious entry into the on-demand music space.
Pandora Premium combines Pandora's streaming radio with on-demand listening. IMAGE SOURCE: PANDORA MEDIA.
How Pandora Premium is different
For $9.99 per month, Pandora Premium differentiates itself by combining Pandora's personalized radio experience with the ability to search and play any track, album, and even simplified playlists tailored to each user's preferences. And as expected, Pandora Premium features both online streaming and offline modes to ensure you have music regardless of whether your signal cuts out.
Similar to its $4.99-per-month ad-free Pandora Plus streaming service --whichlaunched almost exactly six months ago-- Pandora Premium incorporates a slick predictive offline feature that automatically downloads top stations and switches to one of them should your signal cut out. But Premium also adds the ability for users to download all albums, playlists, and any of the 40 million songs on the service, with no limits.
More specifically, on the playlists functionality, Pandora Premium offers subscribers the option of building entire playlists from scratch, as most other on-demand music services do. But alternatively, listeners can start a playlist with one or two songs of their choice, then fill it with other curated content by hitting an "Add Similar Songs" button.Users also have access to a "My Thumbs Up" playlist comprised of every song they've ever thumbed up, and can create new Thumbs Up playlists automatically by thumbing up a few tracks on any Pandora radio station.
If that wasn't enough, Pandora has created its own personalized search engine that helps listeners quickly find what they actually want -- a likely combination of its existing curation skills and its acquisition of music data-analytics specialist Next Big Sound, in 2015. As Pandora stated it in its press release, "No more wading, through covers, karaoke versions, or tribute tracks to get to your favorite tune."
Pandora doesn't need to beat the competition
To start, Pandora is giving existing Pandora Plus subscribers a six-month trial of Pandora Premium at no additional charge. Considering Pandora Plus helped drive accelerated 12% year-over-year growth in paid subscribers last quarter, to 4.39 million, that's a solid base of prospective listeners that Pandora can potentially upsell to Pandora Premium.
During last quarter's conference call, management also noted that the company's 2015 acquisition of Ticketfly offers a perfect opportunity to leverage Ticketfly's business as a way to drive Pandora Premium subscription trials and ticket bundles. And of course, Pandora is planning to provide free trial options for the rest of its nearly 80 million ad-supported listeners in the coming weeks.
Of course, many investors are still skeptical that Pandora will be able to succeed with its Premium offering, especially as it works to take market share from entrenched juggernauts in the space, like Apple and Spotify.But investors should also know that Pandora doesn't necessarily need to beat the competition for Pandora Premium to meaningfully contribute to its results.
Recall, for example, that Pandora first laid the groundwork to expand its scope and invest in new lines of business around this time last year. At the time, Pandora set a goal of building a $1.3 billion subscription business over the next five years, as new product tiers are launched and adopted.
Most importantly, Pandora didn't set that target based on its ability to take market share from competitors. Rather, Pandora conservatively based its goal on converting around 10% of its U.S. audience to those new product tiers.If Pandora succeeds to that end, it would mean nearly doubling the company's revenue over the next four years, from $1.385 billion in 2016.
For investors willing to buy and watch Pandora's growth story unfold -- and with Pandora stock down around 12% so far in 2017 as of this writing -- now is a great time to consider opening or adding to a position.
10 stocks we like better than Pandora MediaWhen investing geniuses David and Tom Gardner have a stock tip, it can pay to listen. After all, the newsletter they have run for over a decade, Motley Fool Stock Advisor, has tripled the market.*
David and Tom just revealed what they believe are the 10 best stocks for investors to buy right now... and Pandora Media wasn't one of them! That's right -- they think these 10 stocks are even better buys.
Click here to learn about these picks!
*Stock Advisor returns as of February 6, 2017
Steve Symington owns shares of Apple. The Motley Fool owns shares of and recommends Apple and Pandora Media. The Motley Fool has the following options: long January 2018 $90 calls on Apple and short January 2018 $95 calls on Apple. The Motley Fool has a disclosure policy.