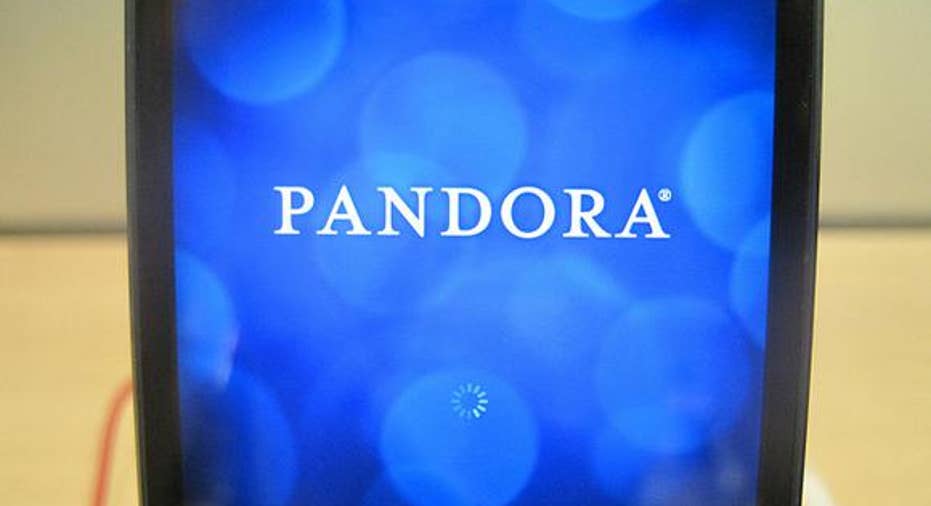 A few market analysts may have been busy downgrading some of last year's biggest winners, but a couple of Wall Street pros went against type by talking down one of the dot-com duds. SunTrust Robinson Humphrey lowered its rating on Pandora Media from buy to neutral on Monday. It follows a bearish take in Barron's over the weekend, lamenting the climate of heightened competition and content costs.
Pandora is coming off of back-to-back years of double-digit percentage declines, so it's not as if dwindling optimism is a new tune for its shareholders. Pandora stock shed 25% of its value in 2015, following a 33% slide in 2014.
SunTrust's model calls for higher streaming royalties eating up more of Pandora's revenue than Wall Street's EBITDA consensus through the next two years. Barron'scritical piece -- ominously titled "Pandora Stock Could Fall 20% or More" -- argues that Pandora is getting smoked in a world where overseas market darling Spotify and tech juggernaut Apple are making inroads in audio streaming.
The perfect storm of an analyst downgrade, the negative Barron's piece, and a weak trading day in general sent the shares more than 5% lower at the open, trading down by as much as 9% a couple of hours into the day.
Pandora couldn't catch a break in 2014 and 2015, and now 2016 is off to another lousy start.
It's easy to hate on Pandora. It's also apparently quite popular to do so. There were 32.2 million shares of Pandora sold short as of mid-December, the highest that the tally has been in more than a year. Things are so bad that the stock surrendered $431 millionin value duringthe two days following the sale of $300 million in convertible senior notes last month.
Let that sink in. Pandora raised $300 million that it won't have to pay back for five years. It was able to secure a ridiculously low interest rate of 1.75% because it can be converted into Pandora stock. However, the initial conversion price is $16.42 per share. In other words, the stock would have to move sharply higher from here for it to actually be dilutive. Pandora got money that it can use at a great rate, and the market proceeds to knock it down by more than the value of the financing it just raised? Oh, and Pandora was going to use options to engage in capped-call transactions to limit its exposure to the possible conversion process.
Yes, it seems as if every market reaction when it comes to Pandora these days is an overreaction. It's true the arrival of Apple Music this summer has been a challenge. Pandora experienced a slight sequential dip in active listeners and usage in the first full quarter of Apple Music availability. However, Pandora still served up 5.14 billion hours of content to an impressive base of 78.1 million active listeners in its latest quarter.
Revenue is growing faster than usage, indicating that Pandora continues to get better at monetizing its streams -- something that is critical as royalties creep higher. If Pandora keeps suffering sequential dips, the shorts and downgrades may continue, but seeing the stock pummeled into the pre-teens is a bit overdone for a company that is nowhere near the doomsday scenario that the stock chart over the past two years would seem to suggest. Pandora is out of favor on Wall Street, but that's not the case with penny-pinching smartphone owners and the advertisers trying to reach them. Let the shorts have today. The real shock here will be if Pandora doesn't close higher for the year.
The article Everybody Hates Pandora originally appeared on Fool.com.
Rick Munarriz has no position in any stocks mentioned. The Motley Fool owns shares of and recommends Apple and Pandora Media. Try any of our Foolish newsletter services free for 30 days. We Fools may not all hold the same opinions, but we all believe that considering a diverse range of insights makes us better investors. The Motley Fool has a disclosure policy.
Copyright 1995 - 2016 The Motley Fool, LLC. All rights reserved. The Motley Fool has a disclosure policy.