Even Truck Sales Not Immune From Weak August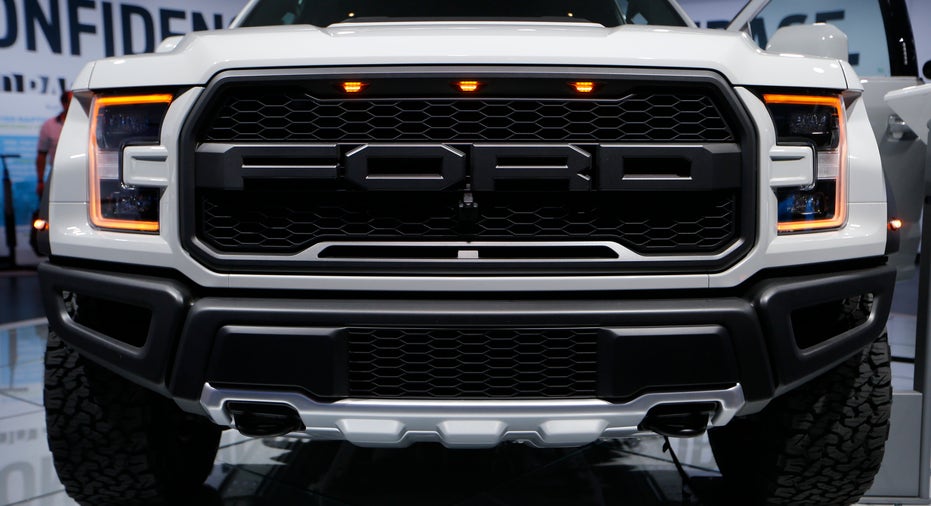 Auto sales ended the summer with a whimper, and even pickup trucks got stuck in the mud.
Analysts have warned that sales are nearing their peak after six consecutive years of growth. Last year, the industry sold an annual record of 17.5 million vehicles. Now, much of the pent-up demand that carried automakers in recent years has waned, leading to softer consumer demand this summer. Forecasts say the industry could still post another annual record this year, albeit with slower growth compared to 2015.
In August, the top automakers in the U.S. largely met expectations for a decline in overall sales. General Motors (NYSE:GM), Ford (NYSE:F) and Fiat Chrysler Automobiles (NYSE:FCAU) each saw that trend hit the popular truck segment.
Ford's F-Series lineup, the best-selling nameplate in the U.S., dropped 6.1% to 66,946 units sold during the month. GM sold 52,408 Silverado trucks, a 4.7% decline, while the GMC Sierra was down 17.7% at 17,478 units. Fiat Chrysler's Ram trucks held steady, as sales moved only slightly lower to 40,202 trucks.
Pickup trucks and SUVS remain two bright spots for automakers, contrasting with sharply lower sales of passenger cars. The recovery in the U.S. housing sector has sparked an uptick in construction activity, a key factor for truck sales. Also, cheaper gasoline and low interest rates have encouraged many buyers to jump into pricier models.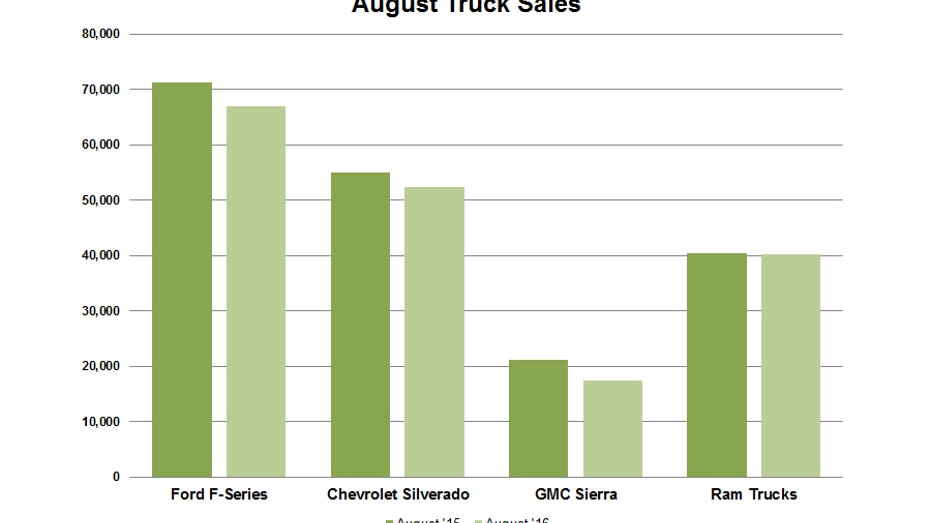 Since the start of 2016, Detroit's Big Three manufacturers have enjoyed a strong run in the truck market. F-Series sales are up 6.7% through August, and Ford's total truck sales—including heavy-duty models and vans—have climbed 1.6%.
For GM, the Silverado has been outshined by the Sierra, which is up 3.2% this year versus the Silverado's 1.8% decline. GM's midsize trucks continue to be hot sellers. The Chevrolet Colorado (24.6%) and GMC Canyon (20.7%) both sport double-digit leads over last year's sales numbers.
Ram truck sales have grown 5%. Including vans, the brand has improved its sales by 8%.
Trucks and SUVs are the dominant segments in the industry, with car sales slumping across most brands. Ford, for instance, saw its car sales plunge 25% in August, extending their losses for the year to 11%.
Overall, Ford suffered an 8.4% decline in August sales year-over-year, as weaker demand for the company's namesake vehicles overshadowed a 7% gain for Lincoln.
August was also a good month for Cadillac, whose sales rose 3.9%. Still, GM's total sales slipped 5.2%. The company noted that it continued to pare back less-profitable fleet sales, and average transaction prices were up $1,600 compared to August 2015.
Fiat Chrysler bucked the downward trend, posting a 3% increase in U.S. sales. Jeep's 12% growth led the Italian-American automaker during the month. Dodge sales rose 5%, while Chrysler tumbled 22%. The results were compared against August 2015 figures that Fiat Chrysler revised lower. In July, Fiat Chrysler restated some monthly sales following a review of its reporting process.
Toyota (NYSE:TM) reported August sales that were down 5%. Toyota's pickup trucks, the Tundra and Tacoma, combined for a 4% drop in volume.
At Honda (NYSE:HMC), the brand-new Ridgeline boosted truck and SUV sales, although Honda's total sales ticked 3.8% lower.