Eurozone Leaders Move to Ease Debt Crisis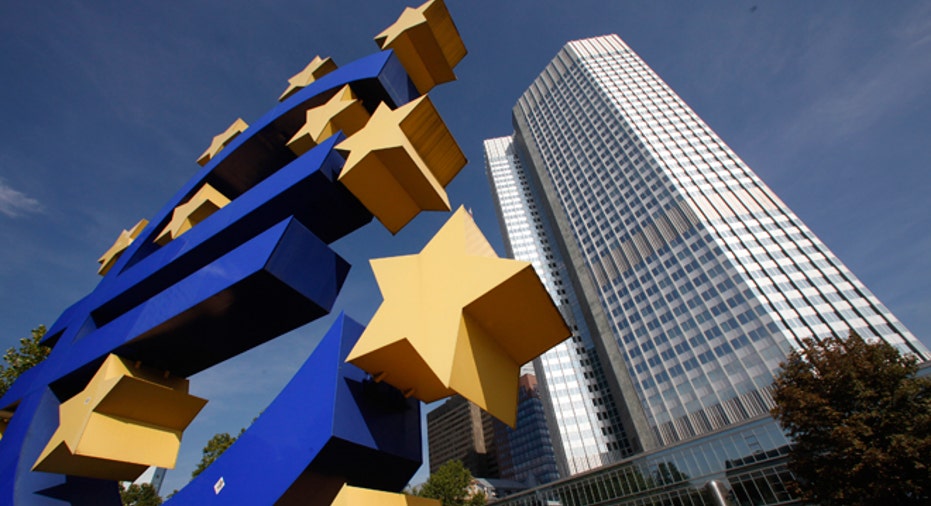 Euro zone leaders agreed on Friday to bend their aid rules to shore up banks and bring down the borrowing costs of stricken members like Italy and Spain, in a sign the bloc is adopting a more flexible approach to solving its two-year old debt crisis.
The measures, agreed after 14 hours of intense talks that pitted Rome and Madrid against Europe's paymaster Berlin, were welcomed by financial markets. The euro rose sharply against the dollar and yields on Spanish and Italian debt fell sharply.
Ireland hailed the decisions, which represented a significant shift on Germany's part, as a "game changer" but many of the details remain to be worked out and leaders appeared at odds over just how strict the conditions attached to any assistance should be.
"The summit result offers no 'silver bullet' to solve the euro crisis once and for all," said Holger Schmieding of Berenberg Bank. "It is another attempt to buy some extra time for the underlying fiscal repair and structural reforms to show results. All in all, there is some progress."
Responding to pleas from Spanish and Italian leaders, who had threatened to block a package of growth measures, the euro zone agreed that its rescue funds could be used to stabilise bond markets without forcing countries that comply with EU budget rules to adopt extra austerity measures or economic reforms.
Crucially, it was also agreed that a single supervisory body for euro zone banks, housed under the ECB, would be created by the end of the year - much faster than previously envisaged.
Once this is operational, the bloc's future permanent bailout fund, the European Stability Mechanism (ESM), would be able to recaptalise banks directly without increasing a country's budget deficit, and without preferential seniority status.
The latter concession could help Spain, which formally applied for up to 100 billion euros in assistance this week to recapitalise banks laden with bad debts from a burst housing bubble.
Investors had been concerned that the ESM had preferred creditor status if Spain were to default, the ESM would get paid back first and there may not be enough money left to repay private bondholders.
The steps represented a concession by German Chancellor Angela Merkel, who had insisted in the run-up to the crunch summit in Brussels that aid go directly to states and only under strict conditions.
Calls have steadily mounted on her to take a more flexible approach to the crisis, which erupted in early 2010 and has forced full bailouts of Greece, Ireland and Portugal.
Both Italy and Spain are seen as "too big to fail", giving the leaders of these countries, Mario Monti and Mariano Rajoy, added leverage in the talks.
Monti and Rajoy refused to sign off on a 120 billion euro ($149 billion) growth package until Germany approved short-term measures to ease their cost of credit, delaying the talks by several hours.
New French President Francois Hollande has backed the need for bold steps to help the bloc's third and fourth biggest economies, adding to the pressure on Merkel, who earlier in the evening had to watch Germany lose to Italy 2-1 in the Euro 2012 soccer semi-final.
TROIKA ROLE
"The process was tough, the outcome was good," Italian Prime Minister Mario Monti told reporters, adding that Italy did not intend "at this time" to apply for emergency support.
Hollande said leaders had defined a "vision for the euro" with greater solidarity. Merkel maintained that new aid would not flow without "conditionality".
Euro zone leaders returned early on Friday to discuss longer-term plans to build a much closer fiscal union. Merkel wants her partners to cede control over their budgets before agreeing to bolder steps like joint debt issuance, that some experts believe is necessary to truly stem the crisis.
Countries that request bond support from the rescue fund will have to sign a memorandum of understanding setting out their existing policy commitments and agreeing a timetable.
Monti said this would not involve intrusive oversight of a "troika" of international lenders to which Greece, Ireland and Portugal have been subjected. But Merkel said the troika would still have a supervisory role.
"I think we have done something important but remained faithful to our philosophy: no benefit without counter-benefit," she told reporters on Friday.
European Council chairman Herman Van Rompuy told a 4.30 a.m. (0230 GMT) news conference that the goal of the measures was to "make the euro an irreversible project".
The euro surged more than 1.2 percent to $1.2628 and the risk premiums investors demand to hold Spanish and Italian debt instead of benchmark German bonds fell back.
But whether investors regard the deal struck at the 20th summit since the crisis erupted in early 2010 as sufficient remains to be seen. Previous relief rallies have fizzled within days or hours as new doubts set in.
"It is one step on a very long road," said Charles Diebel, head of market strategy at Lloyds Bank, adding that Germany's acquiescence suggested leaders were increasingly adopting a "whatever it takes" approach.
"But we don't have any details and arguably the detail is where the risk lies because the market will start to pick holes in it, as we've seen previously."