European Shares Sink Amid Growth, Greek Worries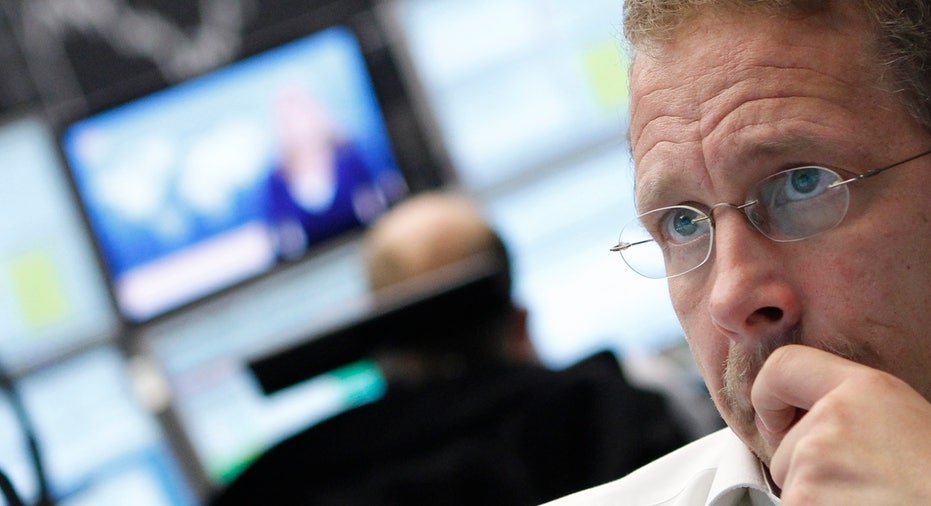 European shares fell sharply and the euro hit a near three-week low on Tuesday on worries that Greece will not be able to complete a major debt restructuring deal and on growing concern that global economic growth is weakening.
Private sector Greek creditors have until late Thursday to agree a debt swap needed to release its 130 billion euro second bailout and avert an imminent messy default, but fears have risen that acceptances may not meet the minimum required.
A disorderly Greek default would probably leave Italy and Spain needing outside help to stop contagion spreading and cause more than 1 trillion euros ($1.3 trillion) of damage to the euro zone, the group representing private bondholders warned in a document seen by Reuters.
"This week will determine the success or otherwise of the largest sovereign bond restructuring in history," said Bill O'Neill, chief investment officer for EMEA at Merrill Lynch Wealth Management.
The euro fell to $1.3125, its weakest since Feb. 17.
China's lowering of its growth target and data pointing to Europe possibly slipping back into recession have also eroded the optimism on global markets generated by the European Central Bank's provision of massive loans to banks since December.
"We've had the ECB bathe us in this warm glow of liquidity but politically there is a lot more to be done, and there is still a risk that tensions could rise again into the spring and summer," said Rabobank's senior currency strategist Jane Foley.
The potential for Europe to fall into recession was confirmed when statistics agency Eurostat said the economic output for the euro zone fell by 0.3 percent in the fourth quarter of 2011, compared to the previous three months.
Leading indicators for the current quarter have signalled further weakness since the start of the year.
SAFE HAVENS SOUGHT
The growing worries over the Greek debt swap drove demand for safe-haven German government bonds and hit peripheral euro area debt. Without the additional rescue funds agreed by euro zone finance ministers on Feb. 21, Greece will be unable to make billions of euros of bond payments falling due this month.
The front month German Bund futures contract rose 42 ticks from the previous close to 140.25, after setting a record high of 140.39 during the day on Monday.
Spanish 10-year bond yields rose back above the 5 percent barrier, climbing 6 basis points to 5.05 percent. The Italian equivalent rose two basis points to hit 4.97 percent but continued to fare better than Spain.
"The market is really now looking at, on one side, what will happen to Greece and, on the other, the details of the next macro data releases to get an idea of growth in the second half of this year," said Alessandro Giansanti, strategist at ING.
DEMAND KEY FOR RISK ASSETS
The weaker growth outlook saw stocks in China and Japan fall for a second day and triggered weakness in Australian resource shares, sending the MSCI world equity index down 0.5 percent to 328.23.
In Europe, automobile shares were being hit on the weaker demand outlook, with the falls led by French car maker PSA Peugeot Citroen after it announced a planned 1 billion euro capital raising would involve a deep share price discount.
The FTSE Eurofirst index of top European shares was down 1.2 percent at 1,067.26 points, its lowest level in over a week, although the index is up around 6.5 percent year-to-date.
"Latest macroeconomic figures from the euro zone, especially at a time when the ECB's major liquidity operations are over, have raised concerns of a recession and disappointed markets," Koen De Leus, strategist at KBC Securities in Brussels, said.
In oil markets Brent crude traded around $123 in a volatile market on Tuesday as fears of a disruption in Iranian supplies battled with the prospect of demand falls from slowing economies in China and Europe.
Front-month Brent crude fell 98 cents $122.82 a barrel at one point after climbing to a day's high of $124.39. U.S. April crude gained 25 cents to $106.97.
The commodity-linked Australian dollar slipped 0.5 percent to $1.0621, as the nation's central bank held its cash rate steady at 4.25 percent for a second month, but left the door open for an easing should the economy materially.
The New Zealand dollar also hit a near 6-week low of US$0.8122, down 1 percent on the day.