European Shares Shake Off S&P Downgrade Jitters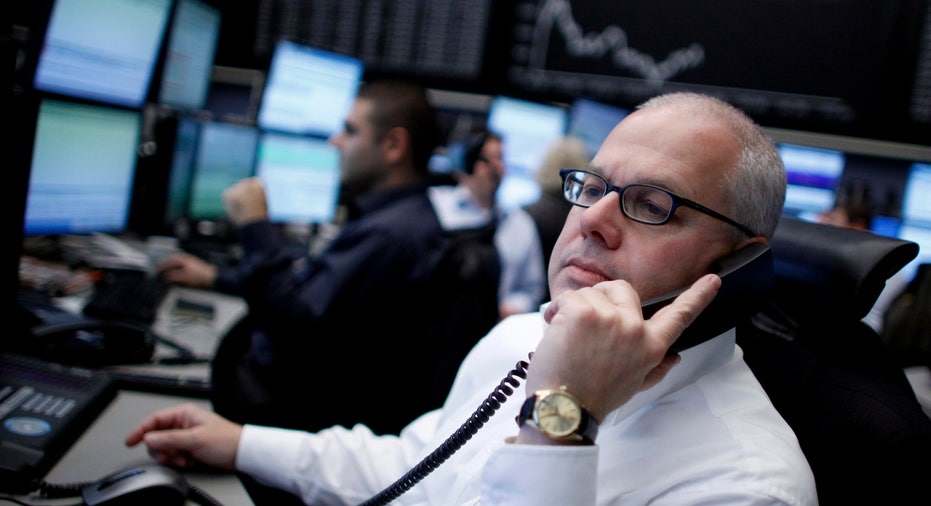 European shares and the euro recovered from early losses on Monday in the wake of a mass downgrade of euro zone sovereign ratings, but trading was choppy with U.S. markets closed and the outlook for Greek debt talks uncertain.
Standard & Poor's stripped France and Austria of their triple-A ratings and cut Italy to the same level as Ireland on Friday, shortly after news emerged that Athens' talks on a bond swap with private creditors, seen as vital to avoid a default in March, had broken down.
Ratings agency Moody's also weighed in on Monday saying its Aaa rating for France might come under pressure if the public debt keeps rising or if Europe's debt crisis worsens.
All of that piles pressure on the euro zone's leaders to shore up defences, with some glimmers of optimism in the crisis now firmly doused. Investors dumped riskier assets in response, especially bank shares, and sought defensive plays such as UK government bonds, leaving the euro down but not sharply.
"The path of least resistance is a safe haven/risk-off trade," said Jeremy Stretch, currency strategist at CIBC.
The euro fell 0.2 percent against the dollar at $1.2651 and still looked vulnerable to a test of Friday's 17-month low of $1.2624.
The FTSEurofirst 300 index of top European shares was barely changed from Friday's closing level but the main euro zone bank stock index fell around 1.1 percent on fears the sector could be the next target for rating cuts.
World shares overall recovered from losses seen in Asian trade to be just 0.2 percent lower. U.S. markets are closed for a holiday on Monday.
Standard & Poor's downgraded nine of the 17 countries that use the euro on Friday and also said it would decide soon whether to cut the euro zone's bailout fund, the EFSF, from triple-A.
"A one-notch downgrade for France was completely priced in, so no negative surprise here, and quite logical after the United States got downgraded," said David Thebault, head of quantitative sales trading at Global Equities.
The growing nervousness saw Europe's commercial banks park almost half a trillion euros at the European Central Bank, the highest on record, as the mix of debt crisis worries and a recent giant injection of ECB cash left banks awash with money but too scared to lend it.
BOND MARKET ADJUSTS
The cost of insuring Italian, Spanish and other euro zone government debt against default rose on the S&P ratings cuts, while shorter-dated UK government bond yields fell. Safe-haven German government bonds retraced gains seen on Friday after reports first emerged of the S&P action.
The ECB was also reported by traders to be active in buying Italian and Spanish government bonds with up to five-year maturities to keep a lid on rising yields.
Italian five-year bond yields, which had been around 6 percent in early trade, dropped to around 5.85 percent on the reports of ECB buying.
The cost of insuring five-year Italian bonds rose to around 518 basis points from under 500 basis points on Friday, meaning it costs 518,000 euros to protect 10 million euros of exposure to Italian debt.
German Bund futures were slightly lower at 139.92, having hit a record high of 140.23 on Friday. Ten-year cash yields were little changed at 1.772 percent.
Italy takes a break from debt sales this week, but France plans to sell up to 8 billion euros of debt on Thursday and Spain comes to the market with sales of 2016, 2019 and 2022 bonds..
Concerns that European financial troubles will drag down global growth and sap appetite for commodities weighed on industrial metals such as copper, while spot gold held steady at around $1,645.25 an ounce.
Brent crude rose above $111 on worries over supply disruptions after Iran warned its Gulf Arab neighbours of consequences if they raised oil output to replace Iranian barrels facing international sanctions.
The latest threat comes as leaders of top Asian buyers of Iranian oil - China, Japan and South Korea - tour alternative Middle East suppliers while the United States pressures nations to stop importing oil from the Islamic Republic.