European Shares Rise Amid EU Debt Hopes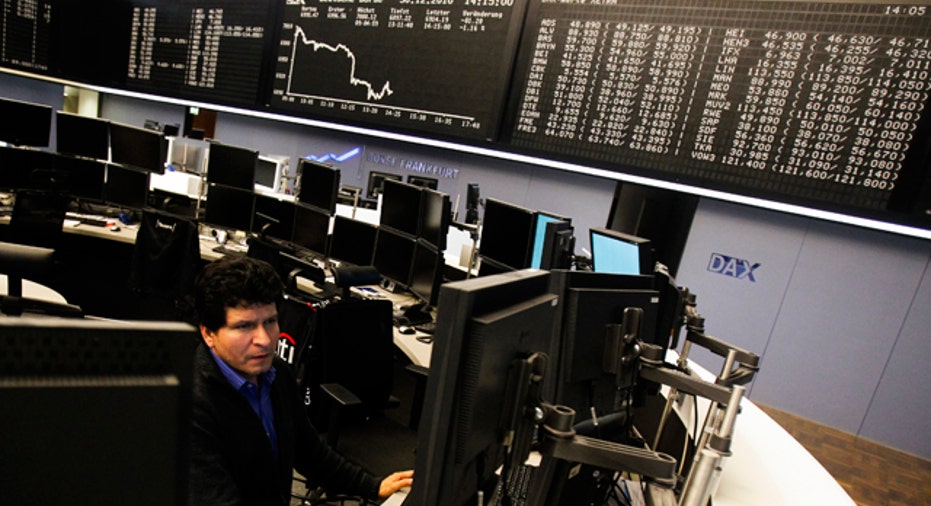 European shares rose on Friday and the euro eked out modest gains as investors bought beaten-down riskier assets, with markets cautiously hopeful that debt-laden Italy will implement tough austerity measures crucial to avoid a euro zone meltdown.
Italy's Senate is due to vote on Friday on austerity steps demanded by the European Union, paving the way for a new emergency government to be formed within days, ending the reign of Prime Minister Silvio Berlusconi.
The eye of the euro zone storm swung from Greece to Italy this week, with yields on benchmark 10-year bonds having risen well above 7 percent -- widely seen as unsustainable.
Analysts fear Italy's potential inability to fund itself could be a systemic risk given the size of its economy and public debt, the third largest in the world.
But fears of a near-term collapse have eased somewhat, lifting stocks, commodities and the euro.
U.S. stock index futures pointed to a higher open on Wall Street, with futures for the S&P 500, Dow Jones up 0.4 percent and Nasdaq 100 futures up 0.7 percent.
Wall Street had rallied on Thursday as investors cheered better-than-expected earnings from U.S. companies.
The FTSEurofirst 300 index of top European shares was up 0.5 percent at 968.43 points after falling in the previous two sessions. Banks featured among the top gainers, with the sector index up nearly 1.0 percent.
Keith Bowman, an equity analyst at Hargreaves Lansdown, said the political change in Italy was helping sentiment.
"In the background, supportive U.S. economic data and a broader conclusion that the third quarter corporate results season was by no means a disaster also appears to be playing its part," he added.
The MSCI index of global shares was up 0.5 percent at 301.63, recouping some of its losses made in the past two sessions. Despite the bounce, it was headed for its second straight week of losses as markets continued to be rocked by political uncertainty in Italy and Greece.
ITALIAN BOND YIELDS STABILISE
The prospect of Italy buckling under its 2 trillion euros of debt has raised concern over Europe's two-year-old crisis to a new level, because the euro zone's bailout fund is simply not big enough to rescue the bloc's third-largest economy.
Reported steady bond purchases by the European Central Bank have helped bring down yields on Italian bonds, but most traders said the euro zone was still in crisis mode.
While ECB buying and positive political developments were helpful, analysts are sceptical they will be enough to spur a sustained drop in Italian bond yields or a rise in the euro.
Ten-year Italian bond yields fell 27 basis points to 6.7 percent while five-year credit default swaps fell 18 basis points to 545 bps.
That saw the euro rise on the day, changing hands at $1.3645 and staying above a one-month low of $1.3484 touched on Thursday. For the week, the euro is still down about 1.3 percent.
"The main risk is to the downside in euro/dollar due to the debt situation in the euro zone, and the next couple of weeks will see a test of the downside," said Niels Christensen, currency strategist at Nordea in Copenhagen.
Commodity markets were mostly firmer, with spot gold headed for a third week of gains, its longest winning stretch in more than two months. Brent crude was steady near $114, poised for a third week of increases, while copper snapped five days of declines.