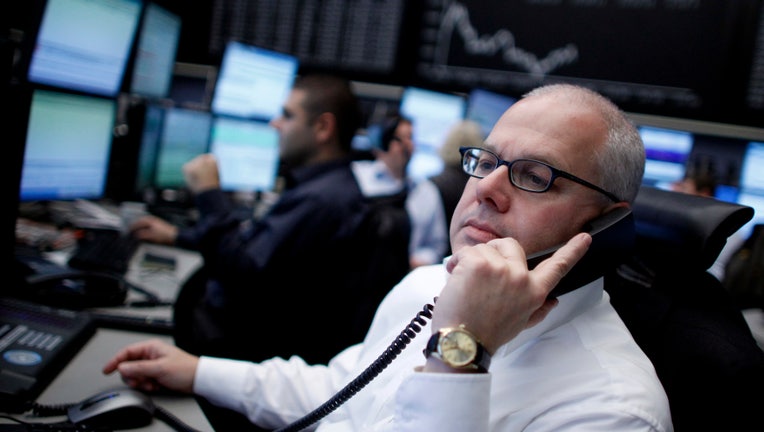 European shares rose on Tuesday, recovering after sharp falls in the previous session helped by strength from banking stocks, though gains could be capped as investors remained tense about the euro zone debt situation.
The FTSEurofirst 300 was up 0.6 percent at 1,027.90 by 0901 GMT, after dropping 2.3 percent to a three-month low on Monday when political uncertainty and disappointing economic data revived concerns over the euro zone.
"I think you're going to see selling pressure ... as the bounce fades out and people start worrying about politics again," Joe Rundle, head of trading at ETX Capital, said.
"We're not seeing any serious buying ... it's all short-term. I expect us to be lower, if not negative, by the end of the day."
Traders had been eyeing a Dutch debt auction on Tuesday, its first after the ruling coalition collapsed on Monday in a crisis over budget cuts, but the figures appeared to assuage any nerves, and failed to spark any reaction in the bond market.
"Divining the day-to-day moves is more akin to ... witchcraft than investment since many market participants operate short-term survival strategies when faced with political uncertainties they find hard to analyse," said Andrew Bell, chief executive of Witan, a 1.1-billion pound ($1.77 billion) investment trust.
By the year-end, Bell reckoned markets are likely to be higher, fuelled by a combination of moderate economic growth and easier monetary policy, but anticipates volatility as Europe fumbles its way towards a balance between austerity and growth.
He added that whilst some European companies are cheap, the best growth opportunities look to be outside the euro zone.
The MSCI Europe was trading at 10 times its expected earnings for the next 12 months, compared to a 25-year average of 14.12, data from Thomson Reuters Datastream showed.
Banking stocks, which suffered a 3 percent drop in the previous session, helped to drive the index's modest recovery on Tuesday with a 1.2 percent advance.
Investors were hopeful the U.S. Federal Reserve would inject fresh liquidity into markets, as the U.S. Federal Open Market Committee starts its latest two-day meeting on Tuesday.
An announcement on interest rates and any possible further liquidity injections from the Federal Reserve is due at 1630 GMT on Wednesday.
Teliasonera grabbed the top spot on the FTSEurofirst 300 index, rising 7.8 percent, as the Nordic telecoms firm unveiled plans to sell part of its stake in Russian phone operator MegaFon, which also announced a dividend.
Teliasonera will receive some 22 billion crowns ($3.25 billion) in dividends and from the direct sale of 8.2 percent of its 43.8 percent stake to Russia's richest man, Alisher Usmanov.
In a second stage, Teliasonera would reduce its stake in MegaFon to 25.1 percent through an initial public offering of up to 20 percent of MegaFon in London.
Britain's Capita, meanwhile, was the biggest faller across Europe, off 5.4 percent, as the outsourcer said it would raise fresh equity to help to fund an acquisition spree in 2012, and the company posted a 17 percent increase in first-quarter sales.
"Today's newsflow reinforces our negative stance on Capita, with the group's reliance on acquisitions increasing and organic growth seemingly becoming more working capital-consumptive, against a backdrop of a stretched balance sheet," Espirito Santo said in a note, reiterating its "sell" rating on the stock.
ARM Holdings was another significant faller, down 3 percent, as its first-quarter results failed to excite, with the chip designer, whose chips are used in Apple's iPad and iPhone, meeting market expectations with a 22 percent rise in first-quarter profit.