European Shares Fall Amid Greek Worries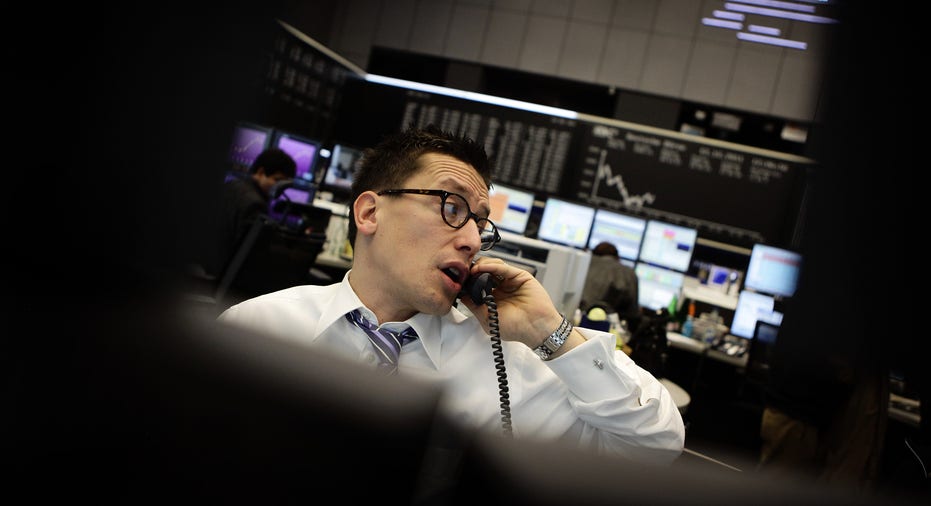 European shares and the euro edged lower on Monday as investors nervously awaited the outcome of the latest round of talks to provide emergency loans to keep Greece financially afloat.
Euro zone finance ministers and the International Monetary Fund meet later to try to unfreeze the second bailout package for Greece, but first need to agree how to cut the country's massive debt pile to a more sustainable level.
"They have to come to an agreement today as time is running short," said Thomas Costerg, European economist at Standard Chartered Bank. "That said, the divergences between the IMF and the euro area governments are still huge."
French Finance Minister Pierre Moscovici, speaking after a weekend teleconference of Greece's international lenders, said the gap had closed significantly, and he believed a deal to keep the country from bankruptcy could be reached quickly.
But after last week, when the single currency and European equities posted solid gains on optimism that there could be a deal, investors were turning cautious and prices drifted lower.
The euro retreated from a seven-month high against the yen to 106.15 yen from a peak of 107.135 yen in Asian trade, which was its strongest level since late April.
Against the dollar, the single currency was down 0.2 percent at $1.2955, having hit its highest level since late October of $1.2991 on Friday.
Big gains for Catalan separatists in regional Spanish elections also hurt the euro, even though the result fell short of the convincing win needed to mount a push for a referendum on independence for the region.
Major European share indexes were down around 0.5 percent across the board after five days of steady gains last week, and analysts said the market had potential to bounce back again on any positive outcome from the euro zone meeting.
"Last week was very good for the markets and it seems that investors are taking a breather ahead of the euro zone meeting," said Koen De Leus, senior economist at KBC in Brussels.
"There is some caution, but it is also clear that Greece's lenders will not allow the country to fail. A Greek default is not an option."
The FTSE Eurofirst 300 index of top European shares was 0.4 percent lower at 1,105.70 points after gaining for five straight sessions and surging 4 percent last week, the best weekly performance since early December last year.
London's FTSE 100, Paris's CAC-40 and Frankfurt's DAX were 0.2 to 0.6 percent lower.
Earlier, MSCI's broadest index of Asia-Pacific shares outside Japan closed up 0.2 percent at a two-week high, leaving the broad MSCI world equity index virtually unchanged at 329.60 points.
Oil prices were also in retreat after their recent gains as hopes that a deal on Greece would brighten the outlook for demand from Europe were offset by worries over supply from the Middle East as violence flared in Egypt.
Carsten Fritsch, senior oil analyst at Commerzbank in Frankfurt, said the concern over what was happening in Cairo was due to Egypt's role as a pivotal power in the Middle East and North Africa.
"If it is getting messy there, it could spill over into other countries - oil producers in North Africa and even into the Gulf and even countries like Saudi Arabia," Fritsch said.
Brent crude held above $111 a barrel but had slipped 30 cents to $111.08 a barrel in European morning trade. Brent is up around 2 percent so far this month.
U.S. crude oil futures fell 39 cents to $87.89.
Investors in the commodity markets were also turning their attention back to Washington, where talks among lawmakers resume this week to try to avoid a series of automatic tax hikes and spending cuts worth $600 billion set for January.
The sudden implementation of the fiscal measures could tip the world's biggest economy back into recession, undermining an economic recovery which many economists expect to significantly outperform the euro area and Japan in 2013.
Gold reflected the rising concern about the so called U.S. fiscal cliff, shedding 0.3 percent to $1,746.604 an ounce after rising to $1,754.10 on Friday, its strongest since Oct. 12.
Gold has gained around 11 percent this year, mainly due to expectations that U.S. monetary policy will remain loose.