Europe, Retail Sales Weigh on Markets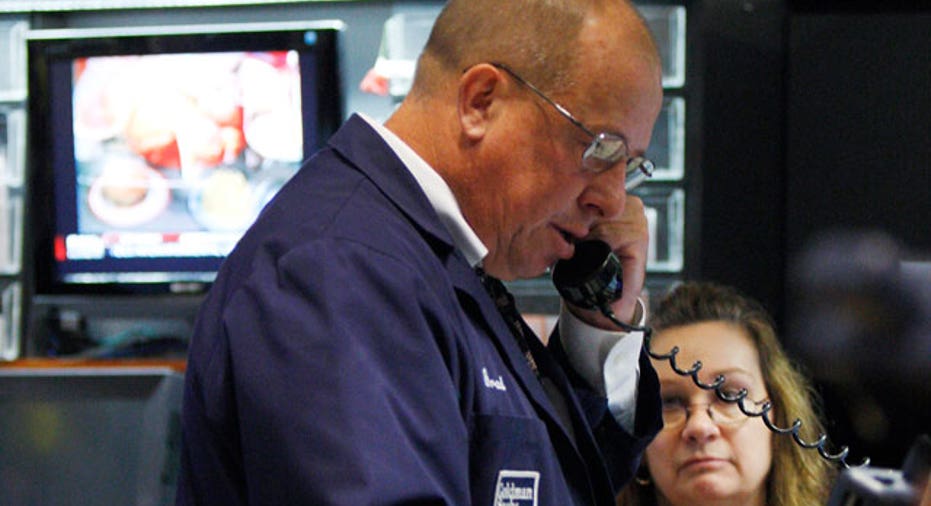 FOX Business: The Power to Prosper
The blue chips suffered a modest pullback and the Nasdaq Composite backed away from 11-year highs Tuesday afternoon amid disappointment over January's retail sales miss and new developments in Europe's sovereign debt crisis.
Today's Markets
As of 12:22 p.m. ET, the Dow Jones Industrial Average fell 26.42 points, or 0.21%, to 12847.40, the Standard & Poor's 500 slipped 4.86 points, or 0.36%, to 1346.87 and the Nasdaq Composite declined 12.73 points, or 0.43%, to 2918.67.
The early slump leaves Wall Street on track to give back a slice of its solid gains from Monday, which were fueled by Greece's passage of painful austerity measures in an effort to avoid a disorderly default. Led by tech heavyweight Apple (NASDAQ:AAPL), that rally left the Nasdaq Composite at its highest level since December 2000.
The markets had a modestly negative reaction after the Commerce Department said U.S. retail sales rose 0.4% in January, missing forecasts from analysts for a jump of 0.7%. Surprisingly, sales were stronger when the auto sector is included, increasing 0.7%. December retail sales were cut to unchanged from up 0.1%.
In the wake of that report, retailers such as Wal-Mart (NYSE:WMT) and Gap (NYSE:GPS) were mixed.
Separately, new data showed U.S. import prices rose by an in-line 0.3% in January, while export prices gained 0.2%, matching estimates.
On the European front, Moody's downgraded the credit ratings of Italy, Spain, Portugal, Slovenia, Slovakia and Malta late Monday, citing the fragility of the European banking system. The ratings company also surprised some by warning it could downgrade the debt rating of not only France but also the U.K., which is not part of the eurozone.
On the other hand, a new report revealed Germans turned optimistic about the economy in February for the first time since May 2011. The closely-watched index topped forecasts by soaring to 5.4 points this month, up from -21.6 in January.
Meanwhile, Greece remains in a wait-and-see mode to see if private creditors, the International Monetary Fund and the European Union green light its bailout. The next big event was expected to be a key meeting among eurozone finance ministers in Brussels about the Greek rescue. However, Reuters reported that summit is unlikely to happen and the group may instead hold a conference call due to paperwork issues and concerns about Greece's commitment to austerity measures.
With that backdrop in mind, the euro was off 0.24% to $1.3152. Major European lenders like Barclays (NYSE:BCS) and Deutsche Bank (NYSE:DB) ticked lower.
Big banks led the way down on Tuesday as the KBW banking ETF retreated 2.30%. Bank of America (NYSE:BAC) dropped 3% after being downgraded to "neutral" from "buy" by analysts at Citigroup amid concerns about earnings headwinds.
Meanwhile, after posting steady gains earlier, the commodities complex recently turned negative. Crude oil fell 8 cents a barrel, or 0.07%, to $101.21. Gold declined $2.00 a troy ounce, or 0.10%, to $1,722.90.
Corporate Movers
Apple (NASDAQ:AAPL) is testing a new tablet device that will feature a smaller, 8-inch screen as the consumer electronics maker looks to capture market share, The Wall Street Journal reported. It's not clear what the new device would be called. Apple is also preparing to unveil in March the iPad 3, which will feature a higher resolution screen as its predecessor, the paper reported.
Goodyear (NYSE:GT) notched its first annual profit in four years, but the tire maker's fourth-quarter non-GAAP profit of 3 cents a share badly missed Wall Street's expectations for 20 cents. Revenue rose 12% to $5.7 billion, trailing forecasts for $5.88 billion.
Global Markets
The U.K.'s FTSE 100 slipped 0.10% to 5899.87, Germany's DAX fell 0.14% to 6729.37 and the French CAC 40 lost 0.27% to 3375.33.
In Asia, Japan's Nikkei 225 advanced 0.59% to 9052.07 and Hong Kong's Hang Seng rose 0.15% to 20917.80.