Europe isn't US 'vassal,' wants to uphold Iran nuclear deal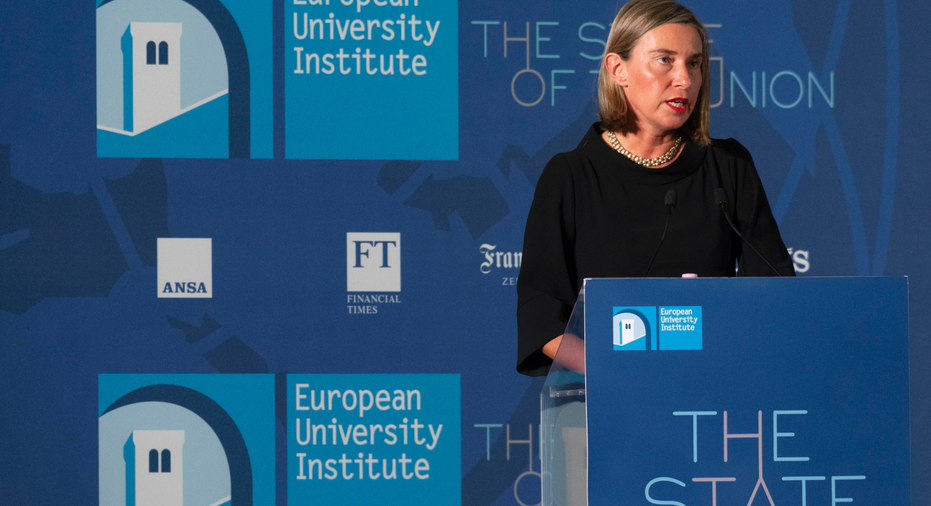 France urged Europeans to stand up to U.S. President Donald Trump over the Iran nuclear deal and not act as "vassals," as the region scrambles to save the 2015 accord and billions of dollars in trade.
Arguing the nuclear deal wasn't tough enough on Iran, Trump's government is now re-imposing sanctions, and any companies or governments with links to the U.S. face sanctions if they do not comply.
French Finance Minister Bruno Le Maire said Friday on Europe-1 radio that Europe should not accept that the U.S. is the "world's economic policeman."
"Do we want to be vassals who obey decisions taken by the United States while clinging to the hem of their trousers?" Le Maire asked. "Or do we want to say we have our economic interests, we consider we will continue to do trade with Iran?"
European governments tried for months to persuade Trump to stick with the deal but failed, and now fear it will raise the risk of conflict in the region. Military tensions between Iran and Israel have already mounted, and oil prices are rising on the uncertainty.
Iran said it may resume uranium enrichment in a higher rate in weeks if it finds nuclear deal will not work anymore after the U.S. pullout from the deal.
Russian President Vladimir Putin and German Chancellor Angela Merkel spoke Friday and underlined their aim of preserving the deal and peace in the Mideast.
Merkel said Friday the unilateral U.S. withdrawal undermines confidence in the global order, but that it wasn't enough to abandon decades of cross-Atlantic cooperation.
Meanwhile, the Kremlin said that Russia and its ex-Soviet allies will sign a free trade pact with Iran. The deal between Iran, Russia and other members of the Moscow-dominated Eurasian Economic Union is set to be signed next week. The grouping includes Kazakhstan, Belarus, Armenia and Kyrgyzstan.
The pact's signing had been planned for long time, but the move coincides with the U.S. move to re-impose sanctions against Iran that have rattled U.S. allies.
European Union foreign policy chief Federica Mogherini insisted that it's not up to the U.S. to determine the deal's future anyway.
"This deal is not a bilateral treaty. It's a UN Security Council Resolution and it belongs to the entire world," said Mogherini, who will chair talks Tuesday with the British, French, German and Iranian foreign ministers in Brussels.
She called for calm on all sides.
"It is exactly when the things don't go well that rationality, calm, predictability, respect, dialogue are the most needed to avoid the worst case scenarios, to avoid conflict to spiral out of control," she said. "It seems that today screaming and shouting, insulting and bullying, systematically destroying and dismantling everything already in place is the mood of our times."
Europe's options, however, are limited.
As a result of the new U.S. sanctions, companies worldwide must stop doing business with Iran or risk U.S. fines or other punishment. The sanctions will not only bar U.S. companies from doing business with Iran, but they also will hurt European and other companies by prohibiting them from using American banks unless they cut links with Iran.
Planemakers Airbus and Boeing, oil companies and auto manufacturers like France's Renault and Peugeot could be among companies hardest hit.
The French finance minister said he pushed U.S. Treasury Secretary Mnuchin this week for three things: exemptions for French companies operating in Iran; or the application of a so-called grandfather clause for deals struck in Iran since 2015; or an extension of the 90-day period to wind down operations in Iran.
However, Le Maire acknowledged he has "no illusions" that he'll get what he asked for.
Facing that reality, Le Maire said the EU should strengthen its own legal arsenal against any such future U.S. threats.
Among things the EU could consider, he said, are reinforcing a 1996 "blocking statute" that could allow companies to ignore sanctions. Another could be an independent financing mechanism allowing European companies to avoid U.S. banks.
Le Maire also proposed creating a European body that would have the same kind of powers that the U.S. Justice Department has to punish foreign companies for their trade practices.
Meanwhile, the U.S. government tried to further pinch Iran's finances by disrupting a currency exchange network allegedly used to transfer millions of dollars to Iran's Revolutionary Guard.
___
Lorne Cook in Brussels, Geir Moulson in Berlin and Vladimir Isachenkov in Moscow contributed to this report.