Euro Turmoil Roils Wall Street; Dow Extends Losing Streak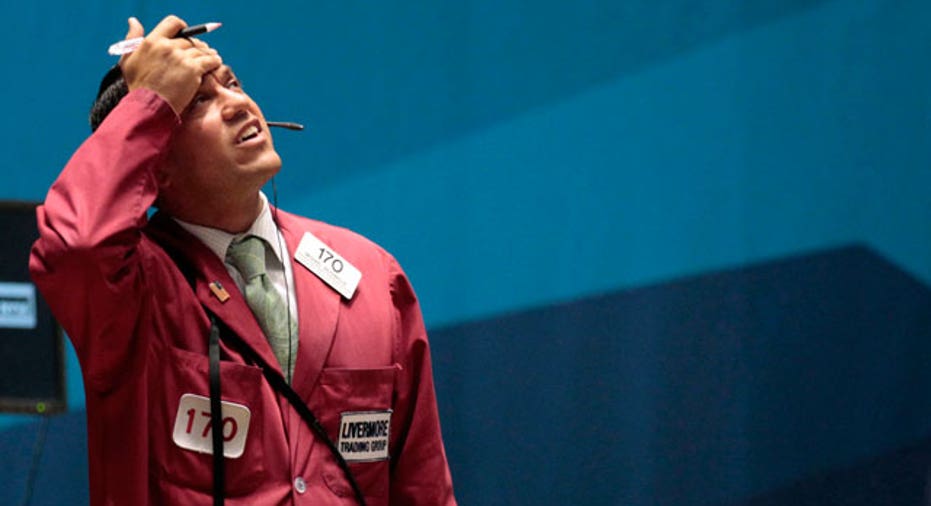 FOX Business: The Power to Prosper
The Dow ended in the red for the sixth day in a row on Wednesday as traders fretted about the deteriorating situation in Spain, Greece and other eurozone nations that are still in the grips of the debt crisis.
Today's Markets
The Dow Jones Industrial Average fell 97 points, or 0.75%, to 12835, the S&P 500 slid 9.1 points, or 0.67%, to 1355 and the Nasdaq Composite dipped 11.6 points, or 0.39%, to 2935.
Many sectors recovered markedly from session lows; indeed, the utility sector was in the green. The Dow had been down slightly less than 184 points at the lows of the day.
The situation in Europe remained quite fluid. The European Financial Stability Fund decided to provide Greece with the 4.2 billion euro aid tranche it needs this month, but will hold back on 1 billion euro until next month, according to reporting by the Wall Street Journal, citing a statement. That helped allay fears that Greece will imminently miss a debt payment.
Still, the various parties in parliament remained unable to forge a coalition government. If Greek leadership fails to form a unity government, new elections may have to be held in June. It is also possible that any new government may not be friendly to austerity measures that are needed to receive rescue funds from the European Union and International Monetary Fund.
In either case, it has left market participants uncertain of Greece's fate in the eurozone. Analysts have said that the consequences of a Greek exit are unclear and that it may reverberate through other, weaker nations.
Spain has been of particular concern because of its fragile banking sector, high public debt, and painful borrowing costs. Indeed, The Bank of Spain said it received a request from Bankia, the country's fourth-biggest bank, for a partial takeover and 4.5 billion euro in loans to shore up its capital base.
The country's IBEX plunged 2.8% on the day to the lowest level since 2003. The cost to insure against a Spanish default also climbed to a fresh record high.
Traders were making their way into safe-haven assets. The yield on the 10-year Treasury bond dropped 0.002-percentage points to 1.835%. The German bund, seen as a shelter in Europe, saw its yield fall 0.04-percentage point to 1.5%.
Elsewhere, crude oil traded in New York dipped 20 cents, or 0.21%, to $96.81 a barrel. Wholesale New York harbor gasoline gained 0.02% to $3.02 a gallon. The Energy Department said crude oil inventories jumped 3.65 million barrels last week, bigger than the 2 million barrel rise that was expected. However, gasoline inventories dropped 2.61 million barrels, a much bigger draw than the 100,000 that was forecast.
Gold continued on its slide, falling $10.30, or 0.64%, to $1,594 a troy ounce.
Foreign Markets
Eurozone blue chips fell 0.47%, the English FTSE 100 slipped 0.51% to 5526 and the German DAX gained 0.4% to 6471.
In Asia, the Japanese Nikkei 225 dropped 1.5% to 9045 and the Chinese Hang Seng sunk 0.75% to 20331.