EU tells UK: No trade talks without progress on Irish border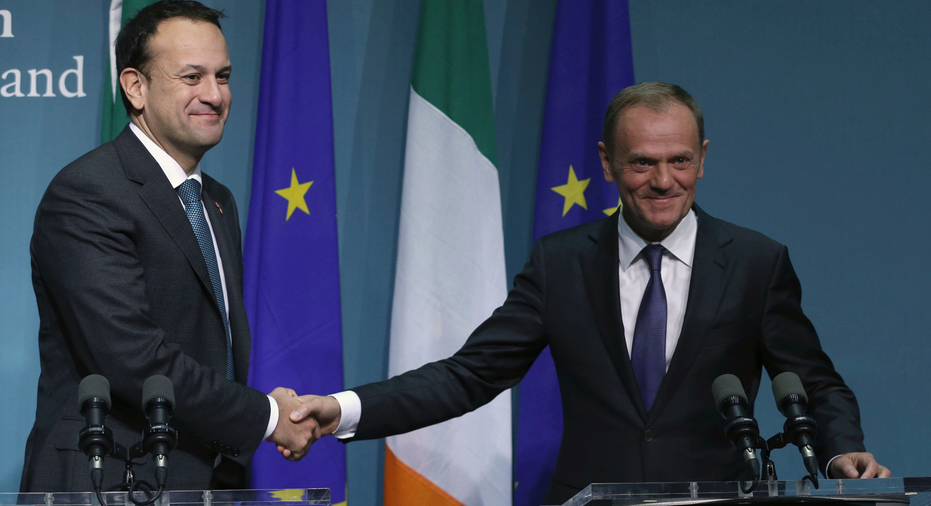 The European Union warned Britain on Friday that it must outline by next week how it plans to keep an open Irish border after Brexit or the bloc will refuse to start negotiating a new trade deal with the U.K.
Standing alongside European Council President Donald Tusk in Dublin, Irish Prime Minister Leo Varadkar said the U.K. must offer "credible, concrete and workable solutions that guarantee there will no hard border" between Northern Ireland and the Irish republic after Britain leaves the EU in 2019.
Tusk said British Prime Minister Theresa May had until Monday to present her "final offer" on divorce terms so that the 27 other EU leaders can assess it before a crucial Dec. 14-15 summit in Brussels. That meeting will decide whether there has been enough progress to move on to discussing future relations and trade.
Tusk said the whole EU was behind Ireland on the need for a border plan — dashing British hopes that some member states might be prepared to compromise.
"Let me say very clearly: if the U.K.'s offer is unacceptable for Ireland, it will also be unacceptable for the EU," Tusk said.
"The key to the U.K.'s future lies — in some ways — in Dublin," he added.
The EU and the U.K. are nearing agreement on some divorce terms, including the size of the bill that Britain must pay as it leaves and the rights of citizens affected by Brexit. But the border issue has proved more intractable.
After Britain leaves the bloc, the currently invisible 310-mile (500-kilometer) frontier will be the U.K.'s only land border with an EU country.
Britain says it wants to maintain a "frictionless" flow of people and goods with no border posts. But Ireland is demanding to know how that will work if Britain is outside the EU's borderless single market and tariff-free customs union.
Varadkar said he was "an optimist by nature" and believed a breakthrough was possible.
"We don't have long, but I believe with the right engagement and the right political will we can reach an agreement on the way ahead," he said.
However, he added he was "prepared to stand firm ... if the U.K. offer falls short."
Any hurdles to the movement of people or goods could have serious implications for the economies on both sides, and for Northern Ireland's peace process. The military checkpoints and customs posts imposed during Northern Ireland's "Troubles" have vanished since a peace accord was signed in 1998, and trade across the border has thrived. Thousands of people live on one side and work on the other, or cross daily to shop or socialize.
"We have grown used to a border that is largely invisible," Irish Foreign Minister Simon Coveney told reporters Friday. "We have an all-island economy."
"We cannot allow an unintended consequence of Brexit to be an undermining of that relationship in future," he added.
One suggested solution is to allow Northern Ireland to stay in the customs union when the rest of the U.K. leaves. But that idea is an anathema to Northern Ireland's Democratic Unionist Party — and May's minority government relies on DUP support to stay in power.
The U.K. Parliament's Brexit committee warned Friday that despite government promises, it may be impossible to avoid border checks after Brexit.
Committee chairman Hilary Benn said "we cannot at present see how leaving the customs union and the single market can be reconciled with there being no border or infrastructure."