EU states urged to dig deep for bloc's budget, fill UK gap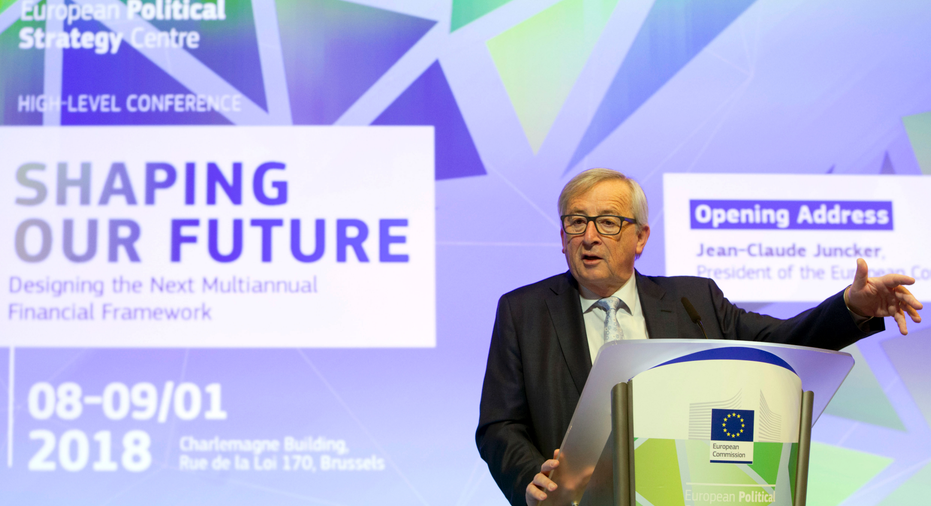 Top European Union officials are urging member countries to stump up more money to fund the EU's policy ambitions and fill a yawning budget gap after Britain leaves the bloc.
European Commission President Jean-Claude Juncker said Monday that the EU and its members have to work "to find the means to fill the gap left by a contributor of billions of euros."
The Commission estimates that Britain's departure will cut contributions by around 12 billion euros ($14.4 billion) a year. Britain leaves the EU next year but has agreed to pay its budget share until 2020.
Juncker said the EU's 2014-2020 budget, which totals some 1.09 trillion euros ($1.31 trillion), is not enough to fund the bloc's growing ambitions in areas like defense, even with one less member.
"We don't have any more cash to finance any extras," said Juncker, launching debate in Brussels on the EU's multi-annual spending plans after 2020. "Even with a dose of flexibility we have attained the limits of the European Union budget."
He said that spending to run the world's biggest trading bloc "costs the European taxpayer one cup of coffee a day, that's all. I think that Europe's worth more than one cup of coffee a day."
Thrashing out Europe's long-term budget, set out in periods of at least five years, is often a long and arduous process. The Commission wants the plan wrapped up before elections to the European Parliament are held in May 2019 to ensure that positions on the spending project are not undermined by campaigning.
EU Budget Commissioner Guenther Oettinger said half the shortfall should be made up by spending cuts and streamlining in some sectors while the other half should come in the form of contributions from the remaining 27 EU countries.
But he ruled out any cuts to the EU's higher education scheme and its massive research program, saying that spending on youth and innovation must be preserved.
Juncker also opposed any unnecessary slashing of the EU's agriculture budget — which makes up about a third of total spending — or deep cuts to so-called "cohesion funds;" money that helps improve energy, transport and telecoms infrastructure in poorer EU countries.
He also ruled out the possibility that Britain might not actually leave the EU on March 29, 2019, saying that "I don't think Brexit can be put to the voters again. I don't believe it."