EU braces for US to go ahead with steel and aluminum tariffs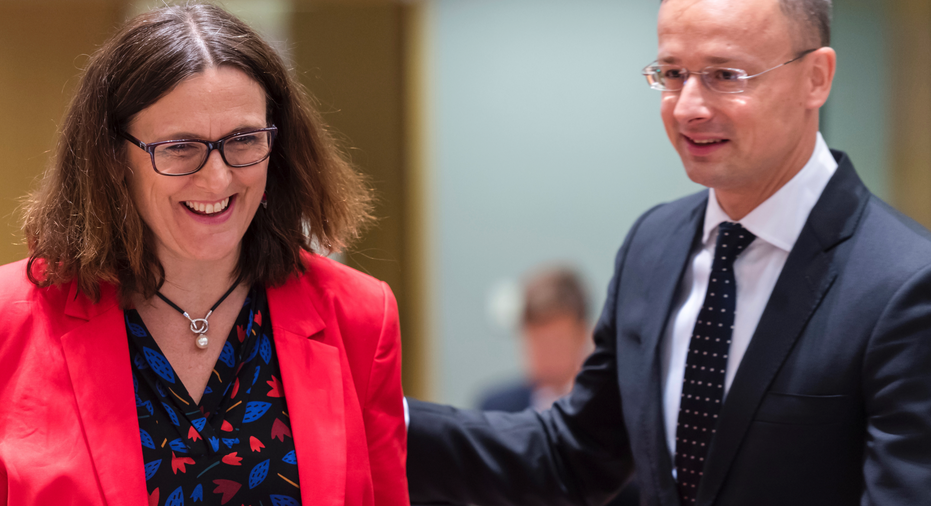 The European Union expressed doubt Tuesday that U.S. President Donald Trump will accept an offer of trade talks and other incentives to permanently exempt the bloc from punishing tariffs on steel and aluminum exports next week.
In March, Trump imposed tariffs of 25 percent on steel imports and 10 percent on imported aluminum, but granted the 28 EU countries an exemption until June 1. He also temporarily excluded big steel producers Canada and Mexico, provided they agree to renegotiate a North American trade deal to his satisfaction.
Should a permanent exemption be granted, the EU stands ready to deepen trans-Atlantic energy cooperation, notably on liquefied natural gas, improve reciprocal market access for industrial products and work together to reform World Trade Organization rules.
"Is this going to be enough? I'm not sure frankly," Trade Commissioner Cecilia Malmstrom told reporters in Brussels after discussing the tariffs with EU ministers.
"There have been signals from the U.S. that the exemptions will not be prolonged. So either they will be imposed on us the first of June, or there will be other sorts of limiting measures," Malmstrom said. She did not elaborate on what those measures might be.
Malmstrom pointed out that she and U.S. Secretary of Commerce Wilbur Ross speak about the problem several times a week, but she conceded that "the final decision on this will be made personally by the president."
Convinced that the U.S. move breaks global trade rules, the EU has drawn up a list of "rebalancing" duties worth some 2.8 billion euros ($3.4 billion) to impose on U.S. products if it is not permanently exempt. It has vowed not to negotiate under threat.
"The moment the threat is lifted, we are ready to talk," French Foreign Minister Jean-Yves Le Drian said.
The EU, the world's biggest trading bloc, rejects Trump's argument that the tariffs are needed to protect national security. Most EU countries are U.S. partners in NATO.
"We think that they are not legitimate, and they go against the WTO," Malmstrom said.
German Economy Minister Peter Altmaier said Tuesday's meeting sent "a signal of the determination and unity of the EU: we want to defend and strengthen free, fair and rules-based trade in the WTO framework."
"But we are also holding out our hand for dialogue. It is now up the U.S. to take that hand and avoid an escalation that would damage everyone. We are offering the U.S. talks with us on various trade issues, on mutual market access for industrial goods or on energy questions."
___
Geir Moulson in Berlin contributed to this report.