ESPN Is Still Losing Millions of Subscribers -- What Next for Walt Disney Co?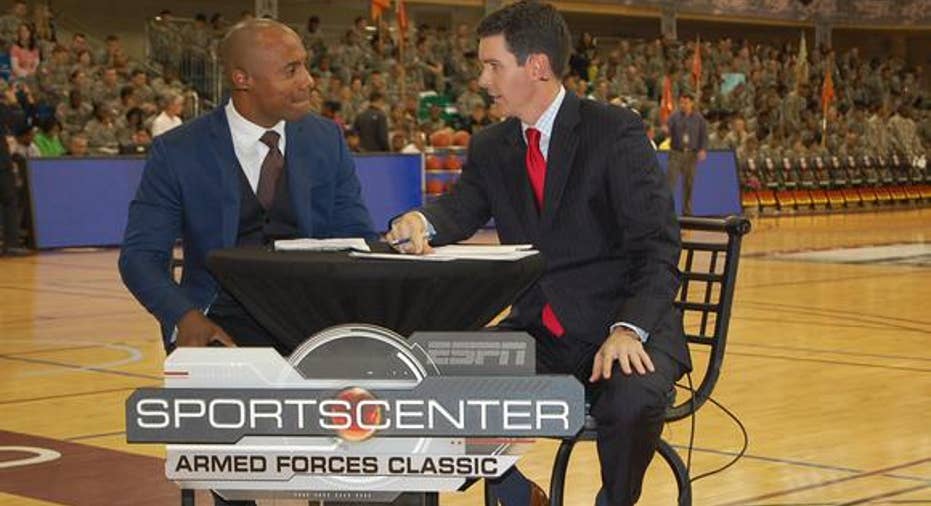 Source: Flickr/USAG- Humphreys
ESPN has quickly climbed to become Walt Disney's crown jewel over the last decade. The Worldwide Leader in Sports accounts for an estimated 25% of consolidated revenueand operating income.
But the days of consistent growth from ESPN subscribers and carriage fees may be coming to an end. During Disney's fourth quarter earnings call, CEO Bob Iger downplayed reports from this summer that ESPN had lost 3.2 million subscribers over the past year, according to Nielsen. "ESPN's experienced some modest sub losses," he said. "Although those have been less than reported by one of the prominent research firms." Turns out, Nielsen was just about spot on.
The declining subscriber rates could also impact ESPN's ability to continually increase its carriage fees and the amount it can charge for advertising. Should Disney investors worry that Disney's most valuable asset is bleeding subscribers?
Cord cutting and cord shavingOver the last two years, ESPN has lost a total of seven million subscribers. The decline corresponds with an increase in the number of options consumers have for television entertainment. But it's not just cord cutters that have had an impact on subscribers.
Skinny bundles have likely had a much bigger impact than cord cutting over the last couple years. Pay-TV providers have opted to offer a small bundle of channels to subscribers to keep them from abandoning cable altogether. Often times, those skinny bundles don't include ESPN, since it is both costly and doesn't appeal to a large portion of pay-TV subscribers.
Earlier this year, Verizon started offering its FiOS customers the option to make a "Custom TV" package, which would let subscribers decide what type of programming they want in their bundle. If they wanted ESPN they could have it; if not, they could choose something else. ESPN sued Verizon since it has a contract that stipulates that ESPN cannot be included in any add-on sports bundles like Verizon's offering. That hasn't stopped Verizon from continuing to offer the option to subscribers.
The Verizon incident is just one example of the efforts pay-TV providers are making to keep customers from cutting the cord. As cord cutting picks up in 2016, expect further efforts from cable companies that will likely have a negative impact on ESPN's subscriber count.
Losing leverage on carriage feesESPN has been able to consistently increase its average carriage fee over the last several years due to long-term contracts stipulating annual percentage increases. When it comes time to renew those contracts with pay-TV providers, ESPN may face pressure to reduce its rate increases.
ESPN currently charges about $6.61 per month per subscriber for its flagship channel alone, according to estimates from SNL Kagan. When combined with its other networks, ESPN generates over $8 per month per subscriber.
But pay-TV providers can only charge so much for their product with the growing number of options for cutting the cord and the increased competition from telcos like Verizon. As a result of rate increases from ESPN, Disney's other networks, and other media companies, pay-TV providers are seeing high churn rates. ESPN can theoretically withstand high churn rates, but more and more churned customers are leading to cord cutters rather than subscribers at a competing pay-TV provider.
In order to get churn rates under control, pay-TV providers are looking to control costs. Hence skinny bundles or custom packages like Verizon's. The drop in subscribers for ESPN has shown that there's more demand for those skinny bundles than originally thought, which means ESPN has less leverage to increase its carriage fees.
So, Disney may be facing a double whammy of sorts. Not only is ESPN losing out on more subscribers, its ability to increase its pricing is diminishing. Long-term, this could set up ESPN to go over the top and offer ESPN at a significant premium to subscribers that view it as a must have. Bob Iger has mentioned potential for such a product in the past, but it may take quite a bit more subscriber losses before Disney pulls the trigger on such a product.
The article ESPN Is Still Losing Millions of Subscribers -- What Next for Walt Disney Co? originally appeared on Fool.com.
Adam Levy has no position in any stocks mentioned. The Motley Fool owns shares of and recommends Walt Disney. The Motley Fool recommends Verizon Communications. Try any of our Foolish newsletter services free for 30 days. We Fools may not all hold the same opinions, but we all believe that considering a diverse range of insights makes us better investors. The Motley Fool has a disclosure policy.
Copyright 1995 - 2015 The Motley Fool, LLC. All rights reserved. The Motley Fool has a disclosure policy.