ESPN gives a Sunday home to its top magazine show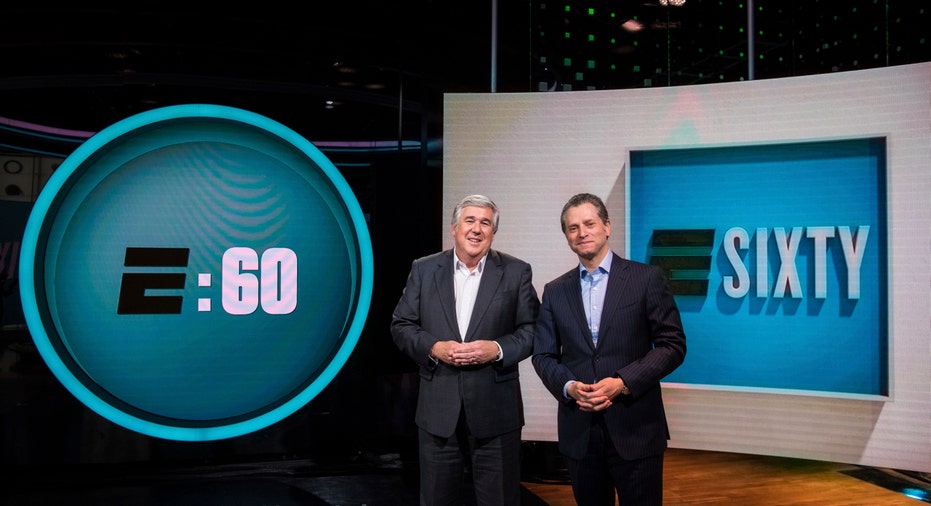 ESPN says it is putting a sharper focus on its long-form journalism with Sunday's launch of the revamped magazine show "E:60," with Bob Ley and Jeremy Schaap as hosts.
The move comes as ESPN searches for ways to hang on to viewers with more people turning to the web for sports highlights. Dwindling profits at the cable giant, which recently laid off about 100 journalists and on-air personalities, was a topic that dominated parent Walt Disney Co.'s earnings news conference this week.
The first new "E:60," featuring a story about the Syrian national soccer team, airs Sunday at 9 a.m. ET.
The magazine series has usually aired in prime time, but had no regular slot and was often off the air for weeks at a time when ESPN aired live events. Sunday morning may be a rough time slot for young viewers, but the "E:60" audience generally skews older, and as the success of CBS' "Sunday Morning" shows, there's a taste for storytelling at that time.
"The best thing about this deal is that 'E:60' has a permanent home now," said Ley, who's been with ESPN since three days after its 1979 launch.
The Sunday show is combining staff with "Outside the Lines," a weekday news show hosted by Ley that is getting a cutting-edge new set.
Ley and Schaap will work live on Sundays, reacting to big breaking stories and interviewing reporters about their pieces. Schaap said he's hoping the permanent home will enable more variety in its fare; when the show had limited airtime, it tended to concentrate on its longer, meatier pieces and missed chances for more quirky and fun stories.
"We're going to have to turn things around more quickly, we're going to have to be more agile, we're going to have to react more to the news," Schaap said. "But I think those are all good things."
The show is displacing the panel show "Sports Reporters," which began 29 years ago with Schaap's late father, legendary sports journalist Dick Schaap, as host.
With ESPN losing subscribers and pressed for cash because of increased rights fees for showing games, Schaap acknowledges some late-night worries that the reporting he does that requires extensive travel for stories sometimes only tangentially related to sports would be threatened. But he and Ley said they've been assured that ESPN management wants the content.
"The best part is that there are no rights fees for news," Ley said. "There's no commissioner of news that I have to negotiate with for a story."
The recent layoffs have been horrible to witness, he said.
"What happened last month is personally devastating and professionally challenging," Ley said. "But it's not the first time we've gone through it."