EPAM Systems Keeps Boosting Sales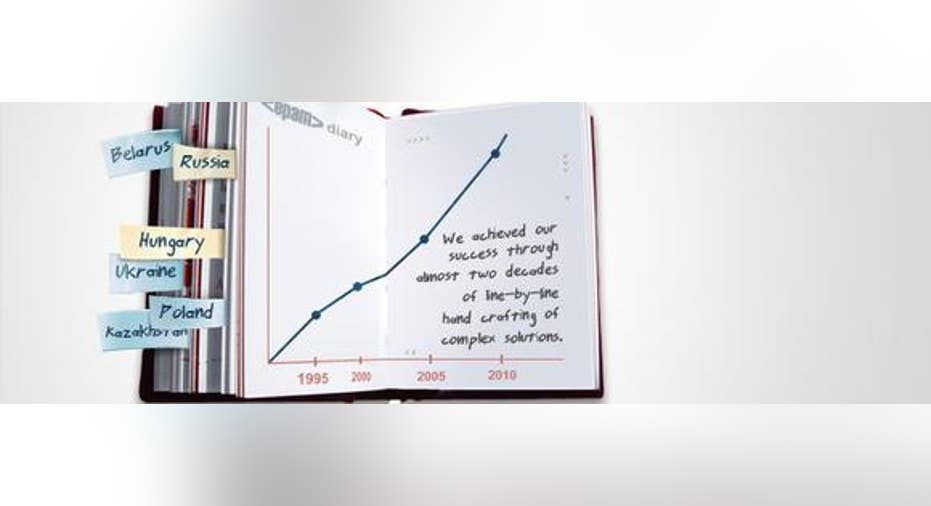 Image source: EPAM Systems.
Companies routinely tap into labor sources from across the globe in order to find the best mix of experience and affordability. That's part of the business model at EPAM Systems , which has taken full advantage of a wealth of IT programming and services talent in the eastern part of Europe to build up a fast-growing small company. One thing that EPAM is vulnerable to is changing demand for IT services among its customer base, but coming into Thursday's first-quarter financial report, EPAM investors had confidence that the company would still be able to boost its revenue and earnings. EPAM's results included strong top-line growth and earnings gains that met expectations, and the IT provider is optimistic about its prospects for the future. Let's look more closely at what EPAM Systems said and whether it can keep delivering growth in the months and years to come.
EPAM stays on trackEPAM Systems' first-quarter results kept the company on its upward trajectory on both the top and bottom lines. Revenue jumped 32% to $264.5 million, which set another all-time record high for the company. Adjusted net income rose at a slower 22% to $37.8 million, but the resulting adjusted earnings of $0.72 per share was the same as the consensus forecast among those following the stock and represented 18% higher earnings per share than in the year-ago quarter.
As we've seen before, foreign currency impacts once again were a headwind for EPAM, although not to the same extent as in previous quarters. The hit during the first quarter was just over 2 percentage points of lost revenue from the strong dollar, and currency movements since the end of the quarter suggest that those impacts could disappear over the course of 2016 if recent trends continue.
EPAM once again did a reasonably good job of holding its overall costs in check. Gross margins fell slightly as the cost of revenues for EPAM rose by almost a third, minimally outpacing the company's revenue growth rate. However, overhead expenses rose at a slightly less rapid pace of 31%, and that helped keep operating margins within a tenth of a percentage point of where they were during the first quarter of 2015. In particular, the impact of stock-based compensation was slightly less dramatic, because expenses related to that benefit were up just 20%.
The balance sheet for EPAM Systems remained strong. Cash from operations amounted to $10.9 million, rising by more than half from year-ago figures. Cash and equivalents on the balance sheet rose to nearly $245 million, up from less than $200 million a quarter ago.
CEO Arkadiy Dobkin celebrated the news. "We are pleased with our strong Q1 results," Dobkin said, "which put us on the right path to deliver our 2016 financial performance goals." The CEO noted that "in addition to our traditional software engineering capabilities, we continue to see a strong demand for multidisciplinary hybrid teams who can solve increasingly complex digital business challenges."
What's next for EPAM?EPAM expects to take full advantage of a broader demand for IT solutions that span multiple areas of expertise. In Dobkin's words, "With a focus on expanding our integrated industry, design, data, and advanced technology offerings, we expect to see more opportunities to bring differentiated value to our clients." With a workforce that is approaching 20,000 and has grown by more than a third in just the past year, EPAM Systems has the personnel to get that job done.
EPAM's guidance remained consistent with the look it had given investors last quarter. For the full 2016 year, it expects 26% growth in revenue, and adjusted earnings of at least $3.20 per share are still within reach. Currency impacts will cost the company about 3 percentage points of growth.
For the second quarter, EPAM expects revenue of $280 million or more, exceeding the $276 million consensus forecast that investors have right now. Calls for adjusted earnings of at least $0.70 per share are conservative compared to the $0.77 per share forecast, and although the company has a history of managing to do better than its projections, finding an extra $0.07 could be a challenge.
EPAM Systems has a big opportunity to cash in on rising IT services demand. If it can prove its competitive advantage by needing the changing needs of its customers more effectively, then the future success of the business should eventually reflect itself in EPAM's stock price.
The article EPAM Systems Keeps Boosting Sales originally appeared on Fool.com.
Dan Caplinger has no position in any stocks mentioned. The Motley Fool recommends EPAM Systems. Try any of our Foolish newsletter services free for 30 days. We Fools may not all hold the same opinions, but we all believe that considering a diverse range of insights makes us better investors. The Motley Fool has a disclosure policy.
Copyright 1995 - 2016 The Motley Fool, LLC. All rights reserved. The Motley Fool has a disclosure policy.