EOG Resources Inc Gained 45% in 2016. Is There Room to Run in 2017?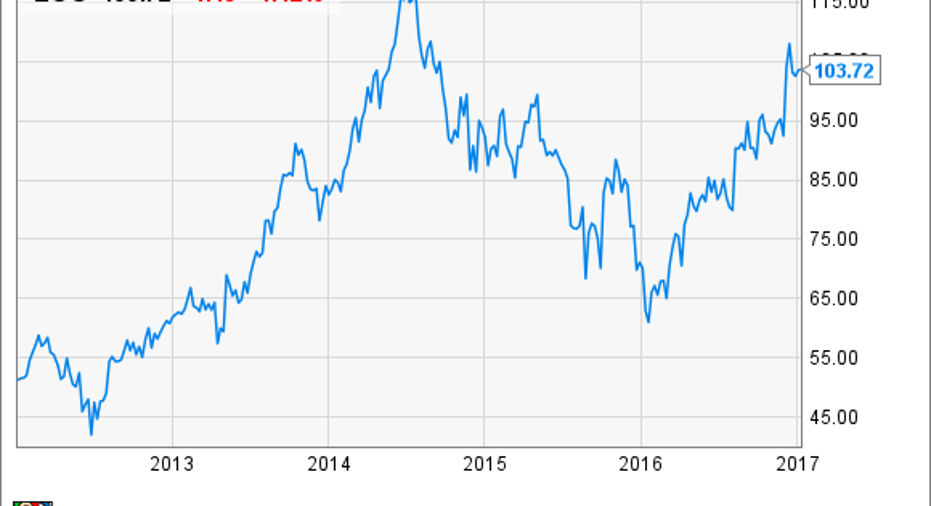 Image source: Getty Images.
Leading U.S. oil producer EOG Resources (NYSE: EOG) went on quite a run last year. The stock ended the year up 45%, putting it closer to regaining the peak hit before oil prices started tumbling in the middle of 2014:
Given the company's recent successes and bullish expectations for the future, there should still be plenty of gas left in the tank at EOG Resources. Here's why.
What went right in 2016?
In many ways, last year was the best of times and the worst of times for EOG Resources. Financially, the company reported terrible results, including a string of losses due to the impact of low oil prices. In fact, the company recorded an adjusted loss in each of the first three quarters, totaling $885.9 million, which was a sharp reversal from the $183.4 million of adjusted profit it posted during the same period of the prior year. That said, while the company struggled to make money last year, it still generated enough cash flow to fund the capex needed to maintain its oil output.
Driving that capital efficiency was the company's breakout operational performance, highlighted by record well productivity and sustainable cost reductions. Contributing to this achievement was the company's growing inventory of premium drilling locations, which it defines as those that can earn a 30% after-tax rate of return at flat $40 oil. These wells enabled the company to deliver more oil for less money.
The company initially started the year having identified 3,200 premium locations, which represented resource potential of up to 2 billion barrels of oil equivalent (BOE) and a decade's worth of drilling at its current pace. However, the company increased that inventory by 34% in the second quarter to 4,300 locations thanks to "advances in completion technology, precision targeting, longer laterals and cost reductions." With this inventory in hand, EOG Resources released its 2020 crude oil production outlook, forecasting 10% compound annual oil production growth through 2020 at flat $50 oil, with that rate accelerating to 20% at $60 crude prices.
That premium drilling inventory got another boost in September when EOG Resources acquired Yates for $2.5 billion in what was one of the best M&A deals of the year. That transaction added 1,740 premium locations while providing the company with a substantial acreage position across the country, representing potential development or monetization upside. As a result of that deal, and continued innovation, EOG Resources announced in the third quarter that it was raising its compound annual oil growth rate to 15% at $50 oil and 25% at $60 crude. Further, the company also increased the net resource potential of its Delaware Basin acreage from 2.5 billion BOE to 6 billion BOE.
Image source: Getty Images.
What to expect in the year ahead?
As a result of these gains, EOG Resources entered 2017 with an enormous low-cost resource base that puts it in the position to deliver substantial growth over the next several years at current oil prices. While the company has yet to put out official 2017 capex and production growth guidance, the odds are good that it will aim for mid double-digit oil growth this year. For a company of its size, that is tremendous growth.
For comparison sake, Permian Basin-focused rival Pioneer Natural Resource (NYSE: PXD) estimates that it will grow production by 13% to 17% this year, with oil output growing between 23% to 27%. While that is a higher growth rate than EOG Resources', Pioneer's growth is coming off of a lower production base of 233,000 BOE/d in 2016 compared to EOG's average oil rate of 272,800 barrels per day. Further, EOG intends to grow within cash flow, which is something Pioneer Natural Resources does not anticipate doing until 2018 and that is assuming oil averages $55 per barrel.
What's also worth noting about EOG Resources' long-term growth forecast is its inherent flexibility to accelerate production growth at higher oil prices. As a result, EOG Resources has the option to increase spending this year to expand production should oil prices move higher. That ability to quickly capture rising oil prices could prove to be a powerful catalyst this year.
Investor takeaway
While EOG Resources' financial results suffered last year due to weaker oil prices, it more than offset this weakness with stellar operational results. That well-oiled machine should deliver significant production growth this year, which could reverse those financial losses even if oil prices flatten out. Meanwhile, rising crude prices would give the company the option to accelerate production and profit growth, which could send its stock higher. Suffice it to say; EOG Resources appears to have plenty of room to run this year.
10 stocks we like better than EOG Resources When investing geniuses David and Tom Gardner have a stock tip, it can pay to listen. After all, the newsletter they have run for over a decade, Motley Fool Stock Advisor, has tripled the market.*
David and Tom just revealed what they believe are the 10 best stocks for investors to buy right now... and EOG Resources wasn't one of them! That's right -- they think these 10 stocks are even better buys.
Click here to learn about these picks!
*Stock Advisor returns as of January 4, 2017
Matt DiLallo has no position in any stocks mentioned. The Motley Fool owns shares of EOG Resources. The Motley Fool has a disclosure policy.