Envoys hail Brexit progress but no Irish border breakthrough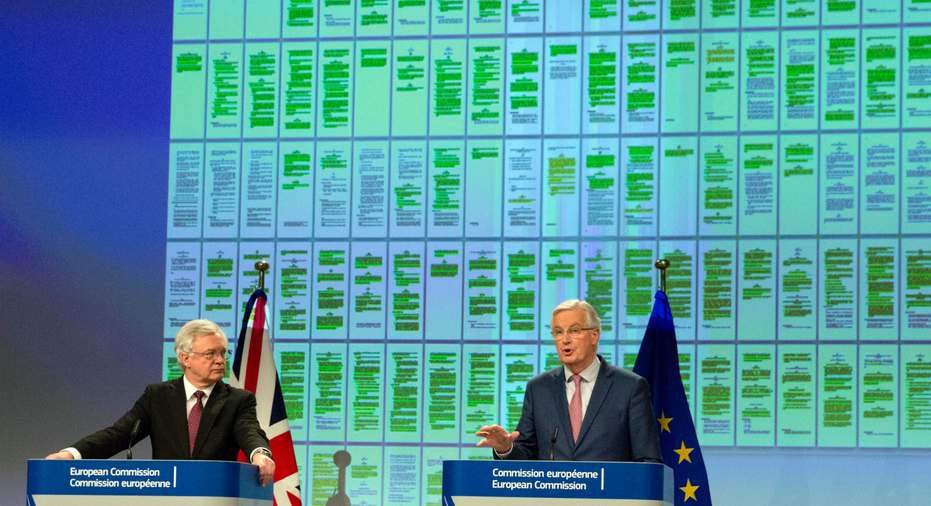 Negotiators from the European Union and Britain on Monday hailed major progress in the Brexit talks, but conceded there had been no breakthrough on keeping open the Irish border.
Britain is due to leave the European Union at the end of March 2019, but Brexit talks must be concluded by this fall to leave national parliaments in the bloc time to ratify any deal. The border between EU member state Ireland and Britain's territory Northern Ireland issue is central to an agreement but negotiators are struggling to find a way to keep people, goods and services flowing while respecting EU controls.
"We have travelled a large section of the path toward an orderly withdrawal," EU chief negotiator Michel Barnier told reporters in Brussels, in front of a power-point display highlighting that a political agreement has been reached on most issues.
He said that negotiators, working day and night recently, had agreed on "a large part of what would constitute" the draft international legal agreement governing Britain's departure.
He said the two sides have also reached an agreement on a transition period to help ease Britain out of the EU once it officially leaves on March 29, 2019. Barnier said the period would be "of a limited duration," ending on Dec. 31, 2020.
Alongside him, British envoy David Davis said the progress made is a "significant step" toward a final deal.
Davis said he is confident that the draft legal text the sides have prepared will be endorsed by European Union leaders when they meet on Thursday and Friday. If they do, the sides can begin discussing a future trade agreement, although it cannot take effect until Britain is gone.
Barnier said Britain must continue to respect EU laws and would continue to benefit from Europe's single market and customs union during the transition period.
Davis said international agreements would continue to apply to Britain now and during the transition period after Brexit takes place in 2019. He said the two sides had agreed to set up a joint committee to resolve any disputes during that transition.
"We must seize the moment and carry forward the momentum of the last few weeks," Davis said.
Both sides agreed to intensify talks to keep people, goods and services moving across the Irish border, even though the Europeans are still waiting to hear suggestions from Britain that would avoid a "hard border."
Barnier underlined that "if new proposals are made that respect" Northern Ireland's Good Friday peace agreement, that keep open the Irish border and that respect Europe's single market, then "we are ready to examine them."
Davis talked up the future of EU-British trade relations because they would start from similar rules, standards and tariffs, even though no pact can start until after 2020.
"This will be the biggest, most comprehensive, most effective trade deal ever," he said.
Meanwhile, a group representing European carmakers urged the Brexit negotiators to urgently address issues affecting the auto industry and to prevent "potentially disastrous implications" for its supply chain.
The European Automobile Manufacturers' Association, or ACEA, said it's concerned about whether cars approved by U.K. authorities can still be sold in the EU after Brexit and vice versa. It called for both sides to recognize each other's vehicle approvals.
It also said any new customs checks "would add cost, cause delays and threaten productivity."
___
Geir Moulson in Berlin contributed to this report.