Envestnet Climbs Further on Strong Organic Growth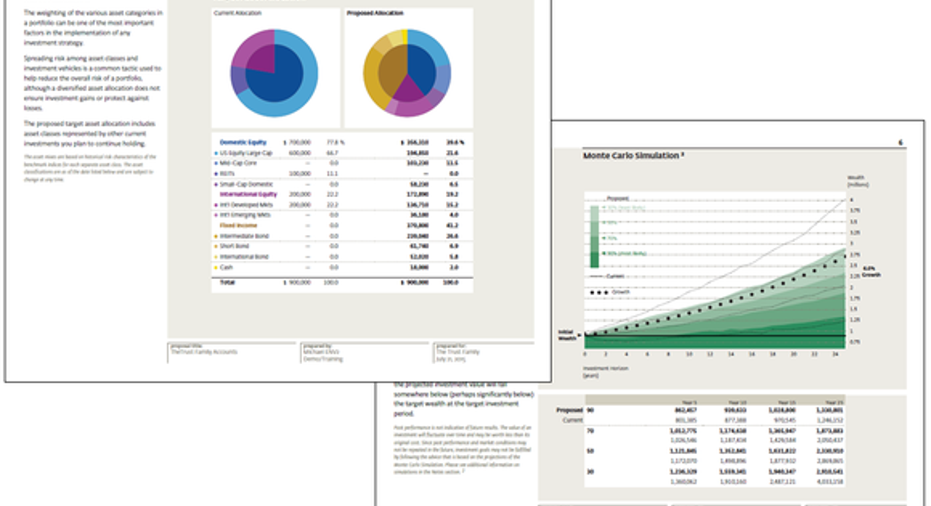 Bull markets lift a lot of businesses, and financial information technology services provider Envestnet (NYSE: ENV) has gotten plenty of benefits from the favorable investment environment lately. By helping wealth management companies assist their clients more effectively, Envestnet has tapped into rising demand among consumers for help with their portfoliios.
Coming into Wednesday's first-quarter financial report, Envestnet investors fully expected the company to keep up its strong and steady pace of growth. For its part, Envestnet delivered on all fronts, and it sees continued success in the future. Let's look more closely at Envestnet to see what it said and what could be coming down the road.
Image source: Envestnet.
Envestnet cashes in with big gains
Envestnet's first-quarter results kept up the positive momentum that the company has generated lately. Revenue rose by 20% to $157.8 million, which was slightly better than the consensus forecast among investors for 18% sales growth. After adjusting for extraordinary items, adjusted net income climbed by nearly half to $11.5 million, and that resulted in adjusted earnings of $0.25 per share, $0.01 better than most investors had expected to see.
Looking more closely at Envestnet's report, the company's fundamental metrics were mixed. Total platform assets picked up more ground, climbing to $1.125 trillion, up by more than a quarter from 12 months ago. However, the company suffered a big decline in total platform accounts over the past three months, falling by about 275,000 to 5.82 million. Still, advisor counts climbed above the 55,000 mark.
Solid market performance contributed to Envestnet's rising numbers. Assets under management or administration rose by roughly $15 billion over the past three months, and market impact was responsible for about $13 billion of that. Net inflows more than made up for the recharacterization of some assets to the licensing segment.
All of Envestnet's sources of revenue contributed to growth. Assets under management or administration produce most of the company's revenue and climbed by 14% from year-ago levels. But the subscription and licensing segment posted greater percentage growth, climbing by nearly a third. Professional services inched higher by less than 10% and makes up just a small portion of Envestnet's overall business.
CEO Jud Bergman celebrated Envestnet's success. "We are focused on growing our business organically," Bergman said, "and gaining adoption of our unified wealth management technology, our fiduciary services, and our data aggregation and analytics offerings."
What's ahead for Envestnet?
Envestnet is optimistic about the company's future prospects. In the CEO's words, "Our intelligent systems for wealth management and financial wellness ... empower our enterprise and advisor partners to deliver better financial outcomes for their clients."
However, Envestnet's guidance didn't quite live up to the expectations that investors had for it. In its outlook, Envestnet said that it believes that adjusted revenue in the second quarter will be between $163 million and $165 million during the second quarter, and that's a bit higher than the $162 million forecast among those following the stock. However, adjusted earnings projections of $0.27 per share would be less than the currently expected $0.31 per share. For the full year, Envestnet predicted that adjusted revenue would be between $655 million and $664 million, which surrounds the current consensus forecast just about perfectly.
Envestnet investors didn't react strongly to the news, and the stock inched higher by a small fraction of a percentage point in after-hours trading following the announcement. Looking ahead, though, it will be important for Envestnet to exceed its expectations if it wants to keep its investors happy over the long term.
10 stocks we like better than EnvestnetWhen investing geniuses David and Tom Gardner have a stock tip, it can pay to listen. After all, the newsletter they have run for over a decade, Motley Fool Stock Advisor, has tripled the market.*
David and Tom just revealed what they believe are the 10 best stocks for investors to buy right now... and Envestnet wasn't one of them! That's right -- they think these 10 stocks are even better buys.
Click here to learn about these picks!
*Stock Advisor returns as of May 1, 2017
Dan Caplinger has no position in any stocks mentioned. The Motley Fool recommends Envestnet. The Motley Fool has a disclosure policy.