Energy Innovation Is Creating New Opportunities For Growth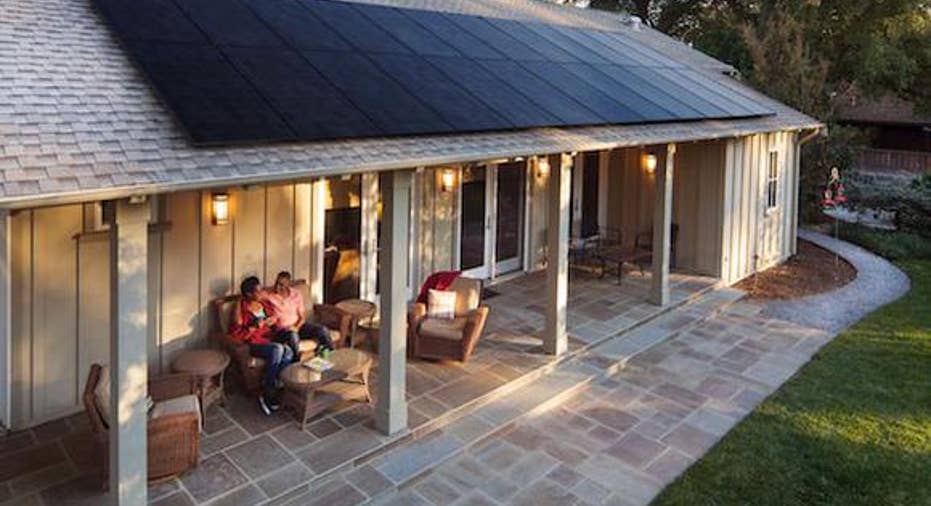 Utilities and energy companies see self-production and consumption of solar energy as a threat to their business model. Image source: SunPower.
What happens when the energy business, which been relatively unchanged for a century, is suddenly turned upside down? That's a question energy companies from utilities to large infrastructure companies have to grapple with.
If you're one of the big energy companies, you have to adapt and change to the new realities in the market, and we're starting to see an emerging strategy of connecting even more deeply with energy customers.
The changing electricity business I recently highlighted a disturbing trend for utilities: rising costs and falling customer demand for electricity. The dynamic has led to electricity prices rising faster than inflation, and now utilities are starting to see competition from new energy innovations from efficiency to rooftop solar to energy storage. If this continues, customers will slowly find off-grid alternatives that are more cost effective, leaving utilities with a declining business.
Edison International recently announced the creation of Edison Energy, which will be an energy services company for large organizations. The plan is to offer energy efficiency, renewable energy, and energy storage not just to customers in the utility's territory, but also across the country.
Image source: SunPower.
Meanwhile, General Electric is building its energy services company called Current. In its current form, the business is expected to be a resource for businesses looking to lower costs and create or consume energy more efficiently, all while tying to the existing electric grid. It's GE's version of the Internet of Things/Smart Grid.
NRG Energy has tried to build something similar in the past. It bought a solar installer, a device company, and even built an EV charging network. But it abandoned those plans because investors didn't see the profits from renewable energy fast enough. Maybe Edison Energy and GE's strategy will be more successful.
Can renewable energy companies get there first? One thing to consider is how renewable energy companies could play into this service dynamic. SunPower is traditionally a solar developer, but it is building out capabilities that will allow companies to monitor and control energy more efficiently. It's also working with energy storage companies like Stem to provide a more complete service.
Tesla Motors is even moving into the commercial and industrial energy storage and controls business. When I visited one of its first Powerpack installations in California, I discovered Tesla was working on learning how to most efficiently reduce energy consumption and even arbitrage changing energy prices. Offering a complete suite to customers may be on the company's strategic path.
SunPower CEO Tom Werner recently told me that the race would be between utilities becoming independent power providers and solar companies doing the same. They're racing to serve customers with a complete energy solution, which is a big shift in the competitive dynamic.
There's a challenge evolving a monopoly business As recently as a few years ago, it would seem unthinkable that a utility would change its business model to provide services that help customers use less energy and create more of their own energy. But the competitive dynamic is forcing their hand, and the smart companies are adapting as a result.
Keep an eye on how Edison Energy, Current, NRG Energy, and SunPower adapt to the changing energy dynamic, because the wave of changes is just beginning.
The article Energy Innovation Is Creating New Opportunities For Growth originally appeared on Fool.com.
Travis Hoium owns shares of General Electric Company and SunPower. The Motley Fool owns shares of and recommends Tesla Motors. The Motley Fool owns shares of General Electric Company and NRG Energy. Try any of our Foolish newsletter services free for 30 days. We Fools may not all hold the same opinions, but we all believeconsidering a diverse range of insights makes us better investors. The Motley Fool has a disclosure policy.
Copyright 1995 - 2016 The Motley Fool, LLC. All rights reserved. The Motley Fool has a disclosure policy.