Energy Heavyweights Push Dow Higher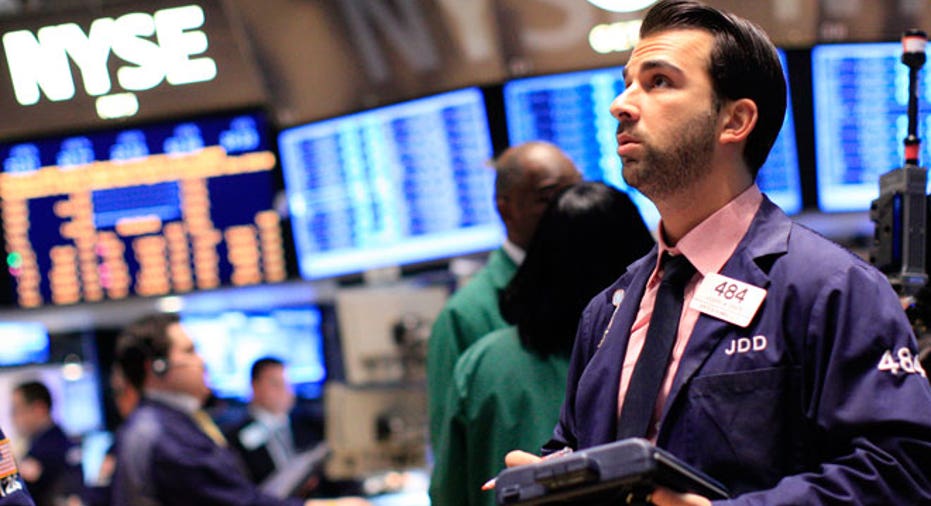 FOX Business: The Power to Prosper
The blue chips tacked on modest gains on Tuesday as ExxonMobil and Chevron shares jumped and traders digested a round of mixed data on the U.S. economy.
Today's Markets
The Dow Jones Industrial Average gained 32 points, or 0.26%, to 12535, the S&P 500 climbed 6.3 points, or 0.48%, to 1320 and the Nasdaq Composite rose 17.9 points, or 0.63%, to 2854.
The energy and consumer discretionary sectors posted the biggest gains on the day by a wide margin. Indeed, Exxon (NYSE:XOM) and Chevron (NYSE:CVX) alone accounted for about half of the Dow's total gain on a point basis. All of the other S&P 500 sectors ended the day to the upside as well, although with much slimmer gains.
Economic Data: A Mixed Bag
The S&P/Case-Shiller composite index of 20 metropolitan areas shows home prices rose 1.3% in April on a non-seasonally adjusted basis, a significantly bigger increase than the 0.5% expected. The gauge fell by 1.9% in April from the same month a year earlier, less than the 2.5% decline expected.
"While a broad regional variation remains, the fact that some of the areas hardest hit during the housing downturn (such as Florida, Arizona, and California) have seen gains in recent months is a positive sign that the gradual improvement in housing conditions is becoming somewhat broader based," Michael Gapen, an economist at Barclays Capital wrote in a note to clients following the report.
Dan Greenhaus, chief global strategist at BTIG, wrote in an e-mail that "we take a bit of solace" from the report, even though the data remain susceptible to various seasonal issues.
The housing market has struggled to regain its footing in recent years, although a report released on sales of new homes on Monday came in much better then anticipated. On the other end of the spectrum, consumer confidence slid to the lowest level since January, according to a report by the Conference Board. The gauge fell to 62 in June from a downwardly revised 64.4 in May. Economists were expecting the index to fall to 63.5 from an initial reading of 64.9 in May. Future expectations took a particularly big hit, falling to the lowest level since November 2011.
Europe Remains in Focus 
Market participants have been inundated with headlines from Europe as the debt crisis begins affecting more economies. Cyprus became the fifth country to seek a public rescue. The Mediterranean island nation is one of Europe's smallest economies, meaning it is likely to be easily contained, but it serves as a reminder that the debacle is quickly evolving.
Egan-Jones Ratings cut Germany's credit rating to A+ from AA-, with a negative outlook. The move underscores the notion that even Europe's biggest economy is not immune to the deepening debt crisis.
Moody's Investors Service also sliced its credit rating on 28 Spanish banks. This comes after Spain requested up to $125 billion worth of aid to recapitalize them. At an auction on Tuesday, Spain sold roughly $3.9 billion in short-term bonds, which came above its target range. However, Madrid was forced to pay triple the rate it paid last time on one issue, and double on another.
Spain's costs to borrow for 10 years on secondary markets climbed to 6.67%, representing a 5.17-percentage point premium to safe-haven German debt. Analyst say it will be very difficult for the country to sustain such high costs for long. Italy also saw its 10-year yields rise above the 6% mark once again.
Commodities markets were mixed. The benchmark crude oil contract in New York rose 15 cents, or 0.19%, to $79.36 a barrel. Wholesale New York Harbor gasoline fell 0.03% to $2.65 a gallon.
In metals, gold slipped $13.50, or 0.85%, to $1,575 a troy ounce.
Foreign Markets
The Euro Stoxx 50 fell 0.13% to 2128, the English FTSE 100 slipped 0.07% to 5447 and the German DAX climbed 0.07% to 6137.
In Asia, the Japanese Nikkei dipped 0.81% to 8664 and the Chinese Hang Seng rose 0.45% to 18982.