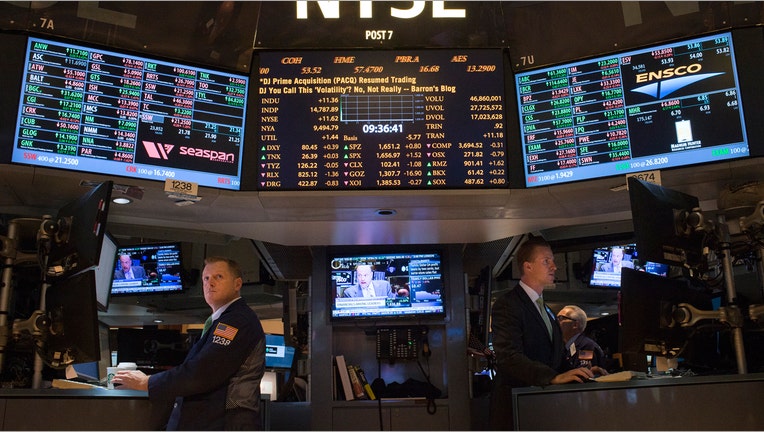 U.S. equity markets moved sharply higher on Friday, ending near session highs, as oil prices rallied and financials and technology stocks bounced back from the prior session.
The Dow Jones Industrial Average was up 217 points, or 1.28% to 17212. The S&P 500 gained 32 points, or 1.64% to 2022, while the Nasdaq Composite added 86 points, or 1.85% to 4748.
Energy and financials led all 10 S&P 500 sectors in positive territory.
Today's Markets
Stocks and crude saw another session of lockstep movement to cap the week as Wall Street tried for a fourth-straight week of gains.
For the five-day period, the Dow looked for gains of more than 1% while the S&P was on track for a 1% pick up, and the Nasdaq eyed a 0.2% advance.
Global oil prices rallied after the International Energy Agency said crude prices may have hit their bottom as output from world producers is starting to fall and an uptick in production from Iran hasn't been quite as high as some initially expected once sanctions were lifted. The organization said it expects Iran's return to the market will be "gradual."
The IEA forecasted non-OPEC output, which includes U.S. producers, would decline by 750,000 barrels per day this year compared to a previous estimate of 600,000.
West Texas Intermediate crude prices jumped 1.74% to $38.50 a barrel, the longest winning streak since April 2015, and up for four-straight week. Meanwhile Brent, the international oil benchmark, gained 0.85% to $40.39 a barrel.
Early in the session, WTI broke through the $39 level for the first time since December 7. The moves higher in crude prices helped send the energy sector up 4% during the session.
Elsewhere in the market, financials and technology names looked to rebound after posting declines in the prior session. A look at some of the biggest U.S. banks shows signs of a positive start to the trading day: Goldman Sachs (NYSE:GS) shares rose 1.93%, JPMorgan (NYSE:JPM) shares gained 1.25%, Morgan Stanley (NYSE:MS) was up 5.48%, and Citigroup gained 3.92%.
The advances followed similar moves in European markets where the Stoxx Europe 600 bank sub index rose 2.62% in recent action as the broader markets followed suit. Germany's Dax jumped 3.51%, while France's CAC 40 rose 3.27%, and the UK's FTSE 100 added 1.71%.
Against the U.S. dollar, the euro declined 0.56%. Meanwhile, the greenback rose 0.50% against a basket of global currencies, while the yield on the benchmark 10-year U.S. Treasury bond declined 0.002 percentage point to 1.927%. Yields move inversely to prices.
The move higher came after traders had a night to digest a move from the European Central Bank to further cut interest rates into negative territory, and add to its quantitative easing program by 20 billion euros and added investment-grade corporate bonds to the mix.
"Ultimately, for this round of QE to be considered a success, we will need to see some increase in the troubling low level of eurozone inflation expectations and growth prospects," Dennis DeBusschere, senior managing director at Evercore ISI said in a note.
Adding to support was data overnight that showed China's inflation moved to a two-year high. The nation's consumer price index improved to 2.3% year-over-year in February. Producer prices, meanwhile, though still in contraction, improved to a 4.9% year over year decline from a 5.3% contraction in January.
On the economic front at home, investors digested import, export price data from the Labor Department. The figures showed import prices saw a 0.3% decline in February, better than the 0.6% decline expected and the 1% drop in January. Export prices, meanwhile, fell 0.3% during the month, compared to expectations for a 0.6% slide, and after a 1% fall in the prior month.
On a year-over-year basis, import prices were down 6.1%, while export prices were off 6%.
Elsewhere in the market, metals were mixed as gold prices declined 0.31% to $1,267 a troy ounce. Silver gained 0.71% to $15.66 an ounce, and copper added 1.06% to $2.24 a pound.