Energy And Tech Shares Lead U.S. Stock Rally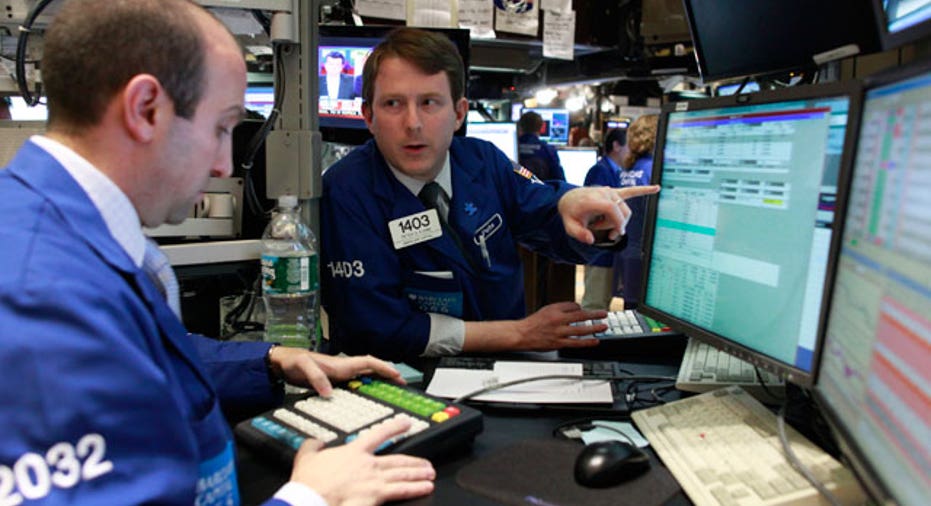 U.S. stocks rose solidly on Monday, rebounding after three straight weeks of declines, as a surge in oil prices and a rally in tech stocks overshadowed weaker-than-expected manufacturing data from New York region.
Investors also appeared to cheer a flurry of mergers and acquisitions news, including Anacor Pharmaceuticals Inc.
Aiding sentiment was disclosure by Warren Buffett's Berkshire Hathaway Inc. in a regulatory filing of a 9.8 million share stake in Apple Inc. during the first quarter, sending tech giant's shares up 3.6%.
The S&P 500 shot up 17 points, or 0.8%, to 2,063, with nine of the 10 main sectors trading higher. Energy and materials sectors led the gains, up more than 1% thanks to a 3% surge in oil prices. The technology sector rose 1.3%, lifted by a rally in Apple shares.
"The bounce we are seeing today is due to a combination of the oil rally and a delayed reaction to Friday's robust retail sales report," said Mark Kepner, managing director of sales and trading at Themis Trading.
"But it could well end up being a short-lived technical bounce after three weeks of declines," Kepner added. "For the rebound to be sustainable, we would need to see a pick up in the rally of banking stocks."
The Dow industrials gained 150 points, or 0.9%, to 17,690. The Nasdaq Composite advanced 53 points, or 1.1%, to 4,771.
"There is an element of the 'bad news is good news' today, since investors assume weaker-than-expected manufacturing data will allow the Fed to keep delaying raising rates," said Jack Ablin, chief investment officer at BMO Private Bank.
The Empire State general business-conditions index, which measures activity in the New York-area, nose dived to a reading of negative 9 in early May, from positive 9.6 in April and well below the expected rise to 5.8 forecast.
Oil prices rose Monday after Goldman Sachs (NYSE:GS) said the oversupplied market has likely switched to a deficit and lifted its price forecast for this year. WTI oil rose 3.5%, to $47.81 a barrel.
Stocks to watch:Anacor Pharmaceuticals (NASDAQ:ANAC) soared 55% after the maker of an eczema treatment agreed to be bought by Pfizer Inc.(NYSE:PFE) in a deal valued at $5.2 billion. Pfizer shares eased slightly.
Amazon.com Inc.(AMZN) is expected to roll out new lines of private-label brands in the coming weeks, including Happy Belly and Mama Bear, The Wall Street Journal reported , citing sources. Shares were off 0.5%.
Tribune Publishing Co. (NASDAQ:TPUB) surged 23% after Gannett Co. Inc.(NYSE:GCI) lifted its all-cash offer for the Chicago-based newspaper and print media group to $15 a share from $12.25 a share. Gannett shares also rose 1.5%.
Warren Buffett, chief executive of Berkshire Hathaway(NYSE:BRK.A), confirmed to CNBC on Monday that he will provide financing help for billionaire investor Dan Gilbert in his bid to buy Yahoo Inc.(NASDAQ:YHOO) if needed. Yahoo shares rose 3.2%.
Other markets: Earlier, investors were distracted after China's industrial production and investment readings came in below expectations for April, even as Beijing has been on an aggressive stimulus campaign. That data weighed on the Stoxx Europe 600 , though Asian markets finished higher.
China's Shanghai Composite Index rose 0.8%, as investors found encouragement from last week's upbeat U.S. retail sales and consumer sentiment data.
The dollar moved slightly higher against the Japanese yen, while gold prices pushed north, last trading at $1,288.1 an ounce, up 1.2%.
By Anora Mahmudova and Barbara Kollmeyer, MarketWatch