Emirates airline posts boost in annual profits to $762M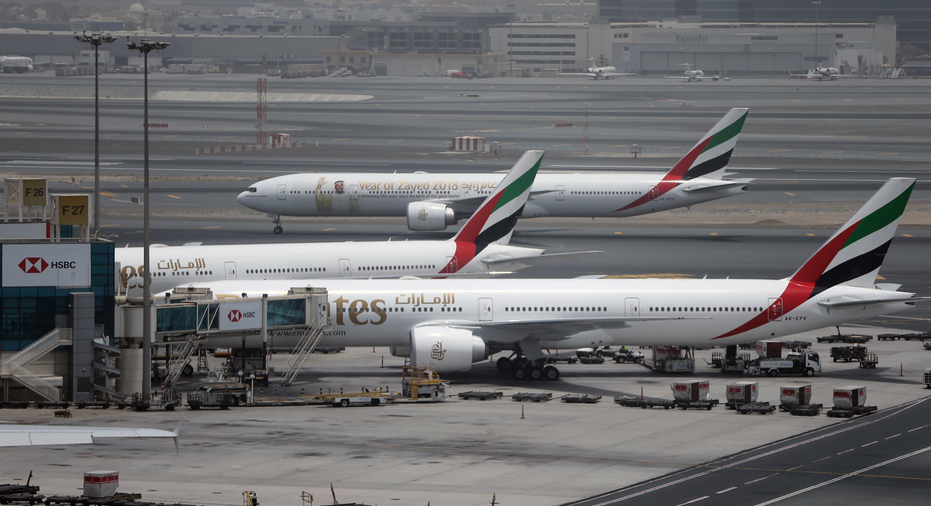 Emirates, the Middle East's largest airline, said Wednesday the long-haul carrier's revenue improved over the past fiscal year, reaching $25.2 billion, with profits rising to $762 million.
The Dubai-based airline credited a recovery in the global air cargo industry and the strengthening of key currencies against the U.S. dollar for the boost.
Emirates said in spite of political challenges impacting traveler demand and fare adjustments due to a competitive business environment, the decline of the U.S. dollar against currencies in most of Emirates' key markets had a $180 million "positive impact to the airline's bottom line."
Emirates Airline and Group chairman and chief executive, Sheikh Ahmed bin Saeed Al Maktoum, said President Donald Trump's announcement to withdraw from a nuclear accord with Iran will not present too many new challenges for Emirates, which has flights to Tehran and other cities in Dubai's Persian Gulf neighbor.
"I think this is not really new to us," he told reporters, explaining that the airline dealt with issues of sanctions on Iran in the past.
"I can say that we went through a lot of tough times in the past 30 years since the start of the airline and we will always manage," Al Maktoum added.
Last year, the airline's profits fell by more than 80 percent from the previous year to $340 million as it grappled with a slump in demand linked to a range of headwinds, from political upheaval and terrorism in Europe to tougher travel restrictions to the U.S.
Over the 2017-2018 fiscal year, Emirates announced two major purchases: A $15.1 billion agreement for 40 Boeing 787-10 Dreamliners and a $16 billion deal to buy 20 A380 double-decker jets, with the option to buy 16 more of the Airbus jumbo jets.
The airline's aggressive expansion and growth has helped transform its hub at Dubai International Airport into the world's busiest for international passengers. The airline said it carried a record 58.5 million passengers this past fiscal year compared to 56 million passengers the year before.
Meanwhile, Emirates Group, which operates the airline and includes the dnata ground and travel services provider, said its overall profits peaked at just over $1 billion and revenue reached a record $27.2 billion.
Al Maktoum cautioned, however, that business conditions remained tough.
"We saw ongoing political instability, currency volatility and devaluations in Africa, rising oil prices which drove our costs up, and downward pressure on margins from relentless competition," he said in a statement.
Al Maktoum is also chairman of budget carrier flydubai, which as a codeshare agreement with Emirates. While the two airlines operate independently, both are owned by the state-owned Investment Corporation of Dubai.